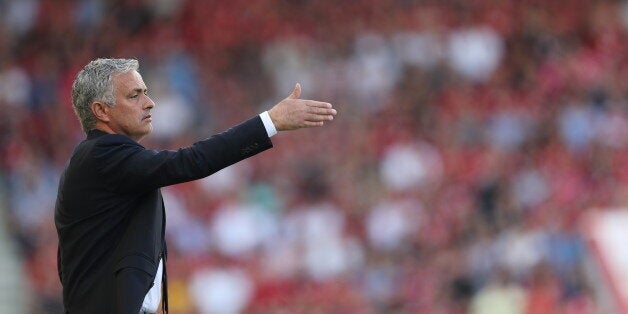 The first game of the season never tells the full story. Aston Villa won theirs at Bournemouth last year, and it's difficult to forget the nightmare they endured for months after that win at the Vitality.
Relegated, 22 points adrift of safety, after a 28-year stay in the English top flight. Just three wins to their name; with one of those coming on that opening day. It was all downhill from there, and the rebuilding job - a much needed one, at that - has finally begun.
Manchester United share something in common with the Aston Villa of last season. They themselves took three points from the south coast in this term's first match-week, but something tells you they'll follow a very different path over the next few months. As 'Yazz' shrieked in the 80's and millions of TOWIE fans love to sing nowadays, irritatingly - the only way is up...baby.
While you football fans get your head around the fact you've just read an Only Way is Essex reference in an article about Manchester United, don't worry, it's back to the old-spherical ball. United have enjoyed their best summer off the pitch in years. They've spent big, but every acquisition and change made to date has been one for the better.
Eric Bailly looks the real deal at centre half, and one of his new manager's own. Henrikh Mkhitaryan has enough ability and has proven at the very top level he can flourish in England, and both Zlatan Ibrahimovic and Paul Pogba have arrived to massive fanfare. Each are exactly what this club have needed for far too long.
Physically strong, big-personality players. Footballers - specifically Ibrahimovic and Pogba - who bring the box office back to Manchester United. The ones who carry that fear factor that disappeared with Sir Alex Ferguson in 2013. The men who can take the most successful club in English football back to the top of the tree.
It doesn't stop with the players. Jose Mourinho was made for this club, and in his first few weeks as manager he's already ruffled a few feathers, and declared his side are good enough to win the title. He's not bluffing either, they really are. And while you can't learn too much from opening weekend, that proof came at Bournemouth.
Mourinho's teams are well-drilled, know their jobs and have that touch of class to boot. They play with purpose - you can't quite say the same about Louis van Gaal's carnation of the club during his reign over the last couple of years.
United's frustrating, boring, side-to-side, possession football has been replaced with a new brand. A style built on the solid base the Dutchman helped create, but with added spice and an already-evident hunger for success. The rigidity has disappeared, the shackles are off, and the players are already reaping the benefits.
Mourinho's United already look much more like the United of old. That knowledge of how to win potentially tricky fixtures - absent for most of Van Gaal and David Moyes' respective tenures - has returned. The players play their part, but huge credit must go to the new boss for his attitude towards the team, training, and their tactical set-up in matches.
Bournemouth beat United last season, and while they tended not to fare too well against sides who finished above them in the league - Van Gaal's side excluded - such a visit would have rattled United sides of the past three years. It's not been just Bournemouth either. Sunderland, MK Dons, Swansea, FC Midtjylland and Norwich City are just a few lesser names who've bested English football's biggest club between Ferguson and Mourinho.
If nothing else, Sunday's win at Bournemouth was a signifier that those days are over. A great summer of transfer business and a new coach who has won it all will ensure that.
So make no mistake about it, the old Manchester United are back. And whether they become champions or not in May, they'll be right in the thick of it come the end of the season.
For more fan views or to join the conversation visit www.90min.com