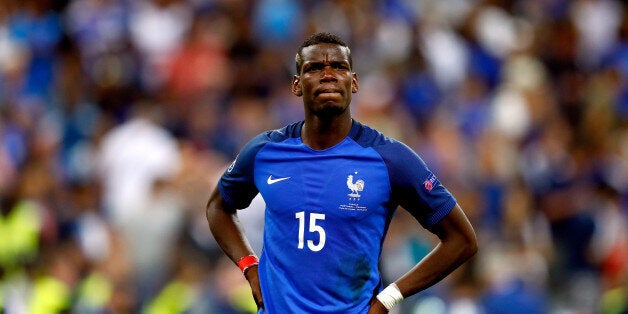 Cor, as if football wasn't mad enough already.
The world record transfer fee is ready to be broken, again. Or at least Manchester United are intent on smashing it. We'll discover in the coming weeks whether the move goes ahead, but the £100m transfer barrier is set to be broken for the first time if United manage to convince Juventus superstar Paul Pogba to move back to Old Trafford.
​​It's dominated the headlines for weeks. But the continual flow of stories have been met with genuine shock, outrage, hysterics, and the like. One hundred million pounds (or more, even), on Paul Pogba? You're 'avin a laugh.
Many will tell you this fraud of a footballer isn't worthy of being the costliest in the world; and most are those who've seen him perform on a select few nights in the Champions League or during his matches for France at Euro 2016 this summer. Oh and speaking of, his performance in the final on Sunday night did nothing to validate his reported price tag, did it?
He could do nothing to decide the game against a deep defence from his own deep-lying position in midfield, against a team who know how to protect themselves. A team who were unbeaten throughout the entire competition. The eventual winners of the whole thing. Y'know, Portugal.
Pogba is the most overrated player on the planet, and has done nothing over the last month to prove otherwise. Surely, the quoted £100m+ is too much, he's not even worth half that sum. Gary Lineker was right.
Well, no. Enough with the sarcasm and rhetorics. Paul Pogba is one of the world's leading central midfielders. He doesn't turn 24 until March. He's won four consecutive Italian league titles with Juventus since joining them in 2012 - plus a host of other trophies - and he's played in both the Champions League final and of course, the final of Euro 2016. High level experience at a young age is a valuable trait. And Pogba has a decade at the top left in him, at least.
He's not the finished article yet, there's no disputing that. But what he's on his way to being, and what he will be (whichever club he plays for) is complete. A complete midfielder than can do it all, one able to dominate games himself. A talisman. An icon; something Manchester United have lacked over the last three years.
Pogba is a physical specimen perfectly suited to the Premier League, he knows the club (erm, more on that soon) and he's Jose Mourinho's archetypal central midfielder. The decision over whether he wants to return and pocket the reported £300,000-a-week salary is his.
To the money, then. Such wage packets (in that ballpark, anyway) are standard in the modern game, but this story has earned so much traction because of the lengths United are willing to go to get him. £100million, for a player who quite literally walked out of Carrington for nothing four years ago, this is money even Real Madrid "aren't crazy enough" to pay.
United made a mistake in allowing the decision to fall to him in the first place, but ultimately it was Pogba's choice to join the Bianconeri - seeing further opportunity for first team action there than he did at Old Trafford at the time. Undoubtedly a brave move, but one that paid off for the player himself.
Said error will however not cloud United's judgement. It should not and will not put them off splashing out whatever they feel is necessary to bring Pogba back to England; they see him as more than a footballer. The potential commercial gains from the deal are unprecedented, and yes, football is a business nowadays. Don't forget that.
The "too expensive" argument though is the one that's thrust forward with most haste. They could buy two or three players for this price, couldn't they?
Maybe so, but Mourinho identified four positions to strengthen upon arrival at United - three of which have already been addressed. He believes he has enough in other positions, and bringing in any more than one name has the potential to unbalance his new squad. It's not about going against principles to appease others.
It's been suggested instead that Mourinho, forever accused of short-termism, should alternatively chase Dimitri Payet and Blaise Matuidi. Two 29-year-olds who'll be past their best in three years, right? Best leave that one to sink in.
But yes, the fee - whatever it ends up being - is mind-boggling. It's crazy. But it's time to end the debate over how we define "too expensive". Watford are rejecting £35m offers for Odion Ighalo, there's a similar fee on the head of Moussa Sissoko (currently owned by Championship club Newcastle), and Graziano Pelle is the world's sixth-best paid footballer.
The transfer market turned crazy a long, long time ago. Premier League clubs have nigh-on endless supplies of cash to splurge in the hunt for success, and inflation will only continue in the years to come. It's a case of supply and demand, and the latter is ever-increasing.
To Manchester United, Paul Pogba is worth whatever they're willing to pay. If that's more than £100million, then so be it. Scrutiny will follow, but that's the way the market is going.
There's little point kicking and screaming about it.
For more fan views or to join the conversation visit www.90min.com