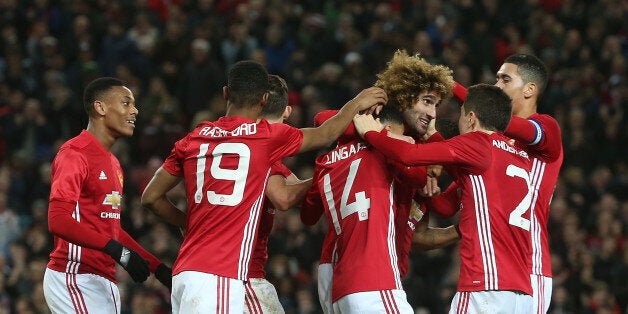 ​Tottenham's victory over Chelsea last week served as a timely and welcome reminder that this Premier League title race is not quite the foregone conclusion some have come to expect.
Antonio Conte's side, to their huge credit, have looked irresistible over the last couple of months. And it's certainly right to say that this title is the Blues' to lose from their current position - especially considering they've no European football to distract them and a regular, settled first team to tackle the league. They're expected to spend in January too, which would strengthen their case even further.
But you only need to look back to the opening weeks of the season to see how quickly everything can change. Manchester City's six-game winning streak at the beginning of the campaign - also ended by a 2-0 defeat at Tottenham, incidentally - had many convinced that the all-conquering Pep Guardiola was set run away with a domestic title in a third country.
City though have failed to win that many times since, dating back to that defeat at White Hart Lane. Chelsea are made of sterner stuff, there's no doubt about that, but it does symbolise that there's a tendency in this country to jump to conclusions.
Guardiola has a multitude of problems he's yet to address in his playing squad - the porous defence and dead weight are but two of those - though you can't quite rule out City if they are to get things right. They sit seven back on Chelsea at the moment, and have the attacking quality to destroy most in their path.
They also have who many consider as the best manager in the world on the sideline, so make of that what you will.
What of the rest of the chasing pack, though? Spurs gave themselves a massive morale boost by ending Chelsea's near record-breaking win streak of 13 consecutive league games, and have exercised the demons of last season as the Blues ended their own title hopes.
After failing to convince in the opening months of the campaign, Mauricio Pochettino's side have started to score for fun, boast the best defence in the league and have the ability to switch systems successfully on a whim. They nullified Chelsea's revolutionary 3-4-3 with a similar system of their own, making them adaptable to almost any situation.
Spurs went close last season, and will have reason to believe, especially after their last win, that a title tilt in the second half of the season is not beyond them. Local rivals Arsenal will feel they're still in the mix too - at least Mesut Ozil does - as the Gunners have shown a fighting spirit and backbone this term that has been lacking over the last few years.
Arsene Wenger's side, though, still find themselves falling into the 'Arsenal habits' of old. Finding themselves 3-0 down at Bournemouth last time out was quite the feat, and while they forged an amazing comeback in the final 20 minutes to earn a point from the jaws of defeat, there's also suggestions that the same old Arsenal still exist.
As for Manchester United and Liverpool - who meet each other this weekend in a blockbuster clash at Old Trafford - each will feel Chelsea's defeat at Spurs means they still have a chance of lifting the trophy. Liverpool are still chasing their maiden Premier League crown, and are currently best placed to challenge.
Like Chelsea, they've no European football to worry about, boast an incredibly fruitful attacking unit - they are the best attack in the league after all, statistics don't lie - and they probably play the best football, too. They will, however, seriously need to prove their credentials once more in their next game against a United side who have won their last 9 games, and are unbeaten in 15.
A stacked January fixture list and the loss of Sadio Mane to Africa Cup of Nations duty may take its toll on the Merseysiders, but they should be fired up enough to realise that victory at Old Trafford actually will knock their arch rivals out of the title race once and for all.
United, who have finally found their feet under Jose Mourinho, will though have every reason to believe they can go close with a win of their own. Three points on Sunday will ensure they cut the gap on the currently second-placed Reds to just two points, and if Liverpool are considered title challengers at this point then United will have to be too.
It really is a lot tighter than many believe, and it's only going to get more intense over the coming weeks. Two of the top six will now be facing each other in every match round until the middle of March, so make no mistake about it; this league is literally anybody's to go out there and snatch.