New Zealand is known for its Middle Earth-inspiring beauty, Maori culture and passion for rugby more than for its food. Yet the endless swaths of farmland and 8,700 miles of coastline mean that meat and seafood feature strongly, and popular national dishes include roast lamb, oysters, and fish and chips.
But vegetarianism has been increasingly steadily, and in the past five years the number of vegetarian Kiwis has reportedly grown 27%. During my time here I found that while there were few exclusively vegetarian eateries, most cafés and restaurants have several decent meat-free free options. Naturally, some are (much) better than others. Here's where to find the best vegetarian food on the South Island.
QUEENSTOWN
Sitting on the shores of Lake Wakatipu on the South Island, Queenstown is one of New Zealand's most popular tourist destinations. Known as the adventure sports capital, Queenstown is also a favourite for its vineyards, historic mining towns and beautiful Southern Alps. It's also the home of Fergburger, a gourmet burger joint that has become a Queenstown institution.
Somehow -- and quite inexplicably considering it isn't a chain and has only one location -- the success of Fergburger has gone stratospheric, and I lost count of the people who told me I "had" to have a Fergburger while in Queenstown. Ever since it was listed in Lonely Planet, the ever-present line of people waiting outside and jostling for Fergburger selfies has become longer and longer. So it was a given that the burgers should be good. But what about the veggie burgers?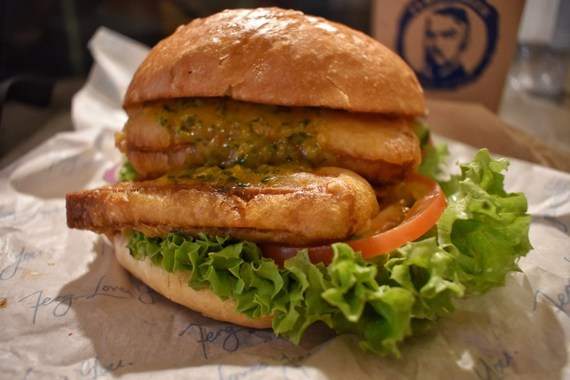 Thankfully, the 30-minute wait was worth it. The "Holier Than Thou" veggie burger was honestly exceptional: tempura tofu with a spicy satay, coconut and cilantro sauce, lettuce, tomato, red onion, cucumber, avocado and aioli sauce. I was ready to dismiss Fergburger as marketing overhype, but as I munched on succulent spiced tofu and fresh, crisp vegetables, mopping up the juices that trickled down my wrist, I knew that I'd joined the ranks of people insisting all visitors to Queenstown "must" get a Fergburger.
But there's much more to Queenstown than Fergburger. After getting my fast food fix, I decided to explore the other side of the culinary scene: fine dining at Matakauri Lodge. The restaurant here has arguably the most beautiful setting in the area, perched along the milky-blue Lake Wakatipu and providing diners with unbeatable views as they dine.
Typically, gourmet dining doesn't offer vegetarians much choice. So often the focus is on an expensive piece of meat or fish with one or two offerings for vegetarians. Happily, at this Relais & Chateaux restaurant things were different. There were numerous vegetarian dishes -- so many that I couldn't decide and went for the vegetarian tasting menu. And what a menu: Every dish was creative and original, based upon fresh, locally sourced ingredients and plated up with flair.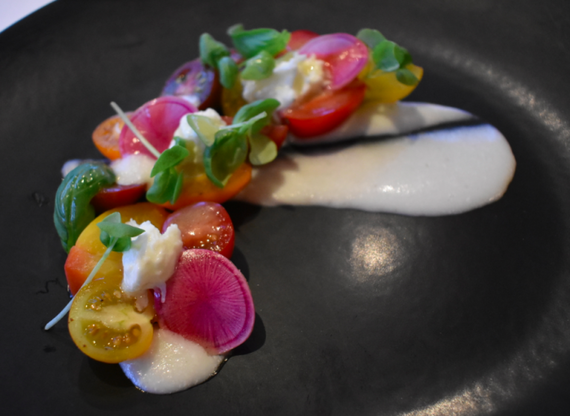 The highlights were velvety Clevedon Valley buffalo mozzarella with watermelon radish, peach, tomato and white balsamic vinaigrette (above); earthy roasted beetroot with radicchio, pickled pecan, butternut squash and red currant vinaigrette (below); and chilled sweet corn soup with crisp potato, quail egg, garden squash and truffle oil (also below).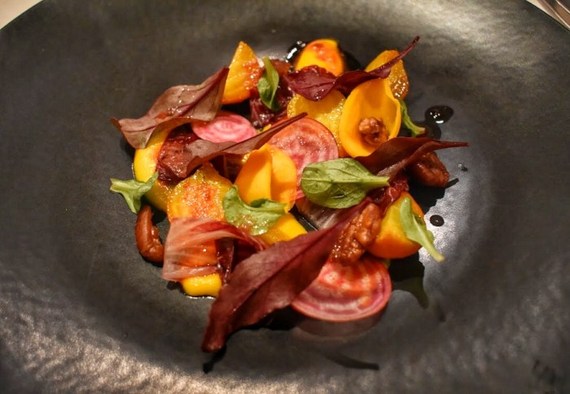 Best of all was the tender potato gnocchi with purple spinach, baby turnips, scallion oil and Parmesan. My only regret at choosing the tasting menu was that I wasn't able to enjoy a full plate; this was fine dining at its vegetarian best.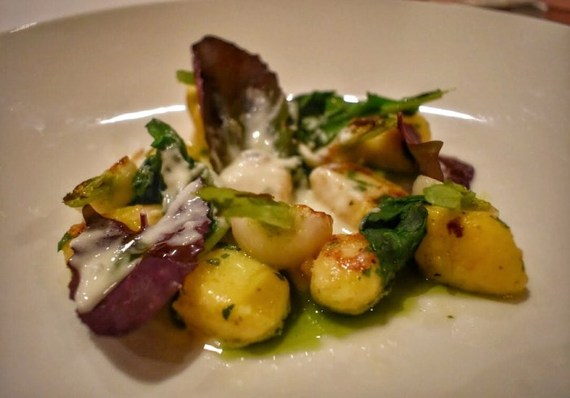 CENTRAL OTAGO & CLYDE
Moving northward to central Otago, I reached the historic town of Clyde. As either the beginning or end of New Zealand's most famous cycling trail, Clyde is a popular tourist destination with several decent restaurants. Located inside the historic walls of one of Otago's most significant buildings is the beautifully restored restaurant Olivers.
Though previously I'd been ambivalent toward quinoa, my main at Olivers was enough to make me question how that had ever been the case. Fluffy, creamy and slightly crunchy red quinoa was paired perfectly with currants, balsamic pears, almonds, spinach and radicchio, and a tangy pomegranate vinaigrette and generous dollop of créme fraîche finished off the flavour experience.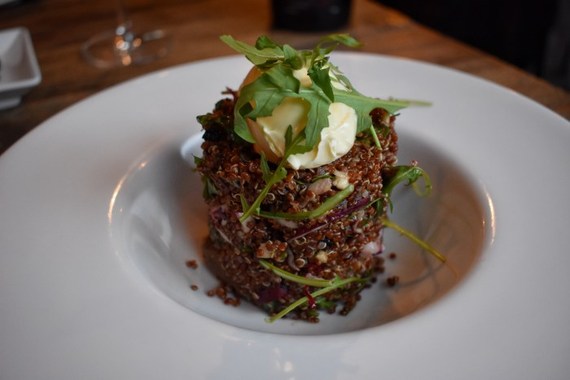 The broccolini in a sweet hoisin sauce was also an unexpected delight -- one of those dishes that make me think I'd be quite content to eat solely vegetables if they were always cooked like this.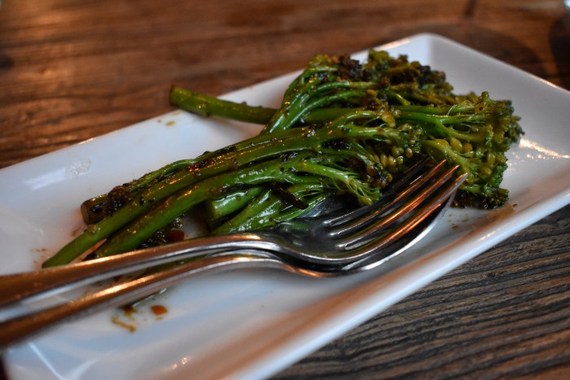 Next to the restaurant is Olivers Bar, where diners can work up an appetite admiring the historic exhibits on the wall and sipping craft beers produced in the adjoining custom-built brewery. The Olivers site is packed with character and steeped in history, and I could have happily stayed for days (there's a bakery, deli and accommodation next door, too!). Sadly, time was not on my side, so I finished my evening in the best possible way: a decadent cheese plate with quince paste, fruit and New Zealand's favorite falwasser crackers.
Just like its landscape, New Zealand cuisine is both beautiful and diverse. Though many of the more traditional dishes are meat or fish focused, the growing vegetarian movement has ensured that the veggie options don't let the team down. In just under a month I enjoyed the best veggie burger of my life, feasted on a sumptuous gourmet tasting menu, and left with a new appreciation for quinoa. Not bad for a country where there are more sheep than people.
This article first appeared on Food Republic.
All images by Selene Nelson.