New Zealand. A country world-renowned for its phenomenal landscapes- rainforests, volcanoes and glaciers perfectly decorate the two islands creating a truly magnificent canvas. Arguably, there is no single country that has more extreme, antonymous climate conditions than Aotearoa (New Zealand). I am fortunate enough to currently be spending a semester here at the University of Auckland. As it is now the mid-semester break, I am travelling across the North and South region exploring places which have been recommended to me by local Kiwis. Below is my most recent hiking tale, a story containing Maori legend, forest beauty, cannabis-smoking pensioners and hitchhiking.
My first stop was the Aotearea capital, Wellington. I stayed at Base Backpackers, a large, relatively clean hostel with a decently priced bar and an excellent central location. Fortunately, I arrived at the weekend and Base is located right by Courtney Place, a prime location for late night restaurants and bars. Approximately an hour and a half drive away is the 'spectacular' (Kiwi quote) Tarurua Southern Crossing hike. My fruity friends doted on the surrounding mountain range views, the engulfing ambience of nature, the tranquillity of the forest, the athletic local men who train there... and so on, so forth. You know, standard hiking descriptions. However, nothing could have prepared me for the actual all encompassing, absolutely magnificent landscape that eagerly swallowed me whole.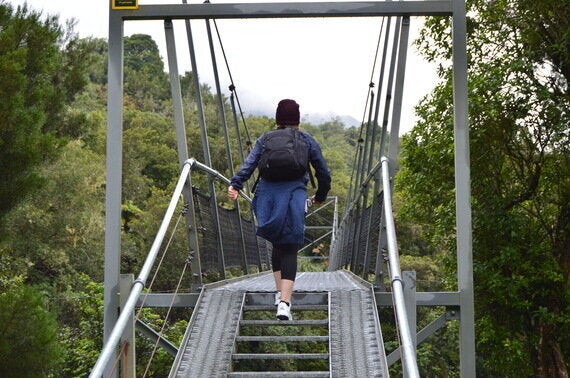 The traditional Tarurua Southern Crossing trail takes 3-4 days, covering 22km and climbing great landmarks such as Mount Hector. As I am not the most athletic of individuals (see Mt. Tongariro blog!), and I was hiking with three American male football players, I wisely chose to only hike the first leg of the journey- to Field Hut. Probably for the best as when my guides returned 3 days later, they commented that I would have "wiped out" had I done the full expedition. Such presumptions are incredibly flattering of course. Although I do expect that their immense fatigue may have been the result of a somewhat alpha-male, competitive edge to their hiking pace. Typical.
We began the trail at the Otaki Fork entrance. As soon as we turned off the highway and proceeded to drive down the gravelly, extremely winding road toward the Forest Park entrance, the once-distant hills became larger than life. Consumed by the New Zealand bush, it was as though we had dove head first into a Jurassic Park movie. At the sound of the oncoming car, birds chirped merrily as they soared into the air. The breeze rustled leaves the size of a small child. The morning air was misty and trees as tall as skyscrapers penetrated the hovering cloud. Far from being daunting, it was as though the forest was breathing life, radiating energy by the mass. All of my previous hiking apprehensions and early pre-lunch 'Grinch faces' (I'm not a morning person) were evaporated almost instantly.
The trail itself was just as winding as its preceding road. Snaking upward toward the top of the hill was somewhat challenging and in comparison to my athletic companions, I was certain that I left behind an invisible snail trail. For the first half hour of the journey, we were on an open path- the higher we climbed, the more scenic the view. At the highest viewing point, just before we reached the shelter of the forest, a panoramic picture of the valley is laid out at your feet. The bridge, which we crossed to enter the park, was a mere streak, hundreds of feet below. The sky and the mountains were merged by the hovering clouds whilst the river wound between the hills, feeding the surrounding forest.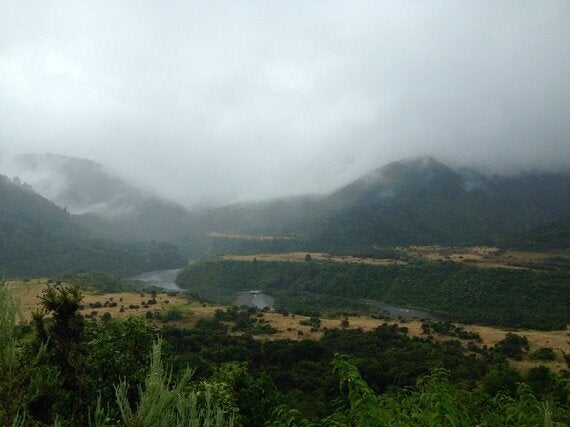 In Maori legends, Sky Father (Ranginui) and Earth Mother (Papatuanuku) had a son, God of the Forest (Tāne Mahuta). It is said that Tāne separated his Mother and Father, the earth and the sky, allowing light into the world and is now the spirit and protector of the Forest. Engulfed within the incredible Tarurua range, the legend of Tāne certainly has a magical feel. It felt as though the Forest was breathing vitality into every creature, including us hikers. Okay, intense is probably an understatement for my above descriptions but if you visit this location, which I strongly recommend you do, the image I'm trying to paint will become instantly crystal clear.
Through the rainforest, vines entwine with tree branches, performing a dance of which is not understood by mere humans. Songs of the native wildlife can be heard from every degree in each direction. On this particular day, bird songs were mixed beautifully with the sound of thick, heavy raindrops hitting the treetops, tens of metres above our heads. As the rain deepened, trickles of running water could be heard running downhill, over variously shaped stones, to slowly form one thin stream. No man made recording could ever justly imitate such a mix.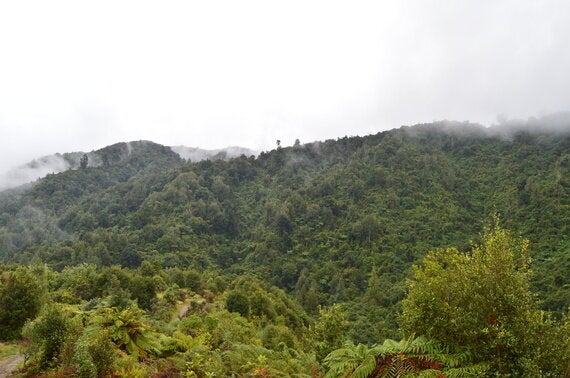 After a couple of hours, we reached Field Hut. Fortunately, a much needed log fire was burning. We dried off fairly quickly and got talking to some of the locals who had also hiked around Tarurua that morning. I got talking to a lovely Kiwi gentleman, Rob, roughly in his sixties, who was sat in his greying underpants and an oversized band T-shirt with, more importantly, a packet of Scottish shortbread in his hand. After accepting a tasty shortbread, Rob commented that, once his shorts had dried, he planned to walk a further hour up to the cliff ridge in order to smoke. I foolishly asked whether the Hut was a no smoking area, wondering why he wished to walk an extra half hour uphill just for a cigarette. Rob replied that it was not but he was hiking with "a bunch of prunes" and preferred to have the best view for when the effect of his "medicinal pipe" (cue outrageously obvious wink) began to take place. I nearly choked on my shortbread.
All too soon it would be dark and I was still at the top of a mountain. My fellow climbers needed to get to the next Hut before sunset and I needed to be on flat, stable ground before I could no longer see my feet. Luckily, as it turns out, walking downhill is a lot quicker and far easier of a journey than walking up- fancy that. Without the gruelling fast pace of the boys, I was able to stop, admire and photograph the bush. My childish excitement was aroused and I may have taken one too many 'selfies'. My Snapchat friends will most likely back me up on that. My bad.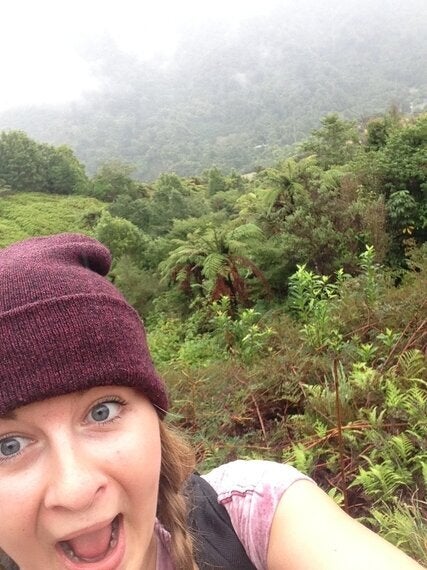 Reaching the brink of the open path, I paused for a good ten minutes just to bask in the valley one last time. The clouds had all but disappeared leaving the valley to be warmed in the soft light of the lowering sun. If you truly focus your eyes, small rainbows of light can be seen, created by the river's water spray. The tops of the mountains began to darken whilst the valley was still bathed in a soft glow generating a gradient colour scheme within the forest between deep and fluorescent green. Standing on that focal point, I felt as though I was the only human for miles around. As is the case with any great world wonder, try as hard as I could, I could not adequately capture the valley's beauty through my camera.
At the foot of the mountain, I was faced with a new challenge. A challenge called, How To Get Back To Wellington. A shuttle was booked but I had made good time on the downward route resulting in having two hours to kill before the designated pick up time. As I was contemplating this, by some small miracle, I heard a Northern English accent rising from over the bridge. A group of gentlemen who were roughly in their forties approached. I realised that I had passed these gents earlier on during the day. They noticed me and we exchanged pleasantries. It turned out they were English policemen who joined the New Zealand force a couple of years back and were on a bonding 'get to know one another' trip. As they were loading their cars, the gents asked where my companions were and whether I was waiting for them. I explained my situation and they offered me a lift on one condition, I didn't mind a quick stop off at a local brewery on the way back. I don't mind if I do! With a pint of home brewed Porter's ale in hand, I couldn't help but reflect on how this was the perfect end to a perfect day.