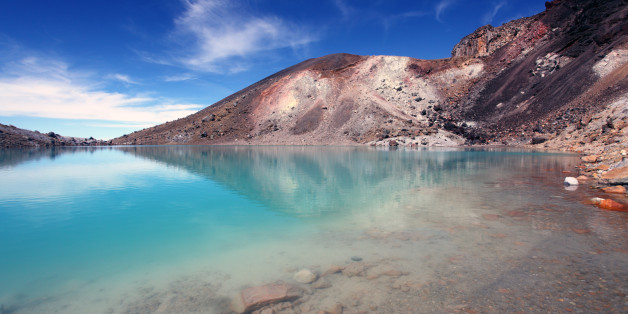 Brandon Laufenberg via Getty Images
Labelled as one of New Zealand's greatest day hikes, the Tongariro Alpine Crossing truly lives up to its prestigious title. The Tongariro National Park is the prime location for the Lord of the Rings' setting of Mordor and offers panoramic views of Lake Taupo, volcanic emerald pools, lava streams and a close proximity to active craters. Undoubtedly, the 20km trail is physically challenging but I can promise you that the post-hike thrill of achievement works wonders for the exhausted physique.
In terms of travel and sleeping arrangements, Lake Taupo is an excellent location for cost-effective transport to the start of the trail- Mangatepopo car park. Local hotels and hostels tend to recommend their own reliable shuttle services to the National Park so acquiring transport is generally not an issue. The drive from Taupo to the start of the Crossing is approximately an hour and costs around $50 for a return shuttle. As daunting as it may seem, a 5am start from Taupo is strongly recommended. From first hand experience, I can tell you that there is nothing more magical than watching fingers of light begin to touch Tongariro's mountain tops and knowing that you are in the minority of the world's population to witness the first sunrise on that day.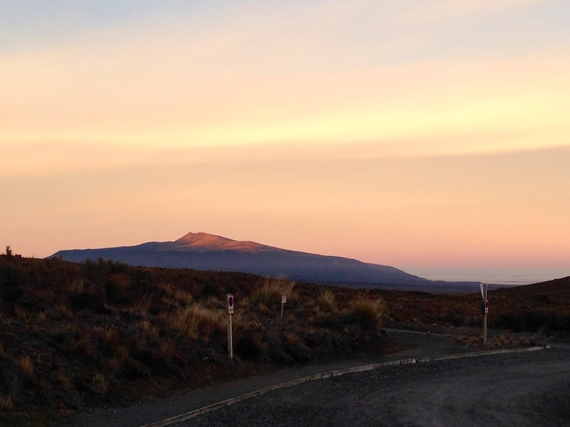 Thankfully, the trail from Mangatepopo commences on relatively flat ground, a perfect warm up for the brisk morning air. The first couple of kilometres involves walking up a gentle incline alongside running streams and over small, wooden bridges. The real hike begins at the foot of the Devil's Staircase, which is aptly named by the way. The upward ascent for approximately two hours is difficult even amongst fitness fanatics. Admittedly, I am not the most athletic of individuals. I was actually put to shame by numerous backpacking pensioners who shouted back wise words such as "not far now love" as I bit their dust. Fantastic. I remain totally convinced that they were relatives of Usain Bolt. Naturally, that's the only possible explanation...
Fortunately, the upward struggle is made entirely worthwhile by Tongariro's incredible panoramas. When looking down upon the clouds that blanket the black, pitted volcanic landscape, you experience an overwhelming fusion of empowerment and tranquillity, a feeling of which words cannot adequately justify. The world is at your feet. All day-to-day worries and dramas melt away into insignificance, drowned out by the remarkable terrain.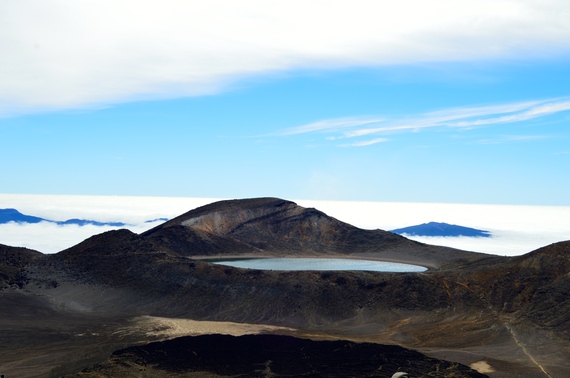 Approaching the highest point of the trail, near the foot of Mount Ngauruhoe (aka 'Mount Doom'), we reached the Red Crater (1886m)- a huge volcanic crater that forces you to take a moment and respect the sheer destructive force of nature. Roughly a kilometre further are views of the spectacular Emerald Lake and other smaller turquoise-tinted mineral pools. It has to be said, the juxtaposition of landscapes between these two landmarks is beautifully striking. The national park's baron, charred ground fantastically contrasts with the sapphire blue Lake Taupo and its surrounding luscious green fields, set thousands of feet below. At this point, you are literally on top of North New Zealand.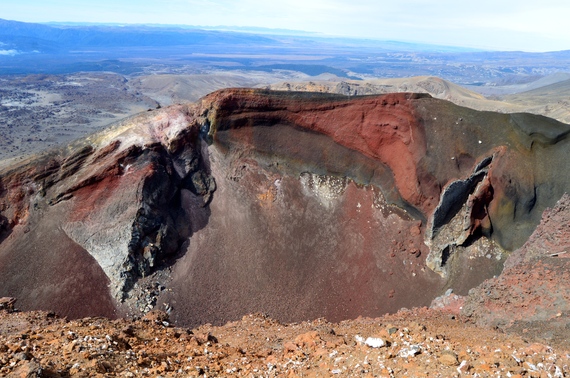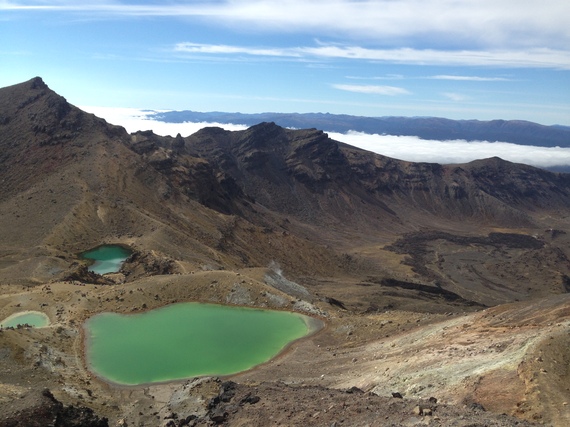 The old phrase 'it's all downhill from here' becomes apparent during the final leg of the journey. The descent from the volcano summit is somewhat dull, following a man made path with numerous stairs is nothing compared to hiking over rocky, uneven ground. Although, the final hour of the hike leads through a native forest and is somewhat calming. Having shade from the heat surrounded by the mixed sounds of water and bird song becomes a luxury after the previous seven hours of being in the open sun.
The Crossing's finishing point is Ketetahi car park, set at 750m. I'd recommend that as soon as you reach this finishing point, use one last spurt of energy to either break into a song and dance or give yourself a good old-fashioned pat on the back. You'll deserve it. You will have just seen some of New Zealand's most fantastic natural scenery whilst climbing one of the most challenging day hikes that the country has to offer. Pre-congratulations!
If you are in North New Zealand, seriously, do this hike. Granted, there were a couple of physically draining moments where I felt as though the ascent was never-ending. Moments where you begin to stroll downhill only to hike back up again a couple of minutes later. But this is a trek that looks fantastic on a sunny, cloudy or even a snowy day. The slight muscle strains will last a day or two whereas the phenomenal memories and pictures will last a lifetime. Just be sure to eat lots of carbs; drink plenty of water; dress appropriately for warm and cold weather; take numerous photos and also eat tons of peanut butter- you're all set. Enjoy!
For more information and photos of my travels, Instagram follow: shannonkendall_