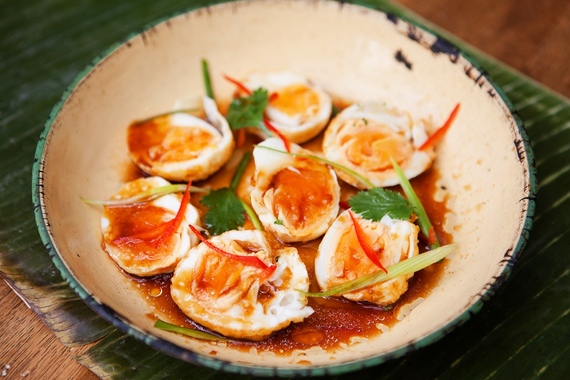 These eggs, aptly named son-in-law eggs are a Thai staple and according to research into the name, this dish is apparently a warning from a Mother in law to her 'soon to be' son-in-law, that if he doesn't treat her daughter well then it may not be eggs that will be used the next time she cooks them! This legend may not be true but either way it's a strong warning to any newcomer to the family. My advice is cook this for friends and steer clear of serving this at a family function!
So, back to the actual dish, these deep fried golden eggs with a dark and rich tangy tamarind sauce are perfect as a tapa as they are rich, tangy, salty and hot with chilli and are so easy to put together. The most important thing here is to use the best quality eggs, I've used Clarence Court eggs here but you can opt for any good quality free range organic eggs.
Ingredients
4 medium size free range organic eggs
2tbsp vegetable oil
2 small red shallots finely sliced
2 tbsp coarsely chopped coriander
Vegetable oil for frying
1tsp fish sauce
1tsp tamarind paste
2tbsp unrefined dark muscavado sugar ( billingtons )
2 tbsp water
Garnish
Thinly sliced red chilli
Thinly sliced spring onion
Fresh coriander and torn basil
Method
Fill up a saucepan and boil the water until the water starts to roll.
Add the four eggs to the pan and cook for 5/6 minutes.
Place the eggs straight into a bowl of iced cold water to stop them from cooking further.
Once completely cooled, peel the shell from the eggs and set to one side.
Using a deep fat fryer set ay 180, fry the eggs for a further 1 minute until they are completely crisp and brown on the outside. If you don't have a deep fat fryer you can use a shallow casserole pan to cook fry them in.
In a small frying pan, over a medium/high heat add the vegetable oil and then add the shallots, fish sauce, tamarind sauce, sugar and water to create a sauce. Add the eggs directly to this mix and then remove from the heat.
To serve slice the eggs in half and garnish with fresh spring onion, chilli, coriander and torn basil.