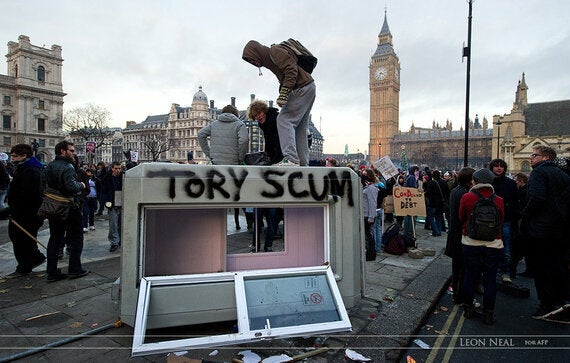 In the last five years, students have been attacked at every corner. In the next five, we must expect not 'more of the same' but much, much worse.
Now that the Conservatives have a majority Government, Cameron has pledged to deliver their manifesto in full . But what was in it, and what does it mean for students?
The headline of three million more apprenticeships sounds good, but scratch beneath the surface and these are being funded at the expense of what the Tories call 'lower level, classroom' Further Education courses. Meanwhile cuts of 24% are already being made to the FE sector. There is no mention of apprentice pay, so we can assume the poverty rate of £2.73 will continue with a move towards more business influence.
In education policy, it is more about what the Conservatives don't mention in their manifesto than what they do. Further and Higher Education barely features and fees are not addressed at all. We can guess a rise in tuition fees will be proposed, as just days before the general election, the Tories refused to rule it out.
There is a renewed commitment to academising all 'failing or coasting' secondary schools, as well as striving for a University Technical College in every city and '500 new free schools'; meaning the free market, two-tier individualist agenda in primary and secondary education will run wild.
Overall, the Tories plan to make budget cuts of £12billion. It is not entirely clear where these welfare 'savings' will come from, but we can expect Disabled Students' Allowance to be one of them, while unemployed under 21s will be refused Housing Benefit. Couple this with the bedroom tax and the Tories clearly hope to see more young people staying 'at home' with their family: something not everyone has the option of.
The Department for Work and Pensions has also announced it is looking at cutting the Access to Work fund for disabled people, and the Tories aim to 'recover £500million from migrants who use the NHS'. We know from the new health charges that this includes international students, already paying sky-high fees.
It is clear that this election outcome will pose dire consequences for migrants, the working class, disabled people or anyone who finds themselves a casualty of the housing crisis.
The new Government's policies arguably offer the worst prospects of all to international students. Overall net migration targets will be taken 'from hundreds of thousands to tens of thousands'. Considering there are almost half a million international students, we could see extreme restrictions on recruitment for HE institutions. The manifesto also says they will 'reform the student visa system with new measures to tackle abuse', as well as pledging to reduce the number who stay on after graduation. That means more restrictions, evictions and deportations.
EU migrants will have to wait four years before they are able to claim benefits, meaning they will no longer be entitled to Council Tax Benefit while the scrapping of out-of-work benefits will mean that EU graduates wishing to stay here will be faced with homelessness if they don't find employment straight away.
It looks as though Cameron will keep Nicky Morgan in Education and Greg Clark as Universities Minister. Both seem to tow the Party line far more than their predecessors and will be able to go even further in their briefs with a fully Tory ministerial team.
This by no means reflects the full scale of austerity the Government will likely implement, and there are many more policies that should concern us: anti-trade union laws and the scrapping of the Human Rights Act to name a few. It is clear that the need to fight back is now more urgent and in the coming months students must come together to strategise, analyse and call actions.
Demonstrations, occupations and unionisation will all be key tactics for the movement to employ in order to raise awareness and resist this impending onslaught. More than anything though we need to unite in our numbers; home and international, school to PhD, students with staff; doing everything we can to deny this Government an easy ride in pushing through their manifesto and delivering a full term.
12 - 14th June: National Campaign Against Fees and Cuts summer conference in Sheffield.
20th June: Students join the End Austerity Now demonstration in London.