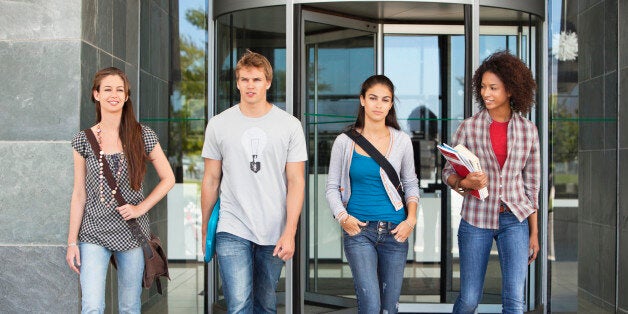 This weekend thousands of young people across Britain will leave home to begin their University experience. On the other side of the divide however, growing numbers of school leavers are deciding to dodge the debt and embark on working life by enrolling on apprenticeship schemes.
Just over two years ago, I made the biggest decision of my life so far. With my A-Level results in hand and 14 years of education behind me, I accepted an offer to study English Literature at The University of Warwick. It felt like the natural climax to my academic journey, a reward for hours spent toiling behind textbooks and sweating in exam halls.
My choice to opt for three years of study halfway across the country despite limited culinary skills and a non-existent understanding of how to budget was founded on a great sense of expectation. In fact, I'll unashamedly say I quite literally bought into the University ideal that was reflected off the face of sleek prospectuses and projected in pop culture.
I, like countless other applicants every year, believed University would be without a doubt the best time of my life. A chance to create friendships built to last a lifetime, engage in memorable late night conversations about hopes and dreams in dimly lit communal kitchens without a care in the world, and party to my heart's content.
Thankfully, thus far my University experience has seen all of those things and more. Via burnt meals, rumpled shirts and red bull fuelled all-nighters, it has been a whirlwind journey of self discovery. I would say I'm now halfway to being a competent adult.
As the type to struggle to screw a light bulb on the right way round but somehow able to ace an examination nonetheless, studying my desired course at my desired destination was a straightforward choice which paid off.
But it would be foolish to somehow suggest University is the ideal pathway for each and every 16-year-old weighing up their options. The idea that everyone will warm to lecture based note taking and examination driven learning is narrow minded to say the least.
Worryingly however, recent figures show the allure of the University route is not only growing; it is becoming inescapable. Last month's A-Level results day saw a record number of students who missed out on their predicted grades manage to sneak onto less popular courses at alternative Universities via clearing.
This is against a background where the idea that one must secure a degree to succeed is being thrust at sixth form and college students like some sort of grizzly ultimatum that in essence reads: NO UNI, NO CAREER PROSPECTS. It is becoming increasingly apparent that providers of further education are applying a one size fits all approach to the way in which they offer careers advice to their students.
Moreover, Universities themselves are going out of their way to coax indecisive students into joining their ranks by brandishing goodies. Some of the more tempting freebies on offer this year include Premier League Football tickets, laptops and Nando's vouchers. Filling up their courses and so too their coffers by any means seems to be the name of the game for various institutions across the country.
A peek past the gadget giveaways and ultra cheap alcohol into reality however, reveals a startling truth. Record numbers of students are dropping out of University. Figures show that around one in 15 undergraduates fail to complete the first year of their course, whilst cases of stress related illness and suicide are on the rise.
For many of those mis-sold the myth only to realise they've enrolled onto a course they're ill suited to and are now faced with the prospect of a mountain of debt and uncertain career prospects, the dream they've bought into becomes nothing short of a costly nightmare.
On the other side of the coin, slowly but surely, a growing crop of young people are giving a hearty two fingers to the establishment and deciding to pass up on University, instead opting for apprenticeship schemes.
Formerly frowned upon and dismissed as the preserve of builder's mates and handymen, a number of well known organisations are adapting "earn whilst you learn" models that seem tailor made for young people keen to immediately get into work.
Rather than head to University to roll out of bed in mid-afternoon to the tune of an agonising hangover and bottomed out overdraft, these apprentices are enjoying competitive salaries whilst thriving in their respective fields.
A number of apprentices I have met over the last few months are living in circumstances favourable enough to leave a number of University students, including myself, green with envy.
Manufacturing giant Rolls Royce has provided an apprenticeship scheme for over 100 years. At their slick, high tech Apprentice Academy in Derby I spoke to Jessica Bestwick, a 22-year-old who opted to avoid the standard undergraduate route. She completed a foundation course whilst working before topping it up for a part time engineering degree paid for by her employers. As for the benefits? Jessica, now an award winning Civil Aerospace Engineer explained it best; "I have a new car, I'm buying my first house, getting ready to get married at 22 and I did it without £36,000 worth of fees" a life in order if there ever was one.
Meanwhile Land Registry introduced a fast growing Apprenticeship programme in September 2014. At their Leicester office I spoke to Katie Platt, a self-assured 19-year-old who finished her A-Levels last year now reaping the rewards of her decision to avoid heading to University unlike many of her former classmates. She told me "I really wanted to go to University to study Geography because I absolutely loved it, I also did a lot better than other people in my class. They are on their way to graduating and I now have the exact same chance of getting a Geography based job as them so it's a bit ridiculous to spend that amount of money and not be sure of a career."
One of Katie's Land Registry colleagues, Kamen Hulbert who works in the Nottingham Office as a Human Resources Apprentice, found himself in a similar predicament and also decided he preferred on the job training to further study. "I came out of college and I actually didn't know what I wanted to do; I did a quite broad variety of A-levels. I didn't go to Uni because I thought I was ready for the world of work. I didn't want to put all my eggs in one basket with a 30 grand debt" he told me before leaving the office to hop into a swish looking Kia Picanto which he no doubt paid for stress free.