For as long as I can remember, I've wanted to be a storyteller.
As a pony-tailed, feisty little girl trying her hand at national debate competitions by 11, writing for youth magazines two years later and filming mini-documentaries at 15, I felt quite sure early on what my calling was to be - that fascinating world of media! (yes that's me below, as that kid)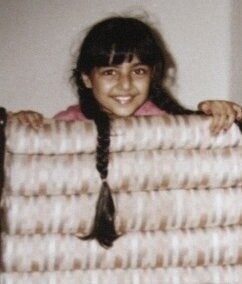 A rather unwieldy Sony video camera perched on petite shoulders, I voraciously built up a 'bank' of interviews with the folks in my community creating ripples of impact larger than their own worlds.
Today, I feel fortunate to have turned that zest for storytelling into my vocation as a digital lifestyle and technology editor and presenter. I've had the chance to create a video series on innovation (Digital Futures), tackle many topics as a TV journalist and curate a global thought leadership hub.
I massively enjoy the time I spend with the 4 young women I mentor, debate with top business leaders, quiz technology pioneers... and once bantered with the late soul icon James Brown!
However, not a single one of these opportunities ever sailed onto my lap. In all journalistic endeavours, however small or grand, I had to remain unwaveringly proactive. I heard my fair share of "sorry that's not going to happen".
I have my mother to credit for instilling her 'go tiger' spirit in me - that ability to bounce back. She's simply phenomenal at it. So I started to try and channel any big disappointments into my next attempt, over and over, with no clue if those efforts would go anywhere.
Often enough though, they did.
It recently proved to be harder to apply that ethos to something deeply personal. This has been a year of intense reflection for me. Back in May, I was faced with a serious bereavement. My spirit felt crushed and the usual 'fire' and 'energy' snuffed out by grief and what felt like inconsolable sorrow.
Used to being everyone's cheerleader, it felt even more unsettling to have to reconcile myself with not feeling uber-positive and chirpy! I learned that it's miles easier to be resilient about the more practical things that you're able to find some separation from - a house, a job, material desires.
Boy, does that give you perspective!
And then last month, something very heartening happened that has since slowly stirred up my morale. I found out that I'd made the final shortlist for a prestigious Women of the Future award (in Media) for Britain! Created by the simply inspirational Pinky Lilani (recipient of an OBE for her tireless work in championing female empowerment), I'm awed to even be part of a stellar list of female achievers. Run in association with Shell, the awards are a national programme that seek to celebrate and champion our country's most inspirational and high-potential women aged 35 and under.
At a time when I wanted to put the 'extrovert Shivvy' on hold (and simply crawl under a duvet and watch legal dramas on loop!), being labelled a 'woman of the future' was a gentle nudge to think about what that actually represented. It reminded me that the dynamic energy I had expended all these years into crafting video or commentary was being recognised... and this energy may have been subdued by the recent personal tragedy, but I was a survivor.
My family reminded me that I needed to start rallying that usual hope, that fighting spirit I had shown for the past 33 years of my life. To keep inspiring others!
So in that vein, I was asked to share a few of the approaches that have spurred my career on thus far. Here are three...
'Alpha'= Resilient, Warm, Energy-giving
I for one wear the 'Alpha Female' badge with pride! To me, this stands for being highly charged, positive and a people-oriented person.
It truly frustrates me that the label often carries a negative connotation - it's equated to being ruthless, nasty or needlessly combative to succeed at all costs. Those who embody the latter approach aren't setting an healthy example for the next wave of young female leaders, don't you think?
Be a catalyst! A connector!
Let's move on from being consumers and challenge the norm more often.
Early last year, I started conceptualising and storyboarding the same video series I produce now, which is powered by digital telco Telefonica. I wanted it to be entirely editorial and feature only external experts - no company logo or spokespeople. My immediate team backed the idea but a few stakeholders were skeptical. What was the business value? Why was it brand agnostic? I explained this would contribute to positioning us as credible thought leaders and they'd see this from the first episode.
I quickly pieced it all together. Two episodes down and we had rallied momentum. Six episodes in and we'd tracked up over half-a-million viewers. Now we're at 2.2 million minutes watched and 850,000+ views!
Five years ago, I wanted to switch tracks from a newsroom environment to try an in-house role with an exciting corporate. A medium-sized sustainability advisory approached me. At the same time, a plum reporting job with a top news organisation was on the table. Everyone insisted I'd be a fool not to take this opportunity.
I took the plunge and joined the advisory - it was absolutely worth it. I had editorial control and was given the independence to create a 12-part series of interviews on business ethics with world leaders.
To conclude, as part of my role, I meet some very fascinating people nearly each week. Creators, change-drivers, eclectic ideas makers.
We're all Women of the Future. We just don't know it yet.
Shivvy Jervis is shortlisted for the 2014 Women of the Future Awards. For more on the awards, click here. This year's awards ceremony will take place on Tuesday 28 October and is hosted in association with Shell.