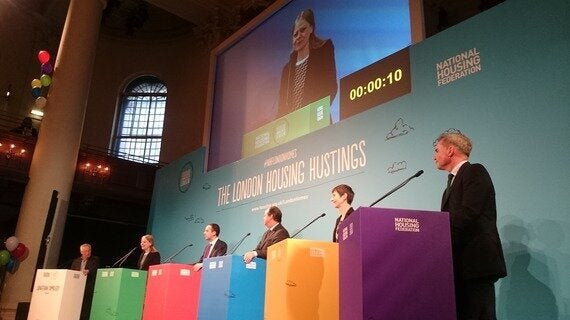 Amid the busy rush of a mayoral campaign, we candidates get to speak in some amazing venues. On Monday night we were invited to St John's Smith Square, the baroque former church in the heart of Westminster which is mainly used as a classical concert venue.
We were guests of the National Housing Federation, and given that all parties agree London's housing crisis is the burning issue of this election, you would naturally expect all the candidates to prioritise the event.
But to the distress of the organisers - NHF chair David Orr told the audience he was "frustrated and disappointed" - neither of the supposed frontrunners, Tory candidate Zac Goldsmith and Labour's Sadiq Khan, were attending.
Zac's stand-in told the audience his man was at a meeting in outer London, and in this case Sadiq's absence was explained by attending the Syrian refugees vote in Parliament. But we were within reach of the Division Bell, and it was by no means the first time both Zac and Sadiq had ducked a housing hustings, including a vital one on renting. Their attitude is symptomatic of the way the most pressing issues have been neglected in favour of a bitter personal slanging match.
The Tories have run a poisonous campaign designed to whip up prejudice against Sadiq, essentially as a Muslim, inspiring disgust way beyond the normal party boundaries. The leading conservative journalist Peter Oborne has said "Goldsmith's campaign for mayor has become the most repulsive I have ever seen as a political reporter".
For his part Sadiq has risen above this nastiness with good humour and dignity. But sadly he doesn't seem to have any greater vision of how to tackle the problems our great city faces.
Take the challenge of keeping 8.5 million people moving every day. Sadiq says he will freeze fares. As a result he will put Transport for London on an austerity footing, potentially starving public transport and cycling of investment. It's the same approach to public services as Conservative chancellor George Osborne, and we have learned how badly that turns out in other areas of policy. Meanwhile Zac offers nothing at all to Londoners who are struggling to afford to get to work in what is already the world's most expensive city for public transport.
As a professional transport campaigner for many years, I'm offering a vision of a better way of doing transport. My costed plan responds to the housing crisis and the extra costs borne by outer Londoners. It aims to reduce the unfairness of being forced out of central London by the housing crisis only to pay vastly more to get into work again. The plan would cut fares for outer London, with fewer zones from next year and a move to flat fares by 2025.
We could have the same shift away from private cars as Amsterdam or Copenhagen have achieved, if only someone shows the right leadership.
I am the right person to lead the way on transport, just as I and my party have the ideas to solve the housing crisis. For 16 years the Mayor of London - first the independent/Labour Ken Livingstone, then Conservative Boris Johnson - begged big property developers to give us affordable housing. It clearly hasn't worked, with the smallest starter homes now way out of reach even to young professionals on high incomes, and private rents more than doubling in a period when pay has gone up barely 10 percent.
That's why we need other models: community land trusts, where people buy the bricks and mortar but not the land, which is what costs the money in the first place; that would be held by the trust in perpetuity, keeping the homes permanently affordable. And we'd build not with big developers, but co-ops, small firms and self-builders, with advice provided by City Hall.
It would mark a change of approach - but we desperately need one. The magazine Inside Housing reported that most of the audience seemed to agree. "At the drinks afterwards, there was a near unanimous acceptance that Ms Berry had been the most impressive candidate in the debate," it wrote the next day.
I'm seeing momentum build behind my campaign in the past few days and I'm hoping we still have time to get away from the toxic, divisive tone of the personal attacks on Sadiq and talk about the things that matter. London requires it.