Six years after Somalia's last case of polio, the country has become the epicenter of a fresh outbreak in the Horn of Africa. 128 cases have been reported in Somalia, 13 in Kenya and one in Ethiopia. Yet because of careful planning and an aggressive, dedicated response by international organisations, national governments and local health workers and volunteers, the real heroes, we are on track to contain this outbreak and protect the outstanding progress we've made.
Executing effective emergency health responses in a country such as Somalia is complex. Ongoing violence and mobile populations make it difficult for vaccinators to reach vulnerable communities. These and other challenges exacerbate Somalia's low routine immunisation rate: currently less than 50%. Similarly, in the Dadaab refugee camp, where most of the Kenyan cases have arisen, the virus has taken advantage of chronically low immunisation rates. So goes the history of polio: when immunisation rates are low, and conditions are ripe, the virus will take advantage.
But these challenges are not unprecedented. From Cambodia to El Salvador, the programme has interrupted transmission despite armed conflict. When I worked for UNICEF in Sudan and Somalia in the mid-2000s, we rooted out polio amidst civil wars. After a 2005 outbreak in the Horn affected more than 1,000 people, the World Health Assembly formalised an emergency response protocol lauded as a major success by the Global Polio Eradication Initiative's (GPEI) Independent Monitoring Board.
Successes and lessons learned from prior experiences have equipped the GPEI with a robust set of tactics to immunise hard-to-reach children. To ensure no child is missed, the GPEI prioritises creating alliances and partnerships with community and religious leaders, tracking nomadic groups, generating awareness at the community level and deploying trained vaccination teams.
This May, the GPEI launched the Polio Eradication and Endgame Strategic Plan, which integrated the outbreak response protocol, access tactics and other approaches into a multi-prong strategy that, if successful, will end polio by 2018. This comprehensive approach allows the programme to maintain its focus in endemic countries and simultaneously tackle inevitable outbreaks, with funds set aside for this purpose.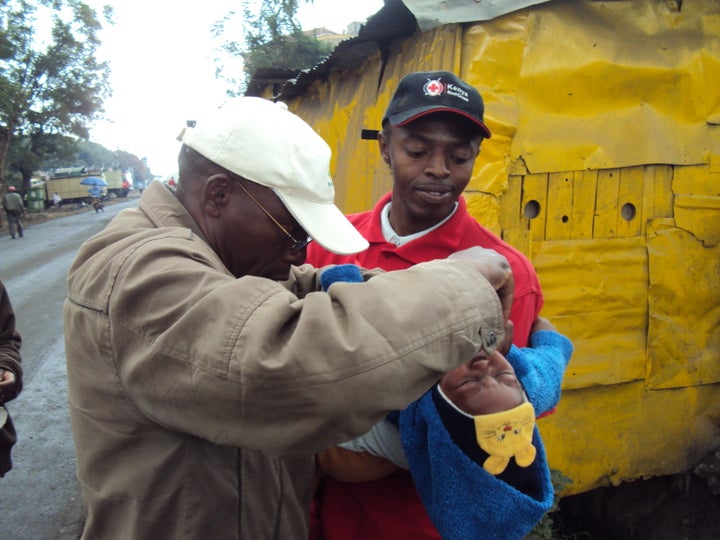 The response in the Horn has followed this plan. The first reported case in Mogadishu this May was followed just five days later by an emergency campaign aiming to vaccinate hundreds of thousands of children. Subsequently, 12 large-scale campaigns have been conducted in four countries.
The SRCS provides basic health care services, including child immunisation, at 62 maternal and child health and 26 mobile health clinics throughout the 19 regions of Somalia. These clinics reach some of the hardest-hit areas and migrant populations, raising immunisation coverage well above the national average in certain areas.
In Kenya, KRCS staff and volunteers are the few vaccinators that can access Dadaab camp, and the insecure parts of North East Kenya. Following the outbreak, with support from the American Red Cross and the IFRC, KRCS supported the Ministry of Health in launching rapid responses in Dadaab and surrounding areas. The British Red Cross has been a constant and reliable partner in the various crisis in the Horn of Africa.
Access continues to be an issue, as we face not only insecurity but the complacency that comes with a multi-year respite from polio. But when polio workers are able to reach target populations, the response is overwhelmingly positive. Vaccine acceptance rates are currently above 99% in Somalia.
Guided by a strong strategy and with the support of local populations, GPEI partners in Somalia are gaining access to vulnerable communities and establishing networks that will help deliver other life-saving health interventions. National partners and institutions like the Red Cross and Red Crescent National Societies must continue to be fully supported by all international partners in order to ensure scaling up of polio eradication efforts.
This outbreak is a stark reminder that so long as poliovirus circulates in endemic countries, it threatens to spread elsewhere. The three remaining endemic countries--Afghanistan, Pakistan and Nigeria-- have all made significant strides this year, with 40% fewer cases this year than at this point in 2012. But until these countries are polio-free, outbreaks are inevitable.
The UK government has been admirably committed to the cause. The UK pledged £300 million to the Strategic Plan in April. And in August, International Development Secretary Justine Greening announced £10 million in new funding to support emergency vaccinations in Somalia and Kenya.
With the support of the UK and the rest of the international community, we will finish the job against polio and prove what's possible when the world unites to protect children's lives.
Siddharth Chatterjee is the Chief Diplomat and Head of Strategic Partnerships and International Relations at the International Federation of the Red Cross and Red Crescent Societies. He has been involved in polio eradication campaigns in South Sudan, Darfur and Somalia. These are his personal views. Follow him on Twitter: @sidchat1
Related