The late summer sun illuminates a beautiful English garden scene.
There beyond a welcoming terrace in a small pagoda sits Alfie Preston in his motorised wheelchair. I have come to this West London care home to pay my friend a visit, he is a suffering terribly from a rare neurological disease by the name of Multiple System Atrophy (MSA) for short.
The recent weeks have not been kind to Alfie, and his health continues to worsen at a frightening pace.
MSA is a vicious, rotten condition to be blighted with. The pace at which it progresses to take away even the most basic of human ability is cruel, and the contrast in Alfie's health since the last time we met is shocking.
The ever worsening Dysphonia or 'Quiet Voice' is an evil symptom of this illness, and I find my friend barely able to utter a faint sound where he once could speak. In addition he has now become completely unable to support himself even whilst sitting, and all sorts of hoists and mechanical devices have been installed to allow Alfie to conduct even the most basic of bodily functions.
With sensitivity to light worse than ever in his eyes Alfie can't stay outside for long these days, and it's a desperate shame that this man who once loved the outdoor life can no longer enjoy this late summer sunshine.
The care assistants here are painfully aware of Alfie's needs and work tirelessly to ensure he is allowed the most basic of human existence. Just eating, drinking, going to the toilet and keeping clean takes huge effort from Alfie and his helpers now, and as they wheel him off inside for a comfort break I watch the knowing faces of his wife and children as they look on in saddened concern.
If there is one aspect of this heartbreaking (and ultimately terminal) situation that you can take great heart from it's the love and support Alfie's Wife Jean and his Daughter Nicky continue to give with tireless vigour.
The simple fact that Alfie is in this warm, friendly care home, and not still in a Charing Cross Hopital Geriatric ward, is largely down to his wife and daughter.
You see despite all these wretched symptoms inside that body is a mind still as sharp, alert and witty as ever. Alfie is completely 'with it' even if he can't express himself as he once did with much humour, yet if the NHS's had not been challenged by his family the man would have spent his last days with those who are devoid of their sanity on a hospital ward where serious infection was only a matter of when rather than if.
Alfie's daughter Nicky Holmes with Dad's Wife Jean at her side battled the system to obtain the funding warranted for his proper care.
The fight to ensure her father got the right location and support for this most ruthless illness took Daughter Nicky countless hours of research and lengthy frustrating meetings (often with poorly informed NHS Representatives) in order to get what her father was entitled to.
And now just a few short months into the funding the NHS have contacted Alfie to re-assess his situation, and a whole new battle begins to justify the financial support of a desperately poorly terminally ill man.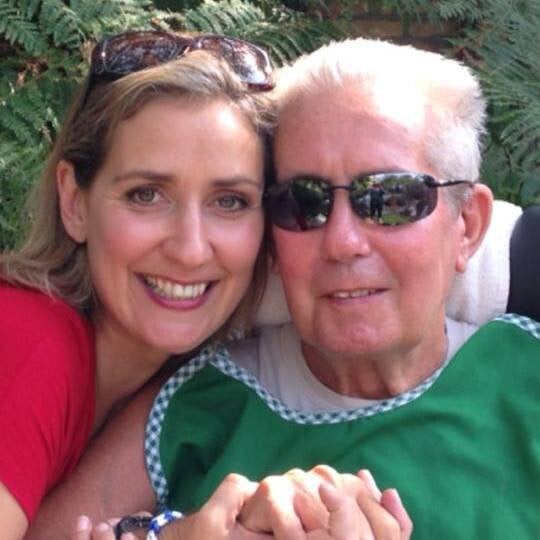 Whilst Nicky makes time for further research, and the memorising of her father's medical notes to go into battle once more, this busy mother of 4 has decided to cast her fears aside and throw herself out of a plane in a skydive to raise money for the MSA Trust.
The specialist nurses who work for the trust have been an invaluable source of information and support to Alfie, his family and many other families blighted by the challenges of MSA, and having been through this harrowing journey at her father's side his most dedicated Daughter understands only too well the need to raise funding and awareness for this little known condition.
In the space of a week Nicky will fight her father's continued battle for funding with the NHS and then leap out into the bright blue sky in order to raise money and awareness for her father's condition, but she is at pains to ensure that the real focus of all this effort is her Dad Alfie Preston, a much loved man who has been dealt a wicked hand by life.
Despite being only able to communicate his thoughts painfully slowly through letter boards where he has to use his eyes to point out each letter of each word, when he hears the news of his daughter's fundraising antics he manages to raise a look of sheer terror! And in typical humour asks Nicky to delay her jump from altitude just for a few days until the assessment meetings have been completed..... just in case!
Whilst families can feel helpless in the battle against MSA (or any degenerative illness with no cure) Alfie and his family are proof to us all that the rays of hope and positivity can shine down through the clouds of even the darkest of storms.
The support of his family and the defiant good humoured spirit of the man himself provide huge inspiration in the face of abject helpless despair.
Let's hope that sun keeps shining a while longer, and the man and his family are afforded the basic right of the correct care in a safe environment now and for every day forward it's needed.
You can learn more about MSA and support the Trust by visiting their website at: