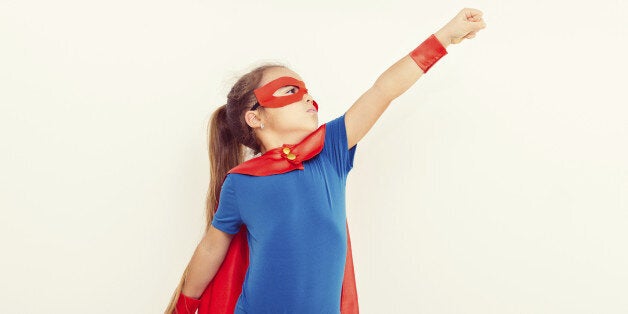 When she was 2-years-old, a rather confused looking older boy asked about my daughter "Is she a boy or a girl?"
He'd already answered his question of course, but I simply replied "She's a girl."
"Why is she wearing a Spider-Man t-shirt then?"
"Because she likes Spider-Man".
His older sister then joined in telling him "Yeah, girls can like Spider-Man too y'know!".
I often recall this incident. I hope every time my daughter wears superhero or Star Wars clothing, she is similarly influencing or subverting other children's (and parents') ideas of what is and isn't for girls.
I thought of it recently when my daughter bounded over saying excitedly at the park one day saying "Daddy, daddy, I've just made a new friend! This is James!"
Turns out they got talking because of her t-shirt - showing Captain America, Iron Man, Hulk, and Black Widow. James is a fan of Iron Man. When I encouraged my daughter to talk to him about the others, she rolled her eyes and said "I've already told him who they are daddy".
The kids ran off and played. This is one boy who will hopefully now assume 'Superheroes are for girls too'.
Now we just need the men to get on board the geek girl train.
Most men always note my daughter's superhero t-shirts. The reactions vary. Most think it's cool. Some are jealous ("My wife would never let me dress my daughter in that"), but others are incredulous.
These men tend to test my daughter's knowledge, by quizzing her who the characters are, possibly buying into the fake geek girl idea.
In the past, she's often been intimidated being questioned by a strange man, answering "I don't know" when she does. This of course reinforces their prejudice while they mansplain the answer to her.
Recently at a local fayre, while we were waiting in the faceprinting queue, a man asked my daughter who the superhero characters on her top were. With a seemingly new found confidence, she told him their names without hesitation.
"Oh, she really does know who they are..!" he said to no one in particular.
So hopefully this is one man who will now assume 'Superheroes are for girls too'.