It is difficult to properly understand climate change. The scientific jargon, sheer scale and global nature of the crisis it represents can lead to confusion and incomprehension but, perhaps more than anything, it is hard to appreciate how tackling this fundamental challenge will change the way in which we lead our lives. More than this, how do we even begin to comprehend the consequences of climate change for our children and the generations that will come after them?
The impacts of climate change are already being felt and will inflict severe and irreversible damage unless carbon emissions are cut deeply and rapidly. Climate change is wreaking havoc on the lives of millions of children around the world. Of course, it is those living in the poorest and most vulnerable communities who will be most impacted. When drought decimates their families' crops, when flooding brings deadly disease into their communities, when cyclones demolish their homes and schools, or when rising sea levels infect the water they drink, it is children that are hit hardest by climate-related disasters, each and every time.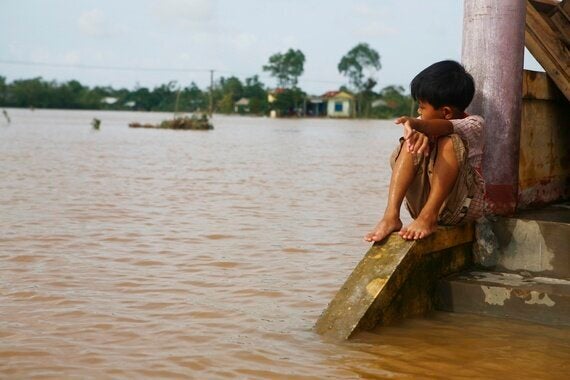 Le Tuan Khanh, 9, from Hai Lang district, Vietnam. Hai Lang district was heavily flooded due to Typhoon Ketsana in 2009. UNDP Viet Nam\2009\Doan Bao Chau
Last year was the hottest on record and 2015 is set to surpass that. Reports of climate emergencies continue to pour in, from flash floods in Myanmar, to one of the deadliest heatwaves ever recorded in India, to Hurricane Patricia the strongest hurricane ever, which made landfall in Mexico. This year and into the next, a strong El Niño phenomenon, a warming of Pacific Ocean waters that triggers extreme weather, will impose further suffering for children in many countries.
Climate-related disasters accounted for 87% of all disaster events in 2014 and these occurred overwhelmingly in developing countries least equipped to deal with them. Since 2008, natural disasters such as typhoons and floods have displaced an average 26.4 million people every year, a number equivalent to over 40% of the UK's population or, to put it another way, fifty people displaced every minute, close to one person displaced every second.. Rising temperatures are increasing the severity and frequency of these events.
Children bear the brunt of climate change in every sense - it undermines their most basic rights, threatens their survival and wellbeing, and reduces their access to food, water and education. Communities are put under huge pressure as climate change exacerbates many other drivers of insecurity, putting children in danger of violence, exploitation and abuse.
This year, world leaders have a unique window of opportunity to put in motion the urgently-needed policies and actions to address the threat of climate change and to keep children safe. The work has already begun. In September 2015, the international community adopted the Sustainable Development Goals, a global plan of action for which recognises that the fight against climate change must be at the very core of efforts to eradicate poverty. In December, world leaders will come together in Paris to sign the first ever global agreement to tackle climate change.
However, despite the fact that the children of today will be the generation to experience the new and extreme consequences of climate change, Unicef UK have told me that consideration of children has been conspicuously absent in negotiations leading up to Paris. They are mentioned only once in the current draft text of over 28 pages.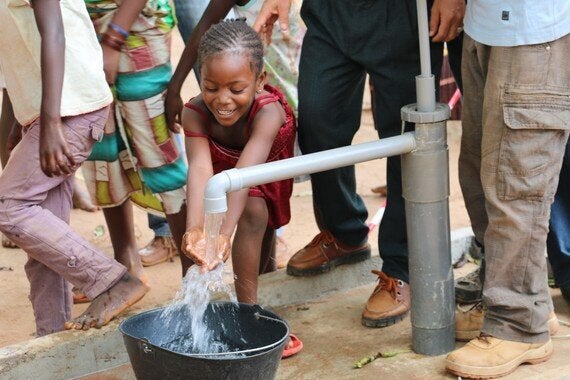 A girl enjoying the first drops of fresh and clean water from the manual drilling project in Bangui's Ouango district, Central African Republic. Unicef CAR/2015/ Le Du
The new agreement will frame the future of today's children and the planet that they inherit. While the headlines will focus on the inevitable political battles, the world must not forget the very real human realities that are at stake. There can be no doubt that a legally-binding commitment to ambitious climate action has never been more critical, nor that such action must respect and protect the rights of the poorest and most marginalised children and communities, whose voices are seldom heard.
It is also clear that protecting these desperate communities will require significant funding and support. There is so much that can and must, be done to increase communities' resilience to the impacts of climate change and to prevent hard won progress from being wiped out. From building cyclone-proof schools to protecting vital water supplies from flooding, many of these simple measures are also cost-effective.
It will not be easy, but it is not too late. Through determined and global action, we can prevent children's lives from being turned upside down by climate change.