Disabled people with a wide range of impairments have been painting in one way or another for a very long time and in quite untraditional ways such as using their feet or mouth, there is a guy in America with cerebral palsy who paints professionally using a helmet to attach his brush to. However, I was intrigued when my friend, Patrick, said he was painting with his eyes.
Patrick Bates, a fellow Coventry University graduate, is in his mid 40s and has severe cerebral palsy, far more significant than my own. He is unable to speak verbally or coordinate any his movements in a meaningful way, and so he needs assistance with everything from feeding to toileting. This does not stop him living independently in his own home, directly employing and managing his own team of care staff. Like myself, the computer and other technology has been his saviour and until a few years ago, he used devices with head switches, which was a slow and often frustrating method for him. Then he discovered eye gazing technology.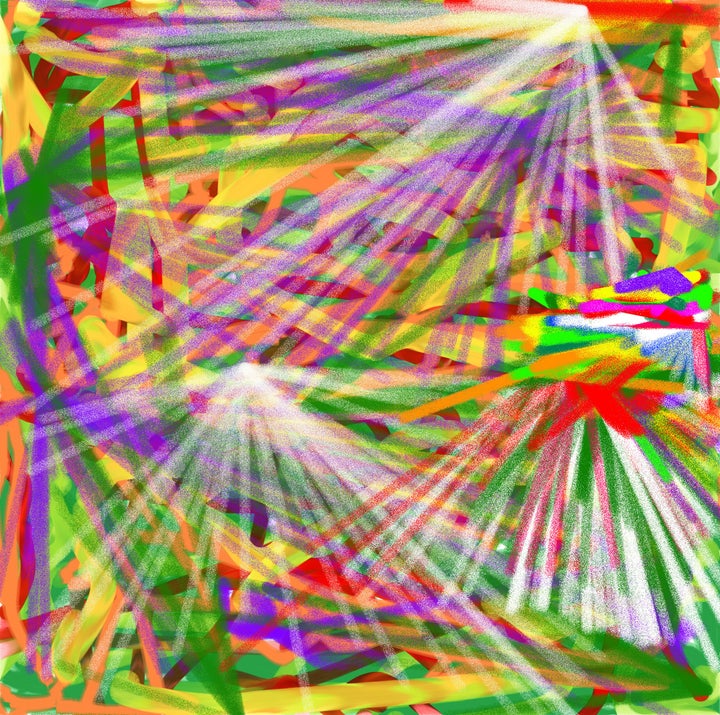 This relevantly new technology allowed Patrick to 'type' much faster and so rather than having to be very direct, often too direct, in what he said, he could now actually express himself more fully, providing him with freedoms he never thought possible. It also had an additional benefit of allowing him to paint on his eye-gazing communication aid. This cutting edge media has enabled Patrick to express himself on an emotional level that is simply amazing. Before this, since there is only so much you can say in cold typed words, the only way he could express his emotions and feelings was through his body movements, expressive facial expressions and vocalised 'noises'. For those of us who understood his informal communication, Patrick could be as sharp as anyone with a quick look or a snort.
But now Patrick had this amazing new way to express himself, simply by directly moving the brush on the screen using just his eyes. The real bonus was that this is not just 'therapy' but he is actually a very good painter with his own unique style as his art describes a feeling or event. What is exciting is that Patrick now has the potential to sell his art, or accept commissions, and make a career out of this. This once again demonstrates to myself that regardless of the difficulties individuals face, it is indeed possible for them to make a meaningful contribution to society with the right technology and attitude.
It is interesting to wonder what Patrick's and many others' lives would have been like if eye-gazing and other technology was around when he was a child and so many disabled people, including myself, have so much to thank technology for. These liberations are often unintended consequences of what technology was designed for and we can see that in the many ways iPads and other tablets are used. As eye-gazing technology becomes more mainstream, it could open up further opportunities for Patrick and others in ways we can not even imagine.
As we can see with Patrick, myself and others, technology can unlock the precious human potential some disabled activists wish to write off as unimportant as they prefer disabled people to be portrayed as victims of society. But with his eyegazing technology, Patrick is no victim but someone who now has the power to bring joy to others with his art.
You can see more about Patrick's eyegazing art at http://patrickbates.businesscatalyst.com/index.html
Related