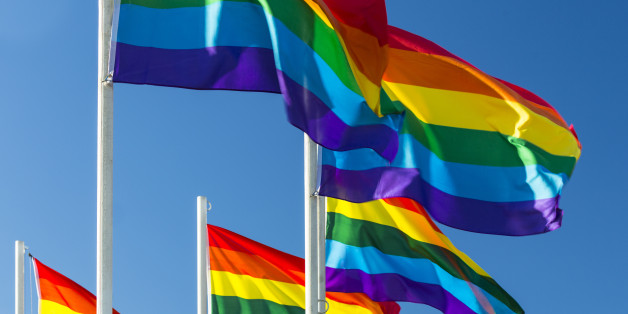 Stuart Dee via Getty Images
Well fam, the horserace has officially begun. With the release of the Conservative Party's manifesto on Thursday, all three of the major parties in England have made their pitch to the nation. Now it's time to see how they stack up.
The Gay UK Magazine's editor-in-chief, Jake Hook, has compiled a handy list of pledges each party has made to the LGBT community. When looking at the numbers, Labour has the most inclusive manifesto, mentioning the LGBT community 11 times. The Liberal Democrats mentioned us five times. The Conservatives didn't mention "LGBT" at all. They did, however, promise to fight global persecution of people based on their sexuality and has committed to "push forward with our plan for tackling hate crime[s]" at home, though they don't exactly say what that is. The other two main parties made similar commitments, with Labour going as far as to promise a global LGBT rights envoy.
While the lack of any explicit mention by the Tories is disappointing, the other two parties had some wonderful pledges - and we should talk about them, and what the Tories are saying by not saying anything.
Both the Liberal Democrats and Labour have pledged to make the revolutionary HIV preventative Pre-Exposure Prophylaxis (or PrEP) available on the NHS, which can help bring down the rate of new infections, particularly among men who have sex with men. The Conservatives did not mention PrEP in their manifesto, but a Tory health minister last year said that "there is a limit to the money we have available" and that the government simply couldn't afford to pay for PrEP - so it's unlikely the Tories will make it available on the NHS.
Similarly, Labour and the Lib Dems are in agreement on mandating LGBT-inclusive sex and relationships education (SRE) in schools. Despite having an openly lesbian Education Secretary in Justine Greening, the Conservatives did not make a similar pledge - and indeed Tory MPs voted down an amendment that would have required LGBT-inclusive SRE earlier this year, with MPs citing opposition from anti-gay faith schools as their reason. The bill eventually passed without any requirement for LGBT issues to be included in the curriculum.
In a further move to protect LGBT children, Labour has promised to train teachers on how to deal with homophobic and transphobic bullying. The Lib Dems promise to tackle bullying, including bullying based on sexual orientation or gender identity. The Tories don't mention LGBT kids specifically, but they do have a commitment to tackle cyberbullying through SRE - though how that will help LGBT students who are written out of the Tory-mandated SRE remains to be seen. Still, in fairness to the Conservatives, former Education Secretary Nicky Morgan did secure funds to tackle homophobic bullying, including in faith schools - and this project has continued under Justine Greening.
If you are bullied and need mental healthcare because of it, Labour and the Lib Dems have your back. Labour promises to "reverse the damage done to mental health services under this Tory government, which is particularly hitting services for LGBT and BAME communities." Meanwhile, the Lib Dems specifically cite LGBT mental health groups as needing more funding.
Again, the Conservatives don't mention us outright, but the Prime Minister has made mental health issues a cornerstone of her domestic policy. The Tories are pledging a further £1 billion in funding for mental healthcare by 2020/21, and pledging to bridge the "mental health gap" by destigmatising mental health conditions and reforming laws, including the Mental Health Act, "to ensure that those with mental illness are treated fairly and employers fulfil their responsibilities effectively."
Whilst LGBT issues naturally weigh on the minds of LGBT voters, there are other aspects of these manifestos which should concern them - Brexit chief amongst them. Much of the equality the LGBT community has achieved over the past several decades has been through European mechanisms, in particular the European Court of Human Rights. The Human Rights Act 1998 enshrined the European Convention on Human Rights into British law and allowed appeals to the European Court of Human Rights when those laws were violated - resulting in allowing openly gay people to serve in the armed forces, legalising homosexuality in Northern Ireland, and equalising the age of consent.
Brexit doesn't take the UK out of the European Convention on Human Rights, but Theresa May had, as Home Secretary, pledged to do so. However, the Conservative Party manifesto explicitly states that the UK will remain in the ECHR for the duration of the next parliament and no attempts will be made to repeal the Human Rights Act until Brexit is settled. Furthermore, the Tories' Great Repeal Bill promises to enshrine EU-level protections in British law, a promise Labour and the Lib Dems have also made.
Back home, Labour and the Lib Dems are pledging to tackle youth homelessness by reinstating housing benefit for under-21s. While on first glance this doesn't seem like an LGBT issue, a full quarter of homeless youth are LGBT according to a 2015 study by the Albert Kennedy Trust. Often kicked out of their homes and facing homophobia or transphobia within their families, LGBT youths don't always have access to parental support - so housing benefit for those vulnerable youth who need it is of great importance to the community.
One last thing that caught my eye in Labour's manifesto was a small item about pubs. "We will set up a national review of local pubs to examine the causes for their large-scale demise, as well as establishing a joint taskforce that will consider future sustainability." Whilst this might seem minor, as The Gay UK previously reported, since 2000 over 100 gay bars have closed in London alone. Soaring property prices and decreased revenues have led to closures, but as Huff Post Highline reported earlier this year, the epidemic of gay loneliness means we need our pubs more than ever. If Labour (or any party) can figure out how to reverse this trend and save our cherished boozers, that's welcome news.
I'm not here to tell you how to vote, but to give you the tools to make an informed decision. The parties have made their cases (or not) to the LGBT community, but only you can decide how to cast your ballot. Whichever colour of the rainbow your rosette ends up being, I look forward to continuing to bring you all the news from this big, gay election.