I thought it was April Fool's hoax, when I saw the video of Jimmy Fallon and Jay Leno singing Tonight from West Side Story suggesting that Jimmy will host the Tonight Show. Late Night hosts' challenges and rivalry are a recurring joke. However, it wasn't a joke this time! Jimmy will be replacing Jay on The Tonight Show! In spring 2014, the show is moving from LA to New York with Lorne Michaels as a new producer. Now, aren't all comedy geeks excited?

Why - the non-geeks among you can ask - is it such big and exciting news? The Tonight Show is an iconic American TV show hosted for 30 years by Johnny Carson back in the days. There was always controversy surrounding the host changes: David Letterman wanted to get the gig after Johnny Carson but the network chose Jay Leno over him. Letterman left off to CBS Late Show with David Letterman where he is still now. Conan took the spot for a year in 2009 and stepped off due to time slots issues with The Jay Leno show. Eventually, after a brief break Jay Leno continued to hosting the show for the total of 22 years. Now let's give a warm welcome to Jimmy Fallon!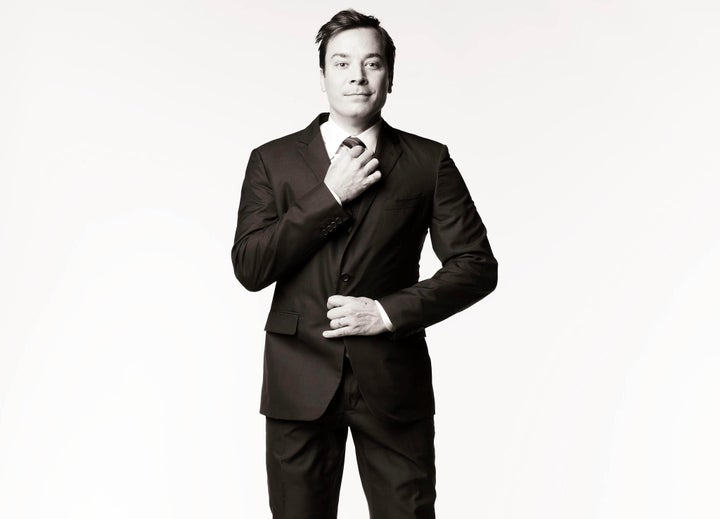 Like many NBC shows The Tonight Show has been recorded in LA, in the same place where Friends were created, so moving the show to New York is a big change as well.
I've mentioned on my blog and hundreds of times in real life that Jimmy Fallon is my favourite person in the universe. I hope he won't change his silly comedy bits.
For sure, some skits will have to end like the Late Night Downtown Abbey - Downtown Sixby, since they are leaving the Studio 6B. Let's keep our fingers crossed that Thank you notes, Head Swaps and most importantly, musical impressions will make their appearance on the new Tonight Show. I want to see Jimmy singing remake songs and parodies dressed up as Tebowie.
If you look at the bigger picture, it is one more proof that the amazing Lorne Michaels is a godfather of comedy in NBC. He is the father to SNL, promoter of the SNL alumni careers like Tina Fey's 30 Rock, he was actually the one who convinced network to put Conan, a non-celebrity writer from SNL and The Simpsons, on The Tonight Show 10 years ago. There are rumours that the SNL head writer and Weekend Update anchor, Seth Meyers, will take over Jimmy's seat in the Late Night.
I'm also interested in some backstage changes. What will happen to the writers? Will Jimmy get the current Tonight Show writers or bring his own writers to come to the Tonight? Will the next Late Night host, possibly Seth Meyers, recruit his own writing staff? (If so, if he takes his Weekend Update buddies from SNL, they will need new writers there!) Thank God, Lorne Michaels is overlooking all of these changes - we don't have to worry about the standard of the shows.
It seems like exciting future for comedy! For me, it means that I will have to spend even more time on the internet watching these shows, taking improv classes and dreaming of one day when I hang out with Jimmy Fallon and Lorne Michaels.