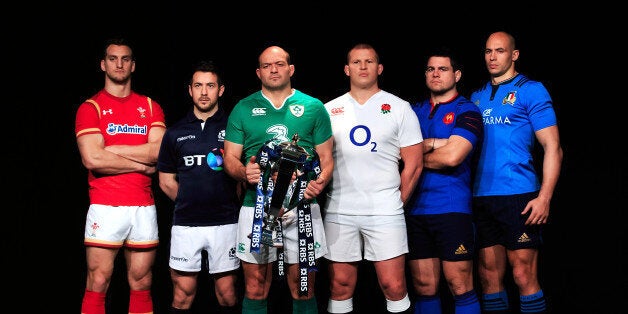 I've been lucky enough to attend some major sports events during a long career - the Olympics included - but there's something very special about the Six Nations.
It's the spectacle, the history and tradition, sold out stadiums across fabulous capital cities. Yes rugby fans love it, but so too my mum. Such is the appeal of this grand old tournament over 24million people tuned in last year on (BBC) TV in the UK with nine million alone watching the thrilling climax.
One way or another I've been involved with the Six Nations for nearly two decades. Currently, I'm the one on the touchline for the BBC's TV coverage, tasked with interviewing coaches and captains before and after the big games.
People ask me what it's like being a woman in such a testosterone-fuelled environment. You need a certain amount of courage to face an incandescent coach on the wrong end of a result. But regardless of gender I'm a journalist first and foremost and would rather risk the wrath of a coach than leave with that horrible feeling I didn't do my job by ducking a tough question.
I'm a bit like a rugby player myself. No, not the hours spent in the gym and I haven't got cauliflower ears, but I do approach the championship with the same dedication. I read the newspapers avidly, watch online content and generally try to soak up all things Six Nations. There's no room for error on live television so attention to detail is vital.
My week starts with a phone call from the boss to settle on which features to film ahead of the weekend. It's a great opportunity to introduce a player or coach to the audience. Background reading on the subject is essential and then I spend time thinking of relevant questions to ask. Filming completed the tapes are handed over to the producer to craft the final piece. It's a team effort.
The next job is to write out my match notes. An A4 piece of white card with the team lists, form guide, potential talking points around the game. I always have them with me and keep them for reference material afterwards. One set is covered in blood, a consequence of getting a bit close to a battered and bruised player!
Match day I'm full of nervous energy. I spend the morning reading the papers and working out what questions I'm going to ask both coaches before kick-off. It can be an anxious time waiting for the chief protagonists, wondering what mood they might be in. Some are more obliging towards us than others. I'm always relieved when they're recorded and in the can.
The game and the immediate aftermath can be frenetic. With 20 minutes to go if the match appears settled I start to scribble some questions. I've had to tear up my script a few times when games go to the wire. It's so important to keep a cool head. You've got the director talking to you via your ear piece, the floor manager is trying to tell you where to stand and all you're thinking about is asking the right questions. And it's noisy too with post-match interviews often relayed to the entire stadium over the public address system. It's a bit weird hearing your own voice booming out around Twickenham.
Things can go awry - a player once swore during an interview I was doing on live television - but fortunately that's not a regular occurrence. You find yourself at the sharp end, privy to a whole gamut of emotions. I won't forget Brian O'Driscoll's face as Ireland finally clinched a long awaited grand slam, or the withering look one coach gave me when I asked him an awkward question.
And you have to be prepared for whatever the weather throws at you. I once got that wrong and spent an entire match sat inside a bin liner.
It's a brilliant job. I'm part of an established and talented rugby team at BBC Sport and players I once interviewed like former Ireland captain Keith Wood, are now colleagues having joined as expert pundits. Jonathan Davies, Andy Nicol, and Jeremy Guscott are all back. And we've got some newcomers too with Paul O'Connell, Mike Tindall and Matt Giteau lending their experience too.
I can't wait. It's a brilliant time of the year, it's a brilliant tournament.
Sonja McLaughlan is a pitch side reporter for BBC One's coverage of the Six Nations and presents The Matt Dawson Rugby Show with Matt Dawson on BBC Radio 5 live every Thursday evening before a game weekend throughout the championship.
The Six Nations will be live across BBC and ITV. Watch France v Italy and Scotland v England on the opening day, live on BBC One, from 13.30, Saturday 6 February.
Related