It seems staycations are on the decline while holidays to 'the med' are marginally up*. Like everything, we must blame the British weather. It's understandable when you consider how sacred holidays are. For new parents like me, it's those precious few days you get to spend as a family that you look forward to the most.
So when it came to booking our first family holiday, I didn't hesitate to go abroad - in fact staying at home didn't even come into the question. We did our research and decided on Sardinia. A two-hour flight away, with Caribbean style beaches - just the tonic after a crazy year.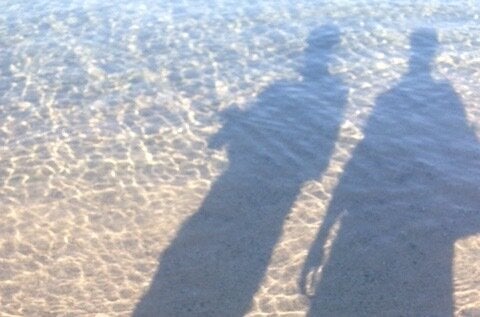 Travelling as a new parent comes with certain challenges, so organisation is key. I'd done a dry run before in England, to figure out the essentials we would need. I'm glad I did because it was great preparation for the holiday. I found that a Trunki would fit his clothes perfectly and keep them in one place, that you can never have enough bibs, that WiFi is essential for all the aliments you'll google and that your chosen hotel should have air conditioning, a fridge, a lift and ramp access to make your stay as smooth as possible.
For all these reasons, we booked ourselves into the family friendly Colonna Perevo Hotel in north of the island. But, before we got there, there were some hurdles to face.
Flying with a baby isn't the Armageddon I'd feared. In fact, airports and airlines are very considerate of families, and we were treated lovingly at T5 and Olbia. To my surprise people didn't shudder when we boarded the plane at the prospect of sitting near a baby. Instead they were sweet and helpful with lots of smiles all round.
Our biggest challenge was the amount of toilet visits he needed. Those tiny plane cubicles are seriously compact and loud (which he hated), so you need to be quicker than Lewis Hamilton at a pit stop and armed with an easy to access romper.
The next challenge was car hire. I've never found a company that's not been awkward, and this trip was no exception. We booked a Golf, we got a Citreon, we reserved a baby seat, but they couldn't guarantee it. That coupled with finding taxis with baby seats in them, made me think that I'll just bring my own next time.
Eventually, our road trip began. The roads in the north of the island are not my favourite. They wind and twist and hang off cliffs.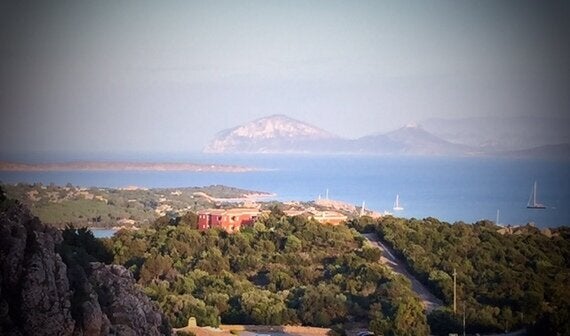 Prior to the trip I'd emailed the hotel manager to mention to see if they could provide a kettle and cot. Not only did they supply both, but they also included a changing station and lovely baby amenities. It was so thoughtful, I found the people of Sardinia to be lovely like that, it must be an 'island thing' as I found the same in Barbados, Antigua and Cyprus.
We dined out a few times (note - Sardinia is expensive) and realised the locals LOVE babies. It was no problem taking him to restaurants any time of day. I think it's a Mediterranean thing to take your kids everywhere with you, and since dinner starts at 8pm, you don't really have a choice. It's actually much more relaxed than back home, no-one rushing to put their baby down for a 6pm to sleep, baby comes with you everywhere, and I liked that.
Sardinia is famed for its beaches, so we had to try them out. Not so easy with a baby. The roads to the beach are gnarly, there's no rules about parking, and boy it's hot. Sunbeds and shade are essential, do everything you can to cover up baby. We had Factor 50, water spray, a hat, UV swimsuits and a Bugaboo Canopy which was a Godsend...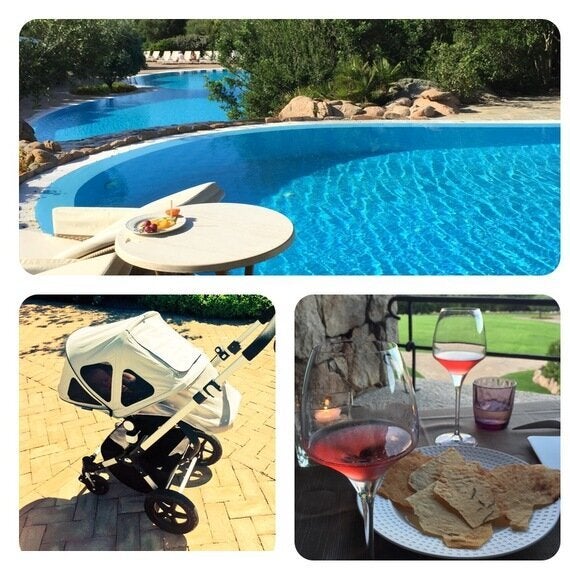 We managed to get a quick dip in the sea, which was welcomed with gummy smiles all around. But it was back to the hotel pool for me, far much easier, and I missed getting wine brought to me!
There's not much babies can do in the water, so a swim seat can come in handy. I also recommend a baby beach poncho towel, least of all for the amusing photos you'll take!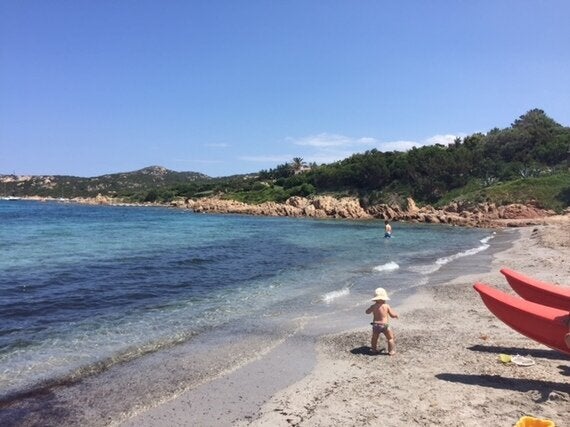 So our first holiday abroad was a triumph and everything I hoped for. And yes, five star luxury is totally doable, and what's more - makes life easy with a baby. Olbia was the ideal setting, and as the saying kinda goes - Oblia-back for sure!
Here's my top five items I suggest taking with you...
1.A buggy cover/shelter/canopy for the sun
2.Google Translate App - handy for translation in an emergency
3.A baby carrier for the airport
4.Travel wash (you'll still be washing 300 times a day!)
5.A travel case to protect your stroller
* BDRC Continental Holiday Trends report (2014)
Sophia is the Editor of parenting blogzine www.milkdrunkdiary.com which you can follow @milkdrunkdiary and facebook.com/milkdrunkdiary
Related