As I walked around the local nursery, seven months pregnant and with no idea what to do with a child, let alone how to look after one, I wondered, what the hell am I doing!
Like so many Mothers before me, I had no idea what was coming.
I had read parenting books, forums and blogs, I had spoken to friends, relatives, colleagues and neighbours, but I still didn't know what I was looking for.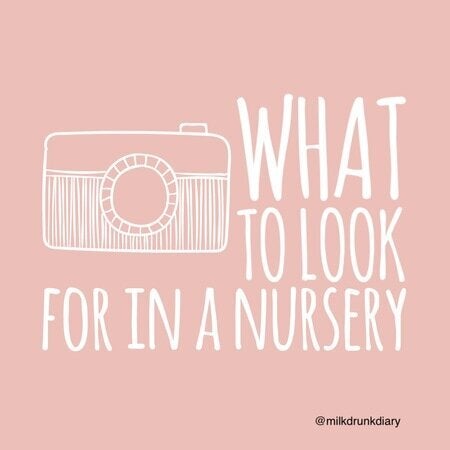 The nursery seemed preoccupied with key stage learning, which came as a surprise as it wasn't something that had even crossed my mind. My baby was going to nursery to be cared for and to mix with other children, while I returned to work to be 'me' again, albeit a part-time version of myself.
When I look back now I realise what I should have been asking for and looking at. Instead at the time it was like being shown around another London flat to rent!
Having gone through two nurseries and visited several more, I can say with some authority I now know what to look for, so Mums and Dads, here's what you really need to think about..
1. Check out the other kids
Check out the other kids is a must. Are they grubby, are they well looked after, do they look happy? These will give you clues to the sort of people that send their kids there. Most important of all - are they happy, or do they look like zombies going through the motions? If you think it looks like a happy environment and you can see your kid amongst them, it's a good sign. If they all look like zombie's... well, hot foot it outta there!
I'm pretty sure all nursery food is the same - weetabix and toast for breakfast, a decent hot meal for lunch and a pittance 'bagel' or 'soup' for dinner at 4pm (no wonder they come home hungry). But if you get a chance look at the portion sizes, see if the kids are helped or left on their own, do they eat much? Also, is there an on-site chef or is it delivered fresh every day .
The manager at the first nursery we went to was incompetent. It was clear from the start, I wish I had gone with my gut. You want a matron type of person who is respected, hard-working and empathic. Basically, the sort of person you would want to employ. I strongly believe if the captain of the ship is weak, get off the boat!
So, a keyworker is the main day-to-day contact for your child. They will be their main carer and your main contact. If there's someone you like, chances are your child will too. Don't be afraid to ask for the person you prefer - you're paying a healthy fee after all. We have been through three keyworkers, they were all chosen by 'Boo' who showed a 'preference' to them. I don't believe that of course, but 2 out of 3 haven't been too bad. The new one talks too much, so I think she might have to go!
Does the nursery have an outside space for your kid? If not, what do they do to take them out every day? The first nursery we went to didnt have one, and the kids were pulled about in carts - it didn't look fun, more like going through the motions, it was a reason we left.
Check out their reputation on Ofsted, the reports are pretty helpful and may give some honest insight.
7. And finally, go with your gut
Viewing nurseries is like looking for a property to buy. You have to have a good feeling about it. Listen to what your gut is saying, as always Mother/Father knows best!
If you're little one is starting nursery and they come home hungry, this post-nursery nibbles post is for you!
Related