It's the time of year to consider the awkward etiquette of anonymous gift giving.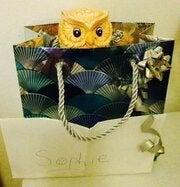 Ding Dong Merrily On- bollocks I've got Gordon for secret Santa?? Really? Gordon?! Gordon smells of damp tea towels and has a weird nasal hair flutter when he exhales. I'm sure he was talking about his athlete's foot to the maintenance manager in the car park yesterday. A tube of Canesten it is then.
Perhaps the greater fear regarding Secret Santa is But Who's Got Me? Because when you nervously unwrap Christmas Pudding Nipple Tassels in front of all your colleagues, your brain wants to immediately assess whether the Giver has you marked as the kind of girl who loves a novelty envelope-pushing visual Yuletide gag, or the kind of girl who will nonchalantly add them to her already extensive, and much-worn nipple-tassel collection. And unless you all own up and swap notes, you'll never know either way.
The year I received a pink thong with inbuilt condom-pocket (condom included: strawberry), was testament to the above problem. The universal gasps it elicited when unwrapped were panto-esque, and took the edge off the fact that Gary- a temp of only two weeks- promptly owned up with some jocularity. Was he a safe-sex campaigner? Did he think I was the reckless type? Perhaps he worried I couldn't afford underwear. Either way, Gary was a massive, maverick perv who'd cemented his own downfall in a workplace full of hard, judgemental, amazingly outspoken women. How Gary had to laugh nervously when he found the thong curled up in his coffee mug the next day. His last day. Gary has at least given me one of the great Secret Santa stories. We gave him a g-string shaped, metaphorical horse's head, and his P45.
Secret Santa gaffs aren't remotely gendered incidents. The same year as Thonggate in that ex-workplace, motherly Linda received a phallus-handled pewter mug from Jennifer and our quite strictly religious receptionist unwrapped a bag of genitalia-shaped pasta from another girl with some horror. It was the awful Hen Do none of us had RSVP'd to; colleagues couldn't look each other in the eyes for days. No one could fully explain why the wheels of judgement and taste had come off so completely in the name of anonymous present-giving, but we all knew something had irreparably changed in the staffroom thenceforth. Besides an increased scrutiny of each other's pasta-lunches.
So my five tips to a successful Secret Santa are thus:
1. Remember it's not an Ann Summers party; don't get confused.
2. If stuck, secretly rifle through their belongings at lunch until you find a clue to their tastes: the latest Maeve Binchy/ spearmint chewing gum/ prescription Temazepam.
3. Don't appear cheap. A miniature bottle of Jameson that you clearly stole from a hotel mini bar is unacceptable. Opt for Lidl's fake Baileys. It's cheaper and the same after the third glass.
4. Approach 'novelty' with caution. Reflect on your relationship; did you chuckle together over a good/awful Prince Philip story recently? The Racing Royals may be the gift for them*. Did they repeat the same Rolf Harris gag, loudly, on consecutive days in the canteen? A collection of Noam Chomsky's most obscure essays is coming their way.
5. Consider your future. At all times. Your career is for life (especially now we're retiring at 97); Secret Santa is just for Christmas.
*Yes Racing Royals are the last chance saloon of seasonal present-despair. But it's all crap, isn't it, so a wind-up Charles falling over is the least of your problems.
** All names have been changed. Apart from Gary's.
Related