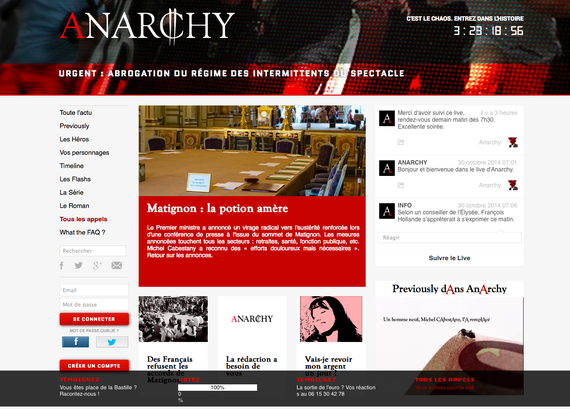 Thursday 30th of October: President François Hollande announces France is throwing in the towel and going back to the franc. Cash withdrawals are limited to €40 a week. Welcome to the kick-off point of Anarchy, a brand-spanking new interactive French political drama.
Anarchy is a story "written by a thousand hands" that is aired through weekly episodes on France 4. A team of 15 scriptwriters got the ball rolling on Thursday with the serie's first episode. From now until the 18th of December it is up to Anarchy's viewers to craft the plot and to shape each and every character, red-herring and gag. In the words of the Anarchy team,"we do not know how it will evolve. This story depends exclusively on you, the viewers."
Be warned, Anarchy is more than a weekly show. It is an entire concept that comes with a whole load of bells and whistles. Viewers decide the current affairs of the Anarchy bubble by submitting news article (which are then summarised into daily video 'news flashes'). Their many hands are turned to crafting the plot of existing characters or to shaping the lives and personalities of new ones. The crucial question is, will these many cooks spoil the broth?
Anarchy is a brave leap into the unknown. The concept and methodology of the show is akin to that game you play where you draw a section of a person and pass it to the next person to add their flourish; some lop-sided breasts here, a couple of size 13 feet there. With the right crowd the end product looks crazy (but kinda cool). With the wrong crowd it looks like nothing (and kinda lame). With only one episode down it is impossible to judge which way Anarchy go. Will it turn into an eclectic yet insightful mirror on French society? Or will it be a half-hearted mishmash of ideas clumsily sewn together?
To be honest, it really doesn't matter. Anarchy is so much bigger than a weekly show. On the one hand, it is a smart and engrossing piece of marketing. The swish website lures you into a satirical hyperreality filled with a smart and diverse array of characters, plots and contributors. On the other hand, it is a dynamic, savvy way of getting people, particularly young people, to engage with national politics. Through its intense, interactive character, Anarchy adds some much needed colour and oomph to a decidedly grey, downbeat political landscape. That AND, rumour has it, Yuri Gagarin is a characters in next week's episode. Let's watch and learn people!