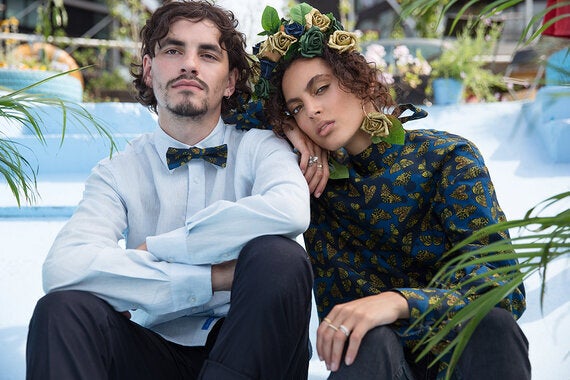 Gung Ho Design, Photography by Agata Kocon
It's no secret that the fashion industry is the second worst polluter on the planet. Coupled with the meteoric rise in fast throw away ideologies something definitely needs to change.
It takes almost 1800 gallons of water to produce a pair of jeans. If we physically saw that wastage, I'm sure many of us would get a nasty shock at actually how much of an impact it has on the environment. To paint the picture a little clearer, an average bath is 36 gallons, so that's around 50 baths. That just sounds ridiculous.
It's not an awareness problem. In fact, awareness is thriving. Never before have we seen, or needed, so many people, brands, businesses and organisations talking about these issues. So where is ethical fashion is going wrong?
Well let's take a step back for a moment. The aim is that one day all fashion will be sustainable as standard. But to get to that point, it's important that ethical fashion brands appeal to the everyday consumer. In all honesty, a lot of people don't take into account whether something is or isn't sustainable - it's simply down to whether it's good design, the right price range and if they like it. This means the ball is in the industry's court to design with this in mind; and not sustainability. Now that might sound strange but let me explain.
Up until very recently a lot of ethical fashion is plain, monochrome, typically scandi in style. The sad truth is that most sustainable designers do not design clothes with a punch, with those that do tending to cost an arm or a leg. It's safe to design plain clothing, and with a growing number of shoppers already looking for ethical fashion, it makes sense that this is where it has stayed. Don't get me wrong, everyone needs plain, well cut staples in their wardrobe, but if that's where ethical fashion stops, we're stopping fashion's key purpose - expressing yourself.
If we are going to move into an era where a significant number of people become engaged with ethical fashion, we need to connect with a very different audience. This means ethical fashion brands have to take risks. They have to push boundaries and essentially be just as exciting as any other fashion brand, but ethically viable too. Only then will we see a paradigm shift in the industry towards sustainability as standard.
Now that's not to say that exciting ethical fashion isn't out there, it's just run by individuals and small businesses that share that passion and really want to make a difference. These pioneers need help. They value every sale made. They jump around the room and punch the air in celebration.
So if you can, support small, well-made local companies and help them grow. Without support they won't be able to spur on those that are stuck in the rut. It might mean changing the way you buy clothes.
I caught up with actress, comedian and writer Aisling Bea to get her thoughts on how we can all do our bit. "It costs just a little extra money and a little extra conscientiousness to buy things that are made ethically, which will mean that you will love and nurture the clothes you buy more. I was a "spend a tenner" shopper, buying heaps of rags that I would eventually just throw out. But that is a false economy we are fooled into. We can no longer pretend that all of our cheap clothing appears by magic with no consequences for people who made them and the environment. We have to show that we are prepared and want to pay more to the people who make our clothing and for clothes that do not harm the planet and it starts with small changes and using your buying power. The consumer will drive that change and that is US!"
So keep a look out for local ethical brands that use organic fabrics or surplus material, donate to charities and have a low carbon footprint. The better made a garment is, the longer it will last, so invest in pieces you just don't want to take off. There is something wonderful about purchasing a product that is slightly more expensive and really good quality. It's that feeling of getting something truly special. It's stepping away from buying cheap and cheerful and saving up to collate a smaller, beautiful and more refined wardrobe. It will make not only you, but the small business and the planet happy. You get something individual and special and they continue to take on the industry that's simply changing far too slowly. What's not to lose?
Sophie is crowdfunding for her new collection now on Kickstarter.