I actually have a rule that I don't post music reviews. When I first started out I was a reviews editor at an online magazine. It wasn't long into the job before I realised I was far too soft for the job. I'd feel a ridiculous amount of guilt when writing anything negative, even if the work warranted the response. When you work with bands, which I have in various roles over the years, you see much heart and soul (time and money) they put into a record or show. To rip it apart, even constructively, leaves me feeling pretty lousy. But this week came the opportunity to review Foo Fighters at the closing ceremony of the Invictus Games. It also came at a time when I was feeling miffed about missing out on their recent intimate club gigs.
Having seen Foo Fighters numerous times over my gig going years, I knew that I wouldn't need to come up with acerbic swipes or wince inducing cutting remarks. If anything, my struggle would be to come up with new ways of saying 'awesome.' Plus it would be a privilege to attend such a historic and positive event, and to witness the heroic 'wounded warriors' accept their medals in front of the huge Queen Elizabeth Olympic Park audience.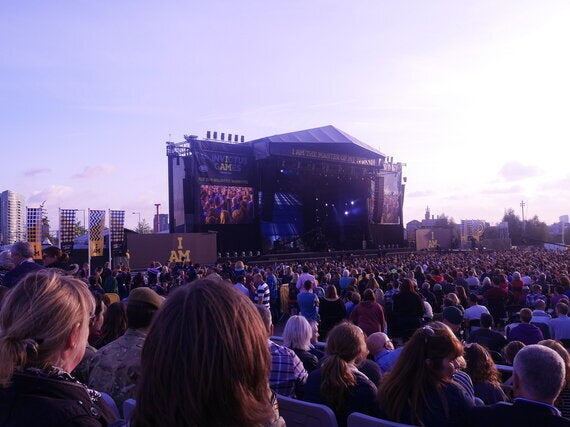 Bryan Adams name was absent from much of the pre-event advertising, so his short acoustic set was a lovely surprise for many of us. In the last few years, his work as a photographer has been crossed over into my world more than his music, but I was happy to be reminded of his classic songwriting. Hearing 'Run to You' and 'When You're Gone' left me wanting more. Perhaps a ticket to his November London dates might have to be purchased...
Okay, so it may not be to cool thing to say, but James Blunt.....the boy did good. He was the first act of the day to get the crowd truly on side - hands swayed, heads bobbed and burly men sang along without embarrassment. He gained extra respect point for his unexpected but mightily impressive crowd surf. His much publicised military background and softer musical tendencies made him the perfect choice for the day time slot. Dare I even say that 'Your Beautiful', which he dedicated to Prince Harry, sounded truly lovely in these circumstances.
Myself and fellow music industry people in the stand were ecstatic with the inclusion of Ryan Adams in today's festivities. But despite being nominated for a Grammy and Brit Award, from the relative stillness of the crowd, it would appear that he is yet to be a household name...in this particular demographic anyway. I had to bite my tongue several times when I heard nearby chatter berating the presenters Fearne Cotton and Nick Grimshaw when they announced his name - thinking that they had mis-pronounced fellow performer Bryan Adams. I wonder whether Ryan's choice of stage decoration (a US flag with CND symbol added) contributed to the flat response. Mr R. Adams kept his sense of humour though, referring to his previous 'disco sound', sarcastically saying how 'bummed out' the audience was when it came to his final track and referring to the 'huge f***ing" transformer.' Just so you know Ryan, those who know your work loved 'Stay With Me', 'Let It Ride', 'Fix It' etc.
Ellie Goulding twirled and stomped around stage with her customary zeal. Wearing a trademark crop top, baggy white trousers and Dr. Martens she showed off her ability's to bend in ways that would send most of us straight to the chiropractor. Her ethereal yet huskily rocky voice was faultless as she treated us to her biggest hits including 'Lights', Anything Could Happen' 'Burn' and Calvin Harris collaboration 'I Need Your Love.' In between songs she confessed to not being good at chatting to the crowd saying that she was 'quite shy'. Instead of nervous waffling she asked the crowd to raise their hands - everyone complied. She expressed her surprise at the sea of hands in front or her saying, I didn't know this many were with me' - referring to the slightly muted crowd responses during the set.
The last time I saw Kaiser Chiefs was at Leeds Festival 2012, which was essentially a hometown gig. I was interested to gauge the mood from a London perspective, in light of the front mans role on the The Voice and the release of new material. Fittingly for the event, Ricky showed off his own kind of athleticism sprinting back and forth the lengths of the stage and motivating the crowd like any good trainer would. They were the guys to make the crowd react like the normal festival audience - a hugely successful team effort from us all. The years since my last Kaiser Chiefs live experience has done wonders. Their huge festival anthems including 'Ruby', 'I Predict a Riot', 'Never Miss A Beat' sounded fresh and fun again. The repetitive formula for their choruses made them ideal for crowd participation and sing-a-longs. The lady next to me, who was nearing her sunset years, was still singing 'Oh my god I can't believe it, I've never been this far away from home' several minutes after the band had left the stage. Their 2014 single 'Coming Home' created a poignant moment in their set. A sweet moment came when Ricky faltered after realising Dave Grohl was watching his side of stage.
It was nearly time and you could feel the crowd getting agitated with anticipation. Before the legends of rock were to take the stage Harry returned to the stage for one final speech and a message from 'Granny'. Despite the passion, humour, and down to earth nature of his speech, even the prince confessed that it seemed to be 'dragging on' - sensing the crowd (and his own excitement) for the headline act. When heckled by some young Foo Fighters fans in the front, he cheekily questioned their hysterical natures saying ' but he's old!?'
Dave's response to the ageist quip was their Grammy award winning, ferocious rock anthem 'All My Life.' I'd call that a win.
Taylor, who still looks like that beachy haired, dreamy surfer dude you meet on holiday, had his moment in the spotlight with the simple, country infused 'Cold Day In The Sun'. Momentarily fluffing a lyric in the song, the 'S***' word pops out of his mouth. Dave quickly remind his with a smile that 'they're on the BBC!!' Although interaction is minimal due to the time constraints, their bond as a unit is still very visible- particularly when Dave gives each member of the band an intro and moment to receive applause and cheers from the crowd.
We also got an insight into the formation of this great event when Dave reveals getting a call from a member of his team, asking if they could give Prince Harry his number. He jokingly responded with, 'well everyone else has it!' Having been absent from the UK stage for a while, he commented that this event seemed like the perfect reason to come back. I have to agree.....
Whether the Foo's were Harry's choice simply because he loves them, or because he realises how apt their songs were for the event, is irrelevant. The fact remains that they were the perfect band for the job.
Undoubtedly one of the best rock songs of my lifetime (if not all-time) 'Best Of You' received one of the biggest cheers of the day. It's the song that urged many of the military standing nearby to pull out their phones and press record. Even though the lyrics may have been born from a story of love/heartbreak it appears the attitude and message of the song rings true for many of the servicemen.
The same could be said for many of the tracks in this wisely curated set-list. The lyrics 'There goes my hero, he's ordinary' and 'learning to walk again' link so boldly to the themes of the day.
Dave is in tune with this marriage of music and message, and makes a point of creating a moment out of the particularly affecting lyrics. Even the tracks that don't draw obvious comparisons talk of new beginnings, an uplift in mood or attitude, of strength and hope. It's impossible not to be moved in some way by the proceedings.
Everlong always feels like a thank you to long-time followers - a firm favourite amongst fans. When the lyrics 'If anything could ever be this good again' are sung you can't help at look at fellow revellers and cherish the glorious gig moment.
Another lesson in how to be a rock band from the best in the world. Foo Fighters... My Hero's, All My Life, Everlong.....(sorry, that was gorgonzola cheesy).
I can't wait to see more ardent hair flipping from Dave, Teeth clenching, maniacal drumming from Taylor, Glorious guitar gymnastic from Chris, joyful Pat Smear smiles, and understated bass masterfulness from Nate. See you at a stadium in 2015 perhaps?
I can't wait for the next games, Harry.