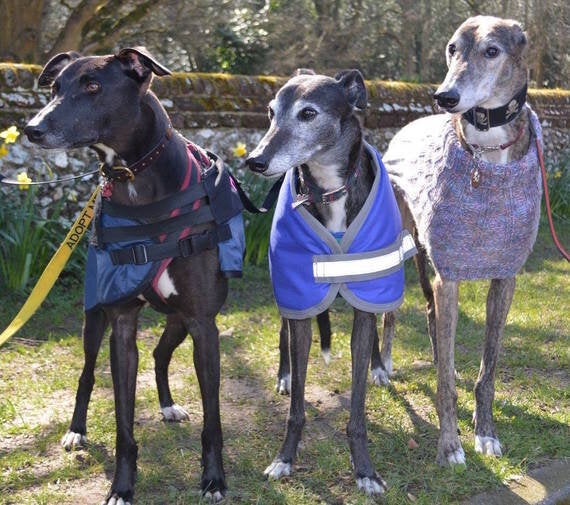 With the rise of recent concerns around childhood and adult obesity, I thought I'd look into the health benefits of having a greyhound - and my research has astounded me at the life-changing impact these dogs have on their owners' lives! Requiring only 2 x 20 minute walks a day - achievable for most, these calm and gentle hounds get their owners out and about, without requiring as much walking as many dogs would. I asked a Facebook group of UK Greyhound owners what their experiences were and the answers have been jaw-dropping and tingles go down my arm as I write! The health benefits of owning a dog in general are great - exercise for weight and fitness, socialising and getting out. But the stories of these owners and how their greyhounds impact their lives with MS, with coping with PTSD, loneliness and depression - and how they have literally turned their lives around as a result of getting the dog is amazing. I will give you some examples and quotes of those, but let me first give some background about how these hounds are not in short supply due to the racing industry in the UK today.
The greyhound industry breeds many many greyhounds each year. These rarely live in cosy houses, but rather in kennels and when their racing is no longer benefitting the owners, they are often discarded in some way or another - some find homes, many are put down and some abandoned. There are apparently 8,000 a year that are 'retired' (and many of those only 2 or 3 years old), of whom probably less than half get homes. Shocking in such an 'animal-friendly' country we consider ourselves to be. So there is no shortage of greyhounds out there, if you read this and consider bringing one into your loving home. They adapt so quickly to life in our world, as you can read with a blog about Echo, who I fostered and then he found his forever home soon after.
Improvement in Mental Health, Depression, Loneliness and Stress Relief
Donna suffers from Seasonal Affective Disorder (SAD). She writes, "I suffer from SAD and being motivated to do anything other than trudge to work and back for 6 months of the year is really difficult. A greyhound does me more good than any number of medications or light therapies. Having a greyhound makes me leave the house, even if it is for a shorter walk than most dogs would demand and is preferable to all on cold, cold days. They are happy to accommodate my reluctance to do a lot as they are happy to stay warm and cuddled up for hours on end. I have something to look forward to at the end of the most difficult days. I have to take care of myself so that I can take care of my dog. I drink less and I stopped smoking because I didn't want the dogs to inhale my smoke. I'm more sociable meeting up with my friend and her dogs for walks."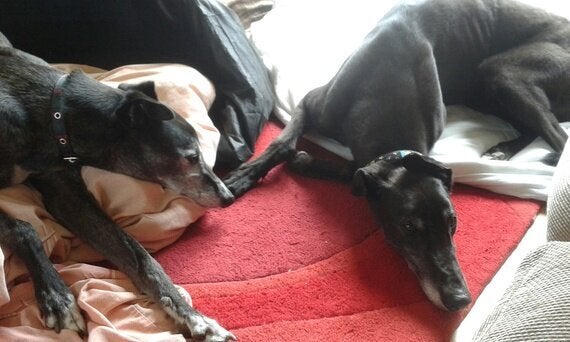 Cathy's husband suffered from Post Traumatic Stress Disorder (PTSD) after a traumatic brain injury. They didn't know if he'd ever work or drive again - he was 47 when this happened. As she had allergies and asthma, they decided to look at a greyhound and took one home. "My husband was on an NHS waiting list for 16 weeks to receive psychiatric help for his PTSD. By the time his appointment came through, his depression had lifted, his flashbacks had stopped and the psychiatrist declared him fit. I put this down to 4 legs and a beautiful pair of brown eyes and a tail that whirls like a helicopter blade. Jem made him get up every day, go out in to the fresh air, meet people, talk to people. She would sit for hours at his feet in an afternoon keeping him company when the fatigue hit and he had to rest... Almost 2 years down the line he's driving again, back teaching in a primary school part time and Jem is a real gem and I can't see us ever being without a greyhound now."
Greyhounds also make great pets for older people and anyone living alone. Particularly those greys that are slightly older - say 5 or 6, as they are less lively than their younger counterparts. They walk beautifully on leads in my experience. As discussed, they don't need too many walks and as Ali says, she doesn't have to bend far to pet hers and hers helps her feel less isolated. "I'm 60. Retired 4 years ago. 2 replacement left knees in just 10 months. I was getting lonelier and lonelier stuck in the house all day. Risky has given me companionship. He's my walking partner - the exercise has helped me go from walking with a stick to managing 1/2hour walks without one. People stop and chat when you have a dog, which makes me feel a lot less isolated. He's funny and affectionate. He gives me a reason to get out of bed in the morning. He's also the right height to pat without hurting my back."
Another lady, Catherine, writes, "I was diagnosed with PTSD and anxiety disorder about 6 years ago. Although on the outside I was doing well career-wise etc, inside I was a mess. I was self medicating with substances, I was overweight and deeply unhappy. 2 years of counselling and the right meds sorted my head out and 4 years ago we decided to adopt a dog. That's when we got Sasha, a bounce back dog heading back to kennels. My life changed. I quit smoking as the fumes were making her eyes red, I took her out twice a day rain or shine, I fussed her and loved her and wanted to be a better person for her. She changed my life for the better. I owe her a lot."
Someone else said how good greyhounds are for stress relief - who doesn't need some of that in their lives? "They relieve our stress. We get home to a lovely welcome and relax. Just watching him makes me more chilled because he is."
Supporting People Living with On-going Illnesses
Another message that I was delighted to read was from Carly, who shared the pictures of her dog Ollie. Greyhounds by the way, generally walk well on the lead - as they have often been trained - if they made it to racing, to walk into a stadium. "I was diagnosed with MS in early 2013. My MS nurse suggested googling companion dogs and in a round about way I came across the greyhound. I didn't want a dog that needed lots of exercise. I also wanted a 'second hand' dog so it was a win win situation. I also read an article in MS Society magazine about a lady who had one. My greyhounds are perfect because they keep me active but cope with reduced exercise when I'm poorly and are perfect company. They walk nicely with my stick if I need it. But when I'm well they keep me active and we do longer walks, agility, meet and greets and group walks with our friends. Ollie also helps with fundraising for MS Society." The photo below is by Carly Soffe.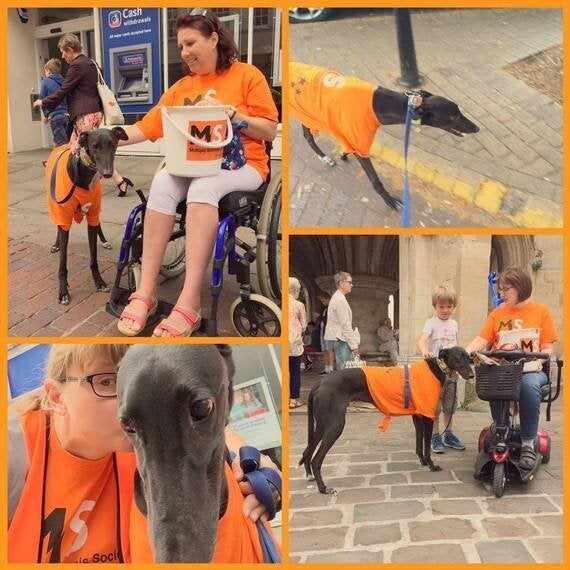 All the Physical Benefits - and even for Allergy Sufferers
The greyhounds I have had in my house don't smell. I believe it is because they don't have an undercoat. So they also don't shed that much. I had also read before I got mine, 5 years ago, that they are non-allergic. A few people raised this amongst the greyhound owners. Of course, you'd need to see for yourself as it does't apply for everyone so needs checking with the hound first, but these examples show the possibilities.
"I get asthma with dogs and cats. Not a problem with my grey - no breathing problems at all.
I lost my mum 5 years ago and took it quite hard, was on antidepressants. Took on Casper just over 2 years ago and turned me around. Such a comfort and caring. No more antidepressants!!"
Another: "Yes, my boyfriend has asthma and he's fine with our two greys. He thinks having them has also built up a (minor) tolerance to other breeds too :-)."
Having a greyhound for these owners - and for you could help with the following:
Losing weight - from the walks, but also because of the mental health benefit, feeling more incentive to be healthy for your dog. And you must walk them apart from when you aren't well enough and there is no alternative, so that helps with motivation, as you are doing it for them, not yourself
Being healthier - as we have seen from the above, the side effect has been that people look after themselves more. Smoking hurts their dogs, so they stopped. And due to the mental health benefits, they stopped drinking and ate better
Companionship - for the lady who suffers from MS, her dog is a great companion - as they are for us all. And she can have a dog, because the greyhound demands that much less exercise. So they can flex with her ups and downs. Many greyhounds are also used in Pets as Therapy for older people and hospital visits
Feeling better, mental health and everything that impacts - I don't need to say more, but the stress relief, calm and love they bring into our loves is amazing.
No Pet comes Out-of-the-Box but Needs Commitment to Achieve their Potential
Of course, I would still say to anyone considering rescuing a hound, that you can't be flippant about it and expect them to change you. It's a decision for the next 10 years. If you get a dog, there is no taking them back. They are with you for life and whatever their funniosities, as we all have some, you need to work with those and not expect an out-of-the-box ready pet as you can read in another blog. You need to put in the time to walk them, feed them properly and not over-feed so keep them healthy. And you need to create a safe and loving environment for them to live in and work through any difficulties they have in adjusting from their old life to the new. Taking care of their health as we have seen above, will take care of your health too. You will have saved a dog's life. They will love you for it and you will adore them too!