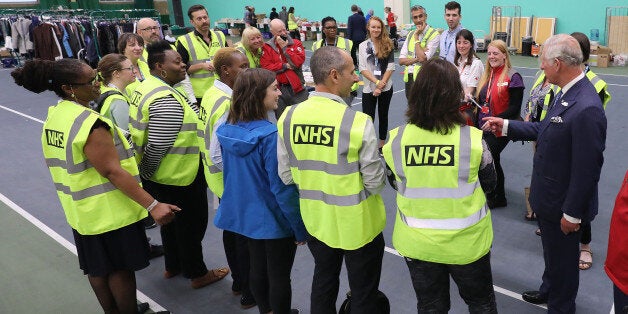 The last few weeks have been emotionally trying for all of us. With tensions running high ahead of the General Election, we had to come to terms with three terror attacks, one aimed at children. Then came the terrible Grenfell Tower fire, which laid bare in the worst way the effects of budget cuts on ordinary people who lost their lives.
These awful events have prompted a huge response from the British public. Nearly £20m has been donated to the various funds opened to support the Grenfell Tower survivors, and more than 170 tonnes of donated items have been collected by the British Red Cross. We saw shows of solidarity after the terror attacks, with communities reaching out to each other and posting messages of unity over division.
These responses are testament to the giving nature of Brits. We have a history of coming together in the wake of disasters and helping each other. This is the spirit of volunteering and our reaction shows we are good at it.
However, it shouldn't take a disaster or terror attack to unite us across community lines. I live in London, which is wonderful because of its diversity, but in reality we live very socially segregated lives. We exist in social bubbles, not always through choice. Catastrophic tragedies like the Grenfell Tower fire highlight how unequal society is and wake us up to that reality in the most brutal way. We rightly reacted with outrage over the unsafe cladding and questioned how this could happen in one of the richest boroughs in the UK. Kensington and Chelsea's mean household income is over £100,000 but the median is around £30,000, highlighting the huge inequality that exists in the area.
Now that the reaction phase is over, we need to see this disaster as a longer term call to action to fight social injustice and inequality. We need to embed the spirit of helping others in the wake of a disaster into our daily lives, and I believe the third sector has an important role to play here. Particularly in breaking down barriers between communities. The Royal Voluntary Service (RVS) - which I serve on the Board of - has inspired more than three million people to give their time helping others since 1938, and there is more that can be done to encourage more people to get involved.
As the Chief Executive of youth social action charity City Year UK, I see on a daily basis the incredible dedication of young people who want to make a difference in their local communities, tackling the issues that contribute to inequality such as low social mobility. Generation Z are statistically more likely to volunteer their time to a cause than older generations and we should be harnessing that instead of undermining and dismissing their views. The recent high voter turnout for this age group showed that they're ready for change and willing to vote for it and make a difference in their daily lives. It's something we should all be doing.
Organisations such as the NCVO and NCS are also opening up the conversation on social action and this is great. I strongly believe that more volunteering opportunities, available to all and particularly for the young, would encourage community cohesion and build bridging capital - links between people of different backgrounds. We're advocating for Government support of full-time volunteers - who are currently classed as NEET - which would encourage more to take part and ensure their hard work is recognised. The Government's review into full time social action is due to conclude later this year, and I really hope to see legal status for full-time volunteers recommended.
Legal recognition would open the door to creating more full-time volunteering opportunities across the board, tackling issues such as homelessness, isolation and health problems. I've seen first hand the difference that volunteers make to children growing up in disadvantaged communities in schools with a high proportion of free-school meal pupils. I've also seen several cohorts of young volunteers finish our programme as confident, resilient leaders ready to carry on tackling the issues they care about. This is the civic society we need.