The University of East Anglia is taking a powerful step toward making students safer from sexual harassment on campus this year. This Monday, 12th January, they are launching the Never OK campaign, a strong visual campaign created to challenge sexual harassment, as in recent years it has been increasingly perceived as 'normal' or unavoidable for university students. Their Union website provides spaces for students to share their experiences with sexual harassment anonymously, share suggestions for how best to make their campus safer, and offers information on how to receive official or unofficial help from the university - whether this is filing an official report, or getting advice and counselling. The campaign is set to target unwanted sexual and physical contact, sexual comments, wolf-whistling, and negative comments about sexuality, including homophobic insults. The Union of UEA Students acknowledges as a part of this campaign that sexual harassment can be experienced anywhere on campus, and is not limited to nights out in student venues. The Never OK campaign is set to prevent these behaviours, and assist students who might be targets of sexual harassment.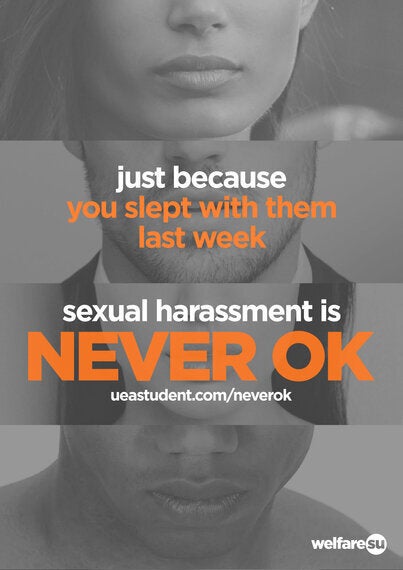 On 9th January, UEA launched the Good Night Out project, involving the training of over 200 bar staff, security and managers in their student venue, the Nick Rayns LCR. So far, the Good Night Out team have trained staff at eleven UK universities, and are reaching a growing number of institutions each week. This training ensures that staff know how to appropriately handle reports of sexual harassment, including how to speak to students who may be in distress. The aim is to ensure students feel safe reporting incidents of sexual harassment, and can trust their reports will be taken seriously. Student staff are also encouraged to report harassment they experience during work shifts, and told how to go about making these reports should they be harassed. The Good Night Out project is officially part of the NUS Lad Culture campaign, and will soon be widespread across universities in the UK. National NUS Women's Officer, Susuana Antubam, endorsed the project on Good Night Out's official website:
"NUS is very proud to be working with the Good Night Out campaign to produce innovative zero tolerance training resources for students' union staff as part of our national strategy to tackle lad culture on campus."
Later on this year, UEA are also launching consent workshops for sports and society committee members. This is an ongoing initiative that intends to make societies spaces that are free from sexual harassment, as well as educating committees in how to best deal with reports of sexual harassment from their society members. UEA's Welfare, Community and Diversity officer, Holly Staynor, says that the Union of UEA Students
"have been working hard to create an environment where students feel safe and free from sexual harassment".
The bold Never OK campaign, and UEA's work with Good Night Out will set a precedent for universities in 2015, to see the end of sexual harassment on campuses.
Further information about UEA's work against sexual harassment can be found on their website, http://www.ueastudent.com/neverok and information on Good Night Out is available on their official website http://www.goodnightoutcampaign.org/.