When Glastonbury rolls around, and because I am fond of boring my teenage sons, I like to talk about when I went to the mother of all festivals back in 1995 - one of the hottest weekends the festival has endured. I say endure, because even though it was a classic line-up (because obviously, any year you go to Glasto, it's a classic line-up), involving PJ Harvey in a pink catsuit, Keith from the Prodigy rolling around like a hamster in a blow-up ball (naturally), Jarvis being Jarvis, Portishead being incredible, and Liam picking a fight with someone in the crowd and stopping Oasis' set, there's something undeniably masochistic about sharing a field with 100,000 other people all crammed into tents which helpfully retain so much heat you walk around the whole weekend drenched in sweat, beer, general ick and other things best left unwritten. That still didn't stop me from getting my ears pierced somewhere near the Healing Field.
Better sun and dry conditions than a mudfest, though, surely, people say. Well, I've been to a few festivals since Glastonbury 1995, and experienced all sorts of 'things', and actually, Green Man 2007 in the Brecon Beacons was great, despite the mudbath of that weekend. Joanna Newsom played the harp, Gruff Rhys was great, Grace Jones hula hooped for the entirety of 'Pull up to the Bumper', and my then-small sons went full Lord of the Flies with other kids, climbing trees and going absolutely feral. There was some happy juice in fruit cartons people were sharing around. Everyone was a winner. Although given that I was pregnant, I'd also booked a cottage down the road for the week to combine the festival with a holiday, so it possibly wasn't the most authentic festival experience. Lovely scenery, though.
Same goes for Latitude 2010 - another mudbath, and no cottage to escape to, but still possibly made more fun by the sheer delight my children took in rolling around in the mud, truly like pigs in the proverbial. Lots of beer, pond dipping, Squeeze playing a great set (parents wigging out to 'Up the Junction' while their kids slept in trailers next to them), pink sheep and composting toilets (thumbs up), although I'm still scarred by the interpretive dance show we unwittingly stumbled upon by the lake when the weather did brighten up momentarily. As Phil Collins memorably sang, I did wish it would rain down then.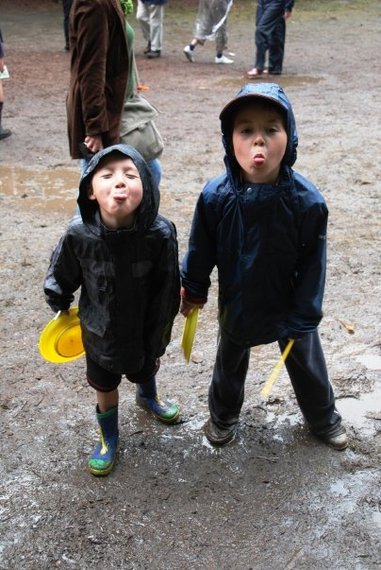 But from the sublime to the ridiculous - Camp Bestival 2011, with its popup Pizza Express tent, the Boden tent (Billy Bragg reading the bedtime story in this tent is still a surreal moment), and all round middle class families with parents determined to get absolutely loaded (guilty) whilst their children were safely being entertained by Mr Tumble (by far the biggest crowd of the weekend, even on a Sunday morning). It was a bit like listening to (arguably good) live music whilst in the middle of Guildford High Street. I'm still impressed by my son's ability to be asleep at my feet and not trodden on while the crowd jumped up and down to Madness.
Now my children are older, they're not backward in being critical when it comes to my music tastes, which is both a positive (I am glad they've got their own musical opinions - I think) and utterly galling experience. At Bluedot last year, during Underworld's set, one of them blithely told me my dancing made me look like a small child bobbing up and down wearing a cagoule during 'Born Slippy'. Not even the woman next to me telling them 'Your mum is really cool' convinced them. On reflection, I may have compounded their theory by adopting exactly the same dance during Jean Michel-Jarre's set. And during The Clangers' set.
So this year, we're going small, and we are going, as Jarvis, sang, 'somewhere, in a field in Hampshire.' I'm very much hoping not to lose a part of my brain there, or, indeed, any of my children. I'll be telling my older ones about Es and whizz, but I'll mainly be telling them all to have a marvellous time. Festivals are ace, and as long as you take plenty of wet wipes, your sense of humour and plenty of happy juice, you'll have a ball. And take wellies, even if it is boiling. Going to the chemical toilet in the middle of the night in just your flip flops is never a good idea, even when the weather has been hot and dry.
Even though I'm glad to have experienced the unique vibe that is Glastonbury's own, I can't say I envy this year's crowd at all if it remains this warm - even if Radiohead are playing. I'll settle for The Levellers this year. After all, there's something wonderfully ironic being in a big crowd with us all singing 'There's only one way of life/And that's your own.'
Enjoy your festival, whichever one you go to!