Screen star Bradley Cooper is alleged to be taking anti-baldness drug finasteride, sources claim. According to popular US website Radar, Cooper 'is so anxious about his receding hairline' that he has resorted to the oral hair care medicine.
The 39 year-old star of American Hustle, who is currently dating Suki Waterhouse, is said to be keen to retain his leading man status - and, especially, looks. Currently, the popular performer sports a stylishly messy cut which he parts to one side. The source also told People that Cooper 'has a lot of bald guys in his family, so he's been on Propecia for a couple of years and, to his delight, it seems to be working.' They added: 'Bradley is determined not to go bald and lose his leading man looks.'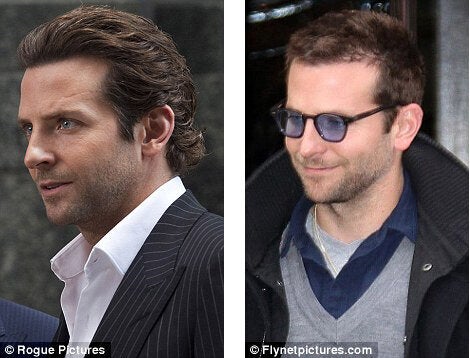 Picture Credit : Rogue Pictures and FlynetPictures.com
Propecia is a brand name of Finasteride which reverses male pattern baldness by blocking testosterone from damaging hair follicles. Originally, it was prescribed for men with enlarged prostates, but the side-effect was soon considered a breakthrough tool to tackle hair loss.
Although many celebrities - including Jason Donavan, Wayne Rooney and James Nesbitt - have had successful hair transplants, few have been open about taking Finasteride. The benefits of the medication and speculation surrounding which celebrities are definitely benefitting from the treatment are regularly discussed on The Bald Truth Radio Show.
I personally have had great success with finasteride and it has been the secret to my success as I have prevented further hair loss since I started taking it over 10 years ago. I have never experienced any side effects. I feel it is also an important medication to consider taking a minimum of 8-12 months prior to a hair transplant to strengthen existing hair and prevent further hair loss. Over time it will mean if you opt to go down the transplant route it will mean fewer procedures due to the fact you'll prevent the progression of loss.
To save huge expense and instead of purchasing the marketed drug Propecia (1mg) you can simply purchase Proscar (5mg) which is the actual prescribed medication and how 'finasteride' was discovered to help prevent hair loss and even regrow hair. Patients will require a private prescription for Proscar and then need to cut the tablet up - which is what I do.
Like many men of Coopers age, the actor appears to be suffering from a slight case of MPB, though judging by recent pictures it is relatively mild compared to that suffered by others. Many men suffer from hair loss due to Male Pattern Baldness from their early thirties onwards, while for some men it can start as early as their twenties. By the age of 50, it has been estimated that 50% of men will suffer from Male Pattern Baldness to some extent.
Male Pattern Baldness is an entirely natural and hereditary process which results in hair loss to varying degrees. It may take the form of a gradually receding hairline, as it has with Bradley Cooper, or it may result in general thinning across the crown or even balding in a variety of common patterns. The exact amount and distribution of hair loss differs from person to person, but the causes are the same.
While it is a natural process, that doesn't mean that men experiencing it have to accept it and let nature take its course. At the moment it would appear that Bradley Cooper has little to worry about, but as this form of hair loss is progressive, it is a good idea to take action sooner rather than later to save his hair while he can and finasteride is the most effective proven FDA approved treatment so good for him.