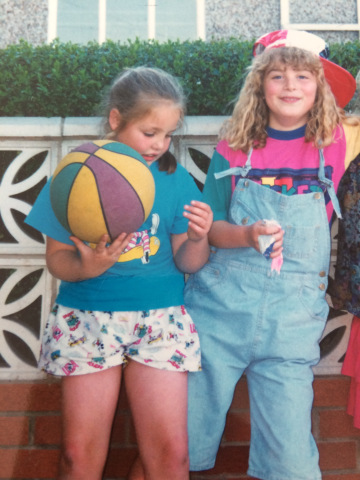 Born in January 1981, I was the epitome of the 'eighties. My childhood was an extremely happy one, even more so when I met my best friends, Jenny and Linsey. We became inseparable for those indispensable primary school years. My memories are filled with long summer evenings having water balloon fights, chasing each other 'around the block' on our bikes, or zooming up and down my driveway on our skateboards or selling broken bric-a-brac at the end of Jenny's drive. We would play outside for hours, venturing inside only for bathroom breaks and ice-pops.
There were no 'selfies', no filters that made everything brighter and more pleasant to gaze at, no social media to boast on, no hash tags and certainly no #squadgoals.
It was a great time to be a child.
What made it so great was the contribution my parents made to my happiness and safety. They kept me at 'arm's length' as it were. I thought I was being let loose and running wild, but they could always see me either in a back garden or on the driveway. I was given strict curfews and I wasn't allowed to go anywhere alone. However, curfews and rules were respected and as I grew older and developed a penchant for rock music, I was given a little more freedom - freedom with invisible boundary lines, that is.
My parents 'parented' me. They offered me compromises which gave me the independence to be my own person. They allowed me to go to rock concerts if they could drop me off and pick me up. They didn't allow me go to night clubs. They let me go shopping to the city on the bus with friends if I got myself a part-time job.
Yes, they 'parented' me. They didn't over parent me.
Despite working full-time in a job that ensures I also spend at least one day of the weekend marking and planning lessons, I fear I over parent my children. And by over-parenting, I do not mean that I spend too much time with them. I mean I strive too hard to keep them safe because I don't want the modern world to tarnish them and yet I want them have the same unforgettable experiences I did when I was growing up.
Four years ago, we took the bigger mortgage on the nicer house on the private road and crippled ourselves financially in order that our children would live on a very quiet street because we want to keep them safe from speeding vehicles and passing strangers. We soon found that most of the people living on our street bought their houses off plan back in 1967, meaning that my son and daughter have no one to throw water balloons at and no one to race around the block with.
Nowadays, I have found that play dates are arranged with parents days in advance. In 1987, if I wanted to go play with Jenny, I would bound out of the house and run up the street to her house (with my mum patiently waiting for me at the bottom of our drive), I wouldn't even knock on her door, I would just go right in and ask if she was 'playing out'. These days, my house doors are always locked and if a youngster happened to knock on my door to ask if my daughter was 'playing out'. I would ask them if their parents knew if they were out at this time alone, whether this little rendezvous had been pre-arranged and had I missed a note in her school bag?
Prearranged playdates lead me onto soft-play. A place where I over parent that much, I take the joy out of going. Other parents sit and enjoy a cup of coffee while I hang from monkey bars and scale cargo nets looking for my lost son only to find him seated happily in a ball pool eating someone else's sock. There's always that niggling feeling of what if he fell off and landed funny on his neck? What if another adult sneaked in and realised that they wanted a little boy for their own? What if my son saw an open door and just made a run for it?
Sleeping has always been a bone of contention in our house. My son and I have co-slept for two years. It has been a strain on the relationship I have with my partner and we're like ships that pass in the night. This, I feel, is over parenting at its best. My children can't put themselves to bed; I am ashamed of myself. My parents didn't lay with me at five years old until I fell asleep and if I tried to sneak in between them during the night, I was deposited back into my own room. However, there is something so wonderful and pleasing in knowing that I can pacify and soothe my children with only a kiss and a cuddle.
My over parenting means that my children undoubtedly know that they are cherished and that their parents will do anything to keep them protected.
What about their independence and their spirit? They won't find them laying next to their old mum.
Daily, I tell my daughter that she can be whoever she wants to be, but what if I hold her back and can't bear to let her go? We discuss the world; she knows that there are children out there who would give anything to live in a nice, stable family like her own.
Right now, her world is perfect and yet she knows THE world is far from perfect.
I am going to have to try to learn to keep my children at an 'arm's length' and ensure that those invisible boundaries are safely in place. Because, there is nothing like experiencing childhood looking down from the tops of trees with dirty knees.
Life is better experienced when it's in full colour and unfiltered, don't you agree?