Every year on the anniversaries of the D-Day landing in Normandy my grandad and great grandad would come together and invite me to listen to great grandads stories. My grandad was only 10 years old when the D-Day landing occurred. My great grandad would tell me his memories, which, as time went on, these memories became fewer and fewer. He would talk about what he could remember. It never got boring or old. It was amazing to hear the stories of the bravery of our armed forces.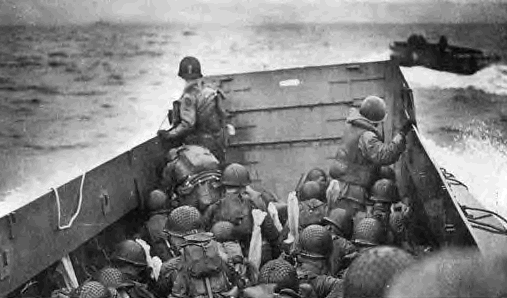 (c) www.normandy-france.net
Great grandad would talk in passion how his fellow comrades fought. I could see the sadness in his face how he remembered losing some of his best friends. However he would say "obviously my dear I cannot share everything."
"We shall defend our island, whatever the cost may be, we shall fight on the beaches, we shall fight on the landing grounds, we shall fight in the fields and in the streets, we shall fight in the hills; we shall never surrender."Winston Churchill, UK Prime Minister, Died 24 January 1965
My great grandad was a serving soldier. Later on when my grandad was old enough he joined the tanker regiment. Every time great grandad spoke of his time in the forces he would show me a photo album full of photos of him and my great uncles in their uniforms. I felt proud knowing where I had come from and what was in my blood. Brave men. I later learned that my great grandmother supported the war effort. I am still yet to find out more about the women in my family and their exact roles in the war. I am currently saving up so I can pay to access all the birth, death and marriage certificates so I can gather as much history as possible and build the family tree.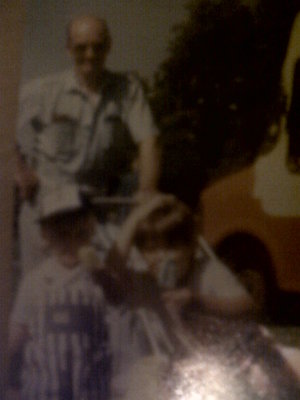 Me, my brother and Grandad
Grandad would talk fondly how great grandad spoke to him, as he grew up, about the D-Day landing.
"When you go home, tell them of us and say -

For their tomorrow, we gave our today."

John Maxwell Edmonds,

English classicist, poet, and dramatist,

Died 18 March 1958
My great grandad later passed away and so did his stories. However my memory of him continues to live on. My great grandad died due to throat cancer after coming through an infection in his legs which resulted in one of his legs being amputated. Being with my great grandad in hospital I would sit with him and just talk about his time in the forces. He would smile to himself and say "he was a good man" when he spoke about his friends he served with. I looked around the hospital and saw many elderly men and women on their own and from then on I decided I wanted to make sure they always had someone, later I joined hospital radio. Combine my passion; media, helping others and in memory of my great grandad. Me and the hospital radio team would visit patients. They would ask for songs and generally chit chat. I would speak with many and never wanted any of them to be on their own. To me they were someone's grandad, great grandad, great grandmother, grandmother, mum and dad, brother and sister, uncle and auntie, son and daughter.
"Well what D-Day means to me is the commitment and sacrifice of those who fought to keep family, friends able to sleep safe at night." - Matt Arundel, Joint Director of MASC Executive and former Royal Marine Commando and Intelligence Officer in HM Armed Forces
After my great grandad passed away, me and my grandad had a tradition. Every Friday night we would go to the pub and have a chinese on the way back. During most of our visits he would talk about how proud he was of great grandad. He would say how he wished he had told his dad how proud he was of him and how much he loved him and wanted to thank him for what he did for him.
As a grandchild and great grandchild I thank those who fought for us, you gave us our today.