I have been stuck in my sisters spare room for a couple of weeks, my knees gave out on the last 'house move', some sort of sprain, have to wait for an MRI scan, quite frustrating. Nice to spend some time with little niece and her handful of Chihuahuas, it's been a few years, I'm a no-good auntie.
I tried to open an art space for my own work, in an empty shop, I failed. I was living in there too, rats, damp, all a bit much, oh well, it's nice it's over. I've been working here whilst waiting for my knees to mend, I have all my art things with me, so I can work away to my hearts content.
I think I am going to go travelling, potter about the world here and there, making work on the road. I've travelled up and down the UK so many times now, and it's not really doing it for me anymore, I need pastures new.
I made a drawing yesterday with a speech bubble saying 'Not everything is about you...' and I was thinking that would make a good title for a show, so maybe I'll do that somewhere abroad, Paris perhaps.
I may well have hit some sort of chilled out phase in my life, dramas...mine or other people's, they sort of wash over me more, like you say to yourself, 'oh here goes another one, so what...'. I'm quite enjoying being this age, maybe I got all my crises in early, and I can finally start to have a bit of a laugh sometimes, or at least be more at ease.
Some kind of new phase, and I think the open road will help me click into the freedom aspect of it. It wont be so easy to whizz up larger paintings, but small works should be fine. I can taste the lovely creative feeling of making things, perhaps not possible to put into words, something you can carry around with you anywhere, that comes and goes as you get distracted, but you can access if you want to cheer yourself up.
I'm in the same city that I used to steal bottles of coloured ink and Berol felt tip pens, and bury them next to the wall of a church. The place where Saturdays were spent watching the Children's Film Foundation, wandering the streets, and dreading going home. Trying to be positive about this knees hiccup, but it looks so sunny outside... I'll throw myself into some more work, or snuggle up with 'Lucky', we can watch a bit of Columbo, before mixing up some more paint.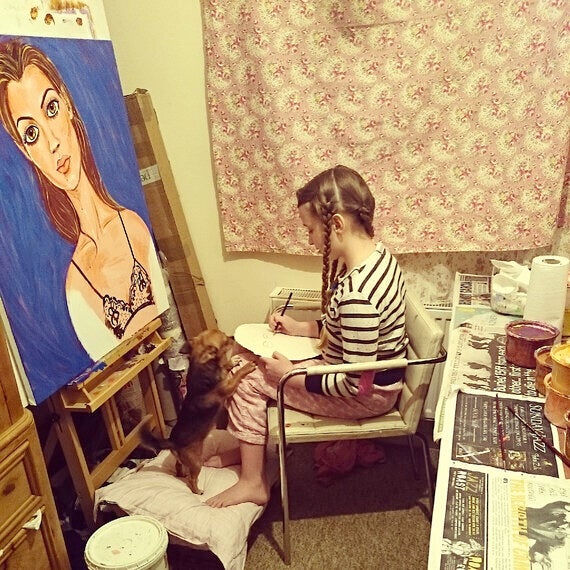 Image supplied by Stella Vine.