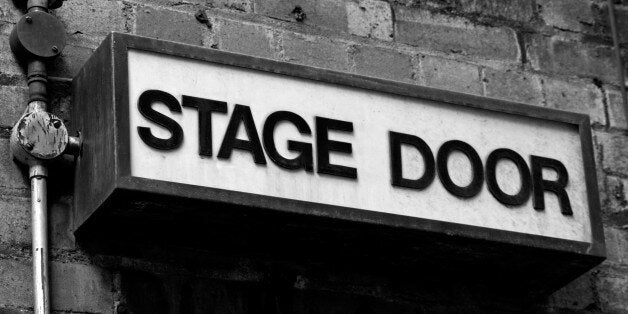 I was on a train back from the Edinburgh Fringe 2016 when I first realised I wanted to write plays. I wanted to write stories that you don't often see, from voices and perspectives that are often silent in the majority of theatre. Who had I met in my life who had impacted on me? Whose stories were people missing out on hearing? Why do we so often seem to tell the same stories, about the same people, written by the same people, over and over again? It feels like there have been getting on for 20 versions of Hamlet over the last 12 months. Living in as diverse a city and country as we do, why is our culture so often so narrow, so uniform, so elitist? It's time for some new faces, new narratives and new perspectives in the mainstream. As our associate artist and dramaturg Stephen Unwin describes, with "Joy" we're making "new stories for a new world".
During the train journey, I wrote the first scene of what is now my play, "Joy", a narrative celebrating a young woman with Down's Syndrome. Whilst working with "Access All Areas" (the life-changing disability-led theatre company), I met Imogen Roberts, who is now playing the title character in "Joy". Upon meeting, Imogen and I very soon realised that my imagined character and Imogen were almost the same person. We've been collaborating on "Joy" ever since. Immy's world and Joy's world cross-over and interweave. What's important to Joy is important to Immy and vice versa. My research for "Joy" has included collaborating with Imogen on the themes, topics, emotions, wants, ambitions and struggles of her own life. For the Victorian storyline, I studied the work of John Langdon Down. Down was a medical pioneer and entrepreneur in Victorian London who not only identified the condition that now bears his name, but also did much to enrich the lives of people with this learning disability. At a time when most people with learning difficulties were very badly treated, Langdon Down founded a community for them.
Making "Joy" has not been without its challenges. Often people simply don't want to know. I think they assume that if you are labelled as having a learning disability then you can't act - that "Joy" will be a worthy (but uninteresting) production. We can't wait to prove them wrong. "Joy" is as funny, as stylish, as theatrical, as slick, as playful, as fully-realised as any other. This silent, mild contempt and disinterest only stokes our desire and determination to share it and make it excellent.
These challenges and disrespectful attitudes towards our work have made me think a great deal recently about what it would be like if every time you walked down the street or walked into a pub, or a theatre, or onto the bus or the tube, people looked at you as if there was something wrong with you, as if you didn't belong, as if the space or the world around you wasn't for you. "Joy" challenges and exposes this discrimination towards those individuals whom society likes to label and marginalise. During our recent appearance on The Guilty Feminist podcast, Imogen explained that she prefers the word "unique" to the word "disabled". In a world that tells her to stay in the margins, Imogen is following her dreams with a quiet confidence and determination. Imogen's too busy living her life to worry about what labels people put on her.
It's my firm belief that celebrating and promoting those identified as having learning disabilities impacts positively on society as a whole. It's about celebrating difference and the many different ways of being successful and valuable. Some of us are labelled as having learning disabilities, some of us are not, we're a team making a show together.
I'll leave the last words to Imogen:
'"Joy" for me is about sisterhood and having something to say, to get your voice heard and stand up for what you believe in. It's amazing to be part of something. I want to share my life story through Joy's eyes. We love life to the full. I am in the same boat as Joy, my family want to keep me safe. When I was young I did drama in school at drama club. Come and see Joy. It has lots of adult humour and will leave you emotional. It's going be magical.'
"Joy" by Stephanie Martin: a coming of age story about a young woman with Down's syndrome - a tale of family, friendship, freedom and control. This new play celebrates the lives of people with learning disabilities, exposes the limitations placed upon them, and demands their right to have the life they want. Coming to Theatre Royal Stratford East 24th October - 4th November 2017.
HuffPost UK Lifestyle has launched EveryBody, a new section calling for better equality and inclusivity for people living with disability and invisible illness. The aim is to empower those whose voices are not always heard and redefine attitudes to identity, lifestyle and ability in 2017. We'll be covering all manner of lifestyle topics - from health and fitness to dating, sex and relationships.
We'd love to hear your stories. To blog for the section, please email ukblogteam@huffingtonpost.com with the subject line 'EveryBody'. To flag any issues that are close to your heart, please email natasha.hinde@huffingtonpost.com, again with the subject line 'EveryBody'.
Join in the conversation with #HPEveryBody on Twitter and Instagram.