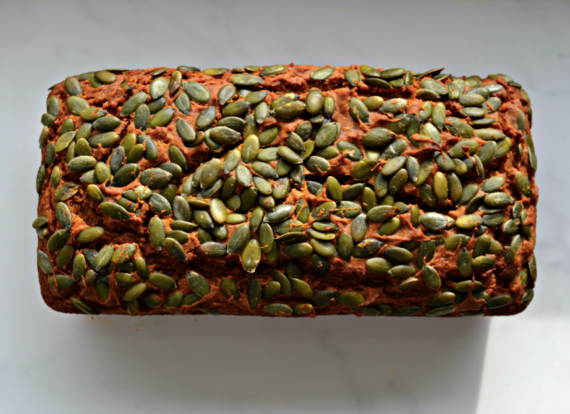 Falling into the flavours of autumn, this citrusy pumpkin bread is like the fancy cousin to your average banana bread. It's the ideal cozy comfort loaf you are looking for now that the days are shorter and the weather is just that little bit cooler.
You can't go anywhere when the leaves begin to change colour without something pumpkin flavoured popping up just about everywhere. This is a healthier way to enjoy a fulfilling and satiating treat that works well even for a quick breakfast in the morning.
Super simple to put together and no over the top ingredients, this recipe keeps the sweetness of a traditional loaf without all the added refined sugars and heaviness of your typical carb loaded mid-morning muffin. It's completely gluten free, despite the use of buckwheat flour - which is actually a seed and entirely free of gluten and wheat. Combine the richness of pumpkin balanced out with a little citrus kick and you will have the pleasure of filling up your home with the smells of the season.
3 heaped tbsp. coconut oil
Zest of 1 orange + juice of ½ an orange
1. Preheat your oven to 350°F. In a large bowl, whisk together the coconut oil, maple syrup, and coconut sugar until combined.
2. Add the egg, vanilla, zest and juice of the orange. Add your pumpkin purée and mix again.
3. Mix in your dry ingredients - add the flours, baking powder, baking soda, cinnamon and sea salt until everything is combined.
4. Grease your baking pan with coconut oil and lightly dust some flour to coat, shaking off the excess to prevent sticking. Pour in the mixture and top the entire loaf with your pumpkin seeds, gently pressing in.
5. Bake for one hour and check to see if a toothpick comes out clean. If not, pop the bread back into the oven for another few minutes. Once baked, allow to cool in the pan for about 10 minutes. Remove from the pan and let cool entirely before slicing. Enjoy!