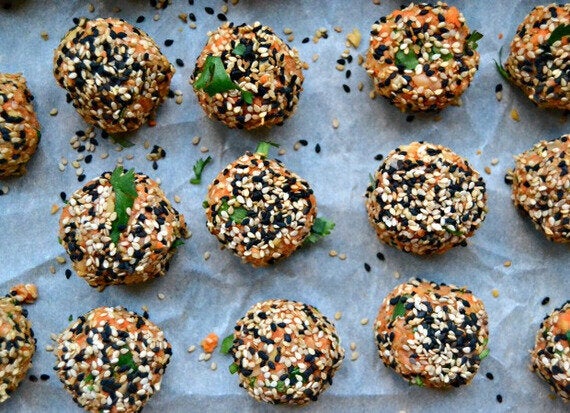 Falafel fan I have not always been but experimenting with different ingredients and coming up with these has changed my mind.
These are a great alternative for a meat free dish. They pair well alongside a quinoa tabbouleh or salads for a nutritious addition in trying to include more plant based recipes to your mealtimes.
Usually falafels are fried but I've made these by baking them in the oven and they still produce a crunchy texture on the outside and are fluffy and full of flavour on the inside.
The yogurt dip tops everything off but you can easily have them without. I like to use a yogurt made with sheep's milk over cow's milk. As another alternative you could also use a plain coconut yogurt.
These are fantastic to make ahead and freeze for a quick dinner in the evening or make a perfect portable lunch.
1 tin 400g chickpeas (or soak & cook your own!)
2 cloves of garlic, minced
1 free-range egg, lightly beaten
Handful of fresh parsley, chopped
4 tbsp. organic, full fat sheep yogurt (or plain coconut yogurt)
1 lime, juice and zest of
Handful each fresh mint and parsley, chopped
Drop of maple syrup (about ¼ tsp. max)
1. Preheat your oven to 350°F. If you wish, lightly toast your nuts and seeds in a frying pan until fragrant and toasted. Add these to a food processor pulsing until you reach desired texture. Set aside.
2. Add the carrots to the food processor and pulse. Rinse and drain the chickpeas, add alongside the carrots blending until combined.
3. Add the nuts/seeds back in, garlic, egg, coconut oil, herbs, and spices making sure everything is mixed well until incorporated.
4. Pour your sesame seeds into a shallow dish. Taking tablespoons at a time of the mixture, form balls, and then roll into the sesame seeds until covered. Pop these on a lined baking sheet continuing until all the mixture is gone.
5. Bake in the oven for 20-25 minutes. Flip them over after the first 10 so they get evenly crispy on the outside.
6. While the falafels are baking make the yogurt dip. Add the yogurt, lime juice and zest, fresh herbs, and seasoning to a small bowl and whisk together until combined. Serve with the falafel, warm from the oven.