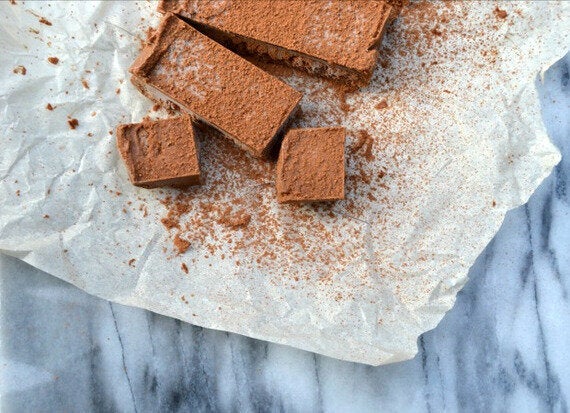 This fudge is decadence at its best. Not only does it taste delicious, take all of five minutes to prepare, and contain only six ingredients- it's also full of protein and fibre and dare I say, good for you! It definitely contains ingredients that you'll feel far better in consuming and are kinder to your body than the usual refined and processed sugars that make up the conventional fudge.
Don't be put off by the very first ingredient, as therein lies all the magic. The humble chickpea is the star ingredient taking this fudge to the next level and you don't even know it's in there. I promise. It becomes blended with coconut oil and chocolate to form a melt in your mouth healthier fudge.
You can change this up to suit what you like by adding some raw cacao nibs, chopped dark chocolate, or chopped nuts. Just mix it in at the end before you pop it in the freezer. This will not only take away a chocolate craving, it will fill you up before you get the chance to finish the whole pan!
¼ cup cashews, soaked (4 hours minimum or overnight)
4 heaped tbsp. coconut oil
Optional: 1 tsp. maca, raw cacao nibs
1. Blend chickpeas and cashews in a food processor until combined.
2. Add the rest of the ingredients, except for the raw cacao, and blend until smooth. Add the raw cacao and blend again until the whole mix comes together.
3. Add to a parchment lined baking tray and pop in the freezer until firm, usually a couple of hours.
4. Remove from the freezer, pop out of the tray, cut into squares and enjoy!