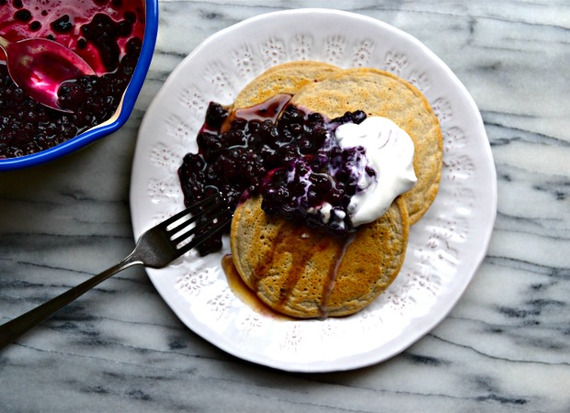 Happy Pancake Day!
Just in time for the celebration of this classic breakfast treat, these blueberry lemon pancakes are quick and easy to whip up.
I tend to favour a big stack of North American style pancakes drizzled with maple syrup. This recipe combines the same texture but with the tartness of the lemon and the sweetness of the blueberries and coconut to create a delicious contrast of flavours.
They score bonus points being gluten free and dairy free, helping you to avoid the bloated feeling that usually accompanies the heavily wheat-based breakfasts we tend to consume.
Enjoy these for your breakfast, lunch, or dinner on the day, or for a weekend brunch spread!
Makes 6-8 pancakes
Ingredients
Pancakes
½ cup coconut milk
1 organic, free-range egg
1 tbsp. coconut oil, melted
1 tsp. vanilla
½-1 whole lemon, zest & juice of
½ cup buckwheat flour
1 tsp. baking powder
Pinch of sea salt
Blueberry Compote
1 ½ cups blueberries
2 tsp. maple syrup
1 tsp. vanilla
Pinch of sea salt
Squeeze of fresh lemon
Optional: 1 tsp. chia seeds (for a thicker consistency)
Coconut Whipped Cream
1 tin full-fat coconut milk, chilled for 4 hours or overnight
½ tsp. vanilla
Pinch of sea salt
Preparation
1. In a large bowl, whisk together the egg, coconut milk, and vanilla.
2. Melt the coconut oil on the stovetop then slowly stream into the mix, whisking as you go along. Zest the lemon and add this along with the juice of half the lemon.
3. Add the flour, baking powder, and salt, whisking again until everything is smooth. Set aside for a couple of minutes while you heat your frying pan.
4. On low-medium heat melt some coconut oil and add large spoonfuls of the batter into the pan. Allow to cook for a couple of minutes until golden brown, then flip and repeat on the other side. Repeat with the rest of the batter.
5. Make the blueberry compote by simmering the blueberries, maple syrup, vanilla, sea salt, and vanilla in a small saucepan. Allow this to cook for about 10 minutes until everything has reduced to a sauce. Remove from the heat, adding the chia seeds to thicken if need be.
6. Make the coconut whipped cream by removing only the thick cream from the tin. You can save the liquid for a smoothie. In a large bowl, whip up by hand along with the vanilla and sea salt until light and fluffy.
7. Stack the pancakes on a plate, add a spoonful of the blueberries, a dollop of the coconut cream and sprinkle with extra lemon zest. For additional sweetness, drizzle with some maple syrup. Enjoy!
Photo author's own.