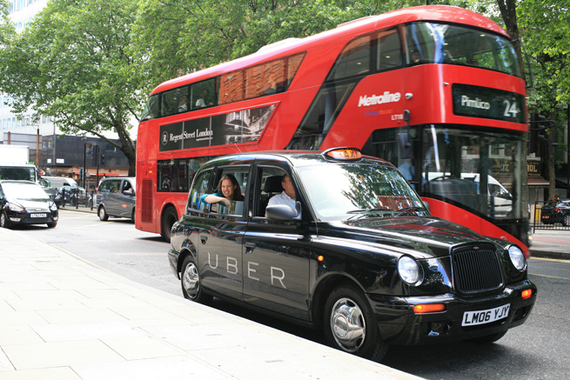 Today London's streets were the scene of a black cab drivers revolt as they striked in London in protest at Uber - a new transport app backed by Google and Goldman Sachs.
Uber is an on-demand car service that now operates in 128 cities, 20 of which are in Europe, and allows you to request a private drivers in a sleek, executive-style black car through applications on your iPhone or Android phone.
Using your phone's location tracking to pin your position Uber then alerts drivers in the vicinity that you're looking for a car. The fare doesn't start rising until you're in the car and once you've reached your destination you can head off on your way with the payment handled by Uber's cashless payments system via Paypal or a card you have on file.
Transport for London had announced that it did not believe Uber broke the law by using an app to determine charges because it does not require a physical connection between the device and the vehicle, as is the case with black cabs. They've since referred the decision to the High Court and are awaiting a binding ruling.
The Licensed Taxi Drivers Association argues that the app is a taximeter which private vehicles are not allowed to use and have decided to demonstrate their anger in a protest.
For me this protest misses the point almost entirely. This isn't about Uber - it isn't about the fact that Uber's prices can be more competitive, it isn't about the quality of the vehicles on offer, it isn't even bout the ease of use. What this is really about is accountability, consumer power and almost anonymity of black cabs.
Black cabs by their very nature are almost a homogeneous group. It's high, nigh on impossible, to provide feedback on an individual driver, there's no consumer accessible rating system for drivers and there's a big disconnect between users and drivers.
Compare and contrast that with Uber where after every ride users are required to rate their driver, not Uber but the driver itself, and this information is used to remove the lowest rated from the service. Under this system consumers have a direct input and feel like the service is accountable to them. As a group users of the service can force out drivers who they dislike through low ratings, something that's not possible with a black cab - if you have a bad black cab journey, you have a bad black cab hourney and that's it.
If the LTDA takes anything from its current scuffle from Uber it should realise that Uber isn't the ultimate threat, the industry itself is its own threat. Its closed nature, homogenuity and lack of accountability don't fit into a world of social media and high connectivity where instant feedback and gratification are commonplace. The mighty black cab needs to learn what it can from Uber and make sure it doesn't follow the path of the music industry.