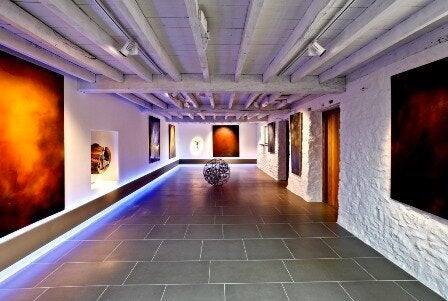 My discovery of the power of art has been an unusual journey. It came at a time when I was making a living as an arable farmer in the depths of rural Herefordshire in the 1970s. I worked 12-hour days out on the land and my wife and I had just had a new baby. Then, suddenly, my world was turned upside down. I was diagnosed with leukaemia.
At the time, there were no cures so I took a gamble with a medical trial at St Bart's Hospital. During a course of treatment to remove my spleen, I read all about the controversial Bricks by Carl Andre at the Tate and thought I'd like to see what the fuss is about. It occurred to me that this could be the last time I left hospital alive. I had a few hours free before my operation so took a black cab to the Tate. My weight had dropped to just six stone. The driver took one look at me and whisked me off to my destination, but not before showing me all the highlights of the area for free. I will always be so grateful for his generosity.
I had never had the chance to visit London or an art gallery before so the Tate was a bit of a culture shock. The first piece I happened upon was pop art and I remember thinking to myself: I'm not sure I get this or have the strength to see more. I'm so glad I kept going because when I walked up to the Bricks it was life changing. It may sound a bit strange and it's difficult for me to put into words, but the hairs on the back of my neck stood up, I was just overwhelmed, I could have stayed there all day looking at them. I guess I fell in love with the Bricks and that memory stays with me today.
I made it through the trial, though sadly the other 11 in my batch didn't. My yearly check-ups with Bart's gave me the opportunity to do annual art trips, which I began to look forward to more and more. As the years progressed, I discovered Rothko, Hepworth, Yayoi Kusama, Damien Hirst, Tracey Emin and so many more; I was hooked. Whilst visiting galleries, I always had the thought in the back on my mind that if I hadn't been ill and gone to London I wouldn't be doing this. Working on the farm, there were few opportunities for London breaks. When I retired from farming and sold my land, I thought to myself: This is my chance to build a gallery where I could showcase leading art in Herefordshire and raise funds for St Bart's.
Most people thought I was absolutely mad to be building a gallery in a rural backwater, but I'm afraid I haven't listened to them; this is my dream. I relish my visits to galleries in big cities, but the countryside also has something very special to offer. Placing sculptures in fields with rolling landscape just seems to me to make them come alive - they have space and it offers the opportunity for quiet contemplation. The old barns and tractor shed just seem to be ideal spaces for large scale work. I'm a passionate believer that rural communities should be able to enjoy exceptional art to in their local area. Art became a massive part of my life when I was ill, and with life so fast-paced today, I think it is important to have quiet, beautiful spaces, where you can forget your troubles for a while. If I can give just one person the feeling I had with the Bricks then I've achieved my goal.
I'm in the midst of my first summer exhibition at Canwood Gallery. I've had unbelievable support from world-leading artists Jonty Hurwitz, Tomokazu Matsuyama, Blake Daniels, Brett Amory and Angela Conner, amongst so many more. The icing on the cake for me has to be a work from Carl Andre, I still can't believe it's actually in the gallery. The sculpture park is alive with superb work and I've met the most wonderful visitors. Alongside Bricks in the Sticks, the gallery is showcasing some great Herefordshire talent in the Vulgar Earth exhibition. It's all becoming more than a dream, it's an incredible journey which I hope, with funding, can grow and grow. A world without art is unthinkable for me now; it changed my life and has brought me such joy in good and hard times, which is why Canwood Gallery is free for everyone.
Bricks in the Sticks - A Farmer's Inspiration is on at Canwood Gallery until 1st August 2017. Tuesdays to Sundays 11am to 5pm.
Related