Amazon will unleash its very first smartphone on the UK market in just two weeks' time.
Just a day before the iPhone 6 and iPhone 6 Plus were unveiled, Amazon swept in and announced that its coolly named Fire Phone would be going Transatlantic, and will launch here in the UK on September 30.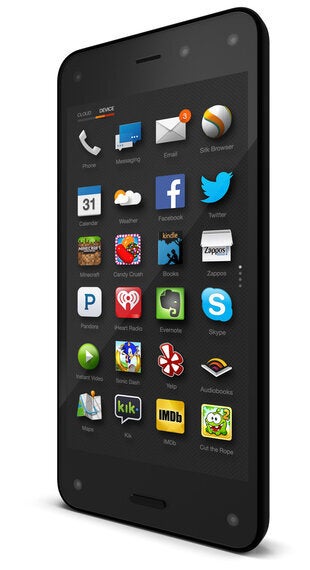 It's a very clever move from Amazon. It knows it's not going to compete with the iPhone 6 and iPhone 6 Plus for the mass market, but if it can take even a small bite out of Apple by offering a well-timed alternative, that should be good enough.
So far, it's had slow sales in the US amid established competition, so why should British smartphone fans choose Amazon's Android device?
First let's list the pros. It has six cameras. You've got your 13MP back facing for traditional picture taking, a front facing one for selfies, then there are the four in-built cameras, one in each corner of the screen.
These four corner cameras track your face and the way you hold and look at your phone. This, along with a few LEDs, helps the phone create its unique 'dynamic perspective' interface, which gives the illusion of depth - sort of like simulated 3D. This gives a unique screen viewing experience for images and maps.
What else? Well, there's the phone's 'Firefly' capability. This is a scanner that recognises products and information like phone numbers, and email addresses - even if this is printed. Obviously very useful for recording information without having to type it into your phone.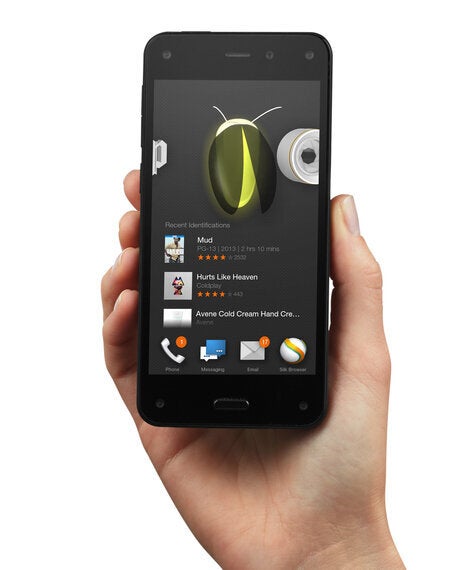 As explained in a recent interview with USA Today, Amazon's CEO, Jeff Bezos, explains that Firefly can recognise 100 million items. This enables users to easily buy products, music or films - or add items to a wish list (and buy later).
Hold on... so is Firefly is a scanner that allows you to buy stuff from Amazon then? Jeff says: "It does turn out to be (that) one of the things people want to be able to do with their phones is to get their shopping lists taken care of... and of course we're going to help with that and it's good for our retail business to help with that. But it's not what Firefly is about."
Although it's not what Firefly is about, it scans products and takes care of your shopping list. Plus, users will get a free year's subscription to Amazon Prime - which means ultra speedy, free one-day delivery on "millions of eligible items". More shopping perks...
But despite this, it's definitely NOT intended as a device to make buying from Amazon that much easier. Sure Jeff. We believe you.
So these are the perks. It's certainly got strong unique selling points - and the cutthroat smartphone market always needs new kids on the block to keep things fresh. Plus, if you're a shopaholic with a penchant for 3D, you'll probably love this phone.
Well for starters, although the Fire Phone uses Android software, Amazon has created its own operating system, also used on its Kindle Fire tablet.
If you're not fussed about apps that's not too much of a problem, but if you are Amazon's app store has less than a fifth of the apps that the Google Play store has. A quick glance at the store does reveal that it has Spotify, BBC iPlayer, Facebook and Peppa Pig Theme Park though - so all is not lost.
Some tech reviewers have questioned the Fire Phone's 720p display, which is not up to the same standards of today's flagship smartphones. However, it does mean the battery life lasts longer.
And in the US, where it was launched on June 18, it's been suggested that the Fire Phone has sold no more than 35,000 units. Let's not be cynical. That could just mean they've had enough of Change...
So what's the damage? O2 has the exclusive on the Fire Phone for now. Unlimited minutes and texts plus 2GB of mobile data costs £33 per month with a free phone. A quick glance at a mobile comparison site shows me that you can get an HTC One M8 on a 4G tariff with unlimited minutes, texts and 2GB of data for £30.99 per month. So, the Fire Phone may not be the least expensive but it's priced to compete.
Of course, the Fire Phone will come down in price, and when it does, it's likely consumers will have more reason to try something new. And Amazon has the added appeal of being a massive, and trusted, global brand.
Plus, us Brits LOVE a freebie. And you do get your year's Amazon Prime worth £79 thrown in with the Fire Phone. We'll have to wait until October to find out if the reception in the UK is less frosty than the US. I suspect it might be.