With this year's Mobile World Congress about to kick off, the tech world is generally quite quiet. Other than the release of the first ever commercially-available Ubuntu phone, that is.
In short, Ubuntu is an operating system. Although it's been around for about 10 years now, predominantly for Desktop with its 'Unity' Operating System, it's only just making the move to its own mobile devices.
Not only does Ubuntu now have to battle for a portion of Android and Apple's market share, it also has to convince mobile users that they no longer need apps. Yes, you read that correctly; no apps - pure undiluted genius or technological suicide?
Instead of 'apps' Ubuntu uses 'scopes'. Essentially, a scope is a segment of an app which can be grouped together with others. For example, it has lots of pre-determined groups (called 'Aggregators') which link various scopes together, aiming to show you exactly what you want to see.
As with any operating system, what's crucial is that brands whose apps are popular i.e. Facebook, Instagram, Soundcloud etc are willing to allow their brand on your device. Fortunately, Ubuntu already has the go-ahead for a good number of these. Unfortunately, they're still waiting for certain apps like Whatsapp to join - which could be a dealbreaker for some.
A 'Today' scope tells you things that are happening today, such as events in your phone's calendar and your 'favourite' contacts. The 'Nearby' scope will tell you local weather as well as help you find local places to eat or drink - through Time Out and Yelp integration - or find bus timetables.
A Music scope combines Soundcloud, your music and apps such as Grooveshark. A Video scope combines platforms such as Vimeo and YouTube and a Photo scope shows your Instagram, Flickr feeds and even your Facebook timeline.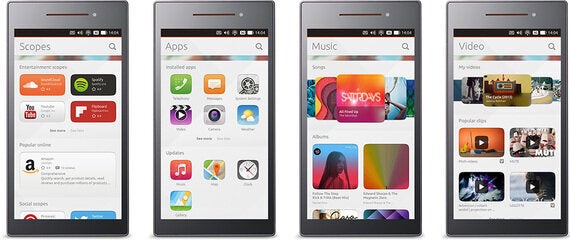 There's a multitude of these groups, helping you to only see the parts of the apps you need. Although one might argue that these still qualify as 'apps', it seems as though scopes could really streamline the process of getting to segment of an app you want, and quickly. Another perk is that you can choose which of the scopes in each group you like the most, and make that the homepage of the group - so if you want YouTube to be home on your videos scope, you can make that happen.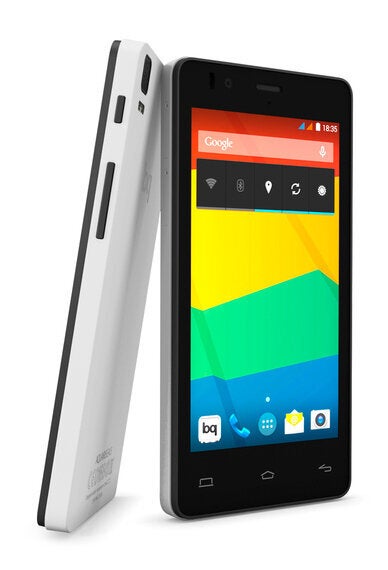 The BQ Aquaris E4.5 is the very first device to boast the Ubuntu mobile OS. In case you were expecting something spectacular, it's a mid-range phone, with specs that are more comparable to the flagship devices of 2012 than 2015. It's packing a 4.5" screen, 8GB of internal storage (expandable by up to 32GB using microSD), 1GB of RAM and a 1.3GHz quad-core processor.
If we compare it to the Samsung Galaxy S III, for example, it doesn't quite match its processor for power or its 4.8" screen. The resolution of the Aquaris is 'qHD' (not to be confused with QHD), which means quarter HD, hence the resolution is a quarter of Full HD at 960 x 540, giving the phone 244ppi, compared to the 306ppi of the Galaxy S III's 720p screen. It also has front and rear cameras, clocking in at five and eight megapixels respectively. A perk is that it's dual SIM, in case you have two numbers on the go.
The use of scopes instead of apps should, in theory, be easier on a phone - be it in RAM usage and processing power - which may be why the E4.5 opted for lower specs.
When I first saw this phone, it felt like I was getting deja vu, as the shape of the phone makes it look almost identical to the Windows Lumia 635, even having 4.5" screen. It also lacks the physical buttons, instead opting for home keys similar to those present in many Android devices, and not dissimilar from the Lumia 635.
Device similarities aside, it seems that Ubuntu's scopes could genuinely bring something new to the market.
As we're only seeing a mid-range handset, it's not yet given us a glimpse into the full power that the Ubuntu operating system can bring to mobile devices, but it gives us a good look at the interface and general user experience.
There are rumours floating around that we could be seeing a more powerful Ubuntu device (some think it might be the MX4 or MX4 Pro from Meizu) at Mobile World Congress. All in all, Ubuntu certainly leaves some 'scope' for excitement.