HuffPost UK is running a month-long focus around masculinity in the 21st Century, and the pressures men face around identity. To address some of the issues at hand, Building Modern Men presents a snapshot of life for men, from bringing up young boys to the importance of mentors, the challenges between speaking out and 'manning up' as well as a look at male violence, body image, LGBT identity, lad culture, sports, male friendship and mental illness.
In 1841 Thomas Carlyle, a Scottish philosopher, wrote a book which if published today would probably result in a generous dose of Twitter trolling, accompanied with an amusing hashtag.
In his publication 'On Heroes, Hero-Worship, and The Heroic in History' Carlyle said that 'the history of the world is but the biography of great men'. For Carlyle, male heroes had shaped history through their manly characteristics and innate inspiration.
That certainly wouldn't fly today, but life was probably a bit more cut and dried back in 1841. Men were men, women were women and that was that. Needless to say, Carlyle's 'Great Men Theory,' as it came to be known, won some airtime until the #everydaysexism of its era took hold.
Herbert Spencer, famed for many things including first using the phrase 'survival of the fittest', wrote in criticism: 'A great man depends on the long series of complex influences which has produced the race in which he appears, and the social state into which that race has slowly grown.
'Before he can remake his society, his society must make him.'
The way we talk about men in 2015 is alarmingly different. The great has gone. Man is almost code for bad things. We even Google about the bad things men do: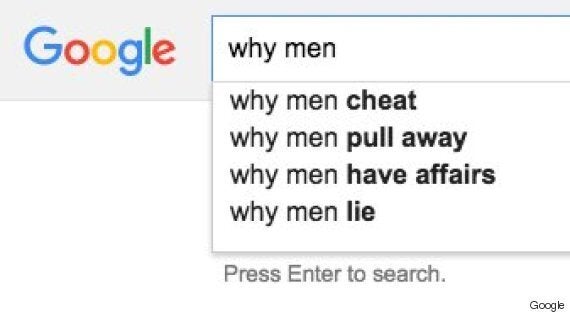 The question we should actually be asking is what kind of men are being made by today's society?
We want to cast a light on the key areas which I believe impact on men the most: porn, fatherhood, male body image, lad culture, mental health, bringing up boys and LGBT issues.
Like so many aspects of modern life, things are changing. For men and women it's gender roles. Masculinity has become increasingly complex as old rules are replaced with new roles. Certainty has been replaced with turbulence.
"The expectation of what values men should represent in Britain is in a state of confusion. It's not necessarily a bad thing, but the net result is men have become less empowered. They've become less 'manly'.

"Achieving gender equality is without doubt what we should all support and strive for endlessly. Who wants to live in a society divided along the out-of-date conventions that restricted our parents and grandparents? But the road to this promised land is proving to be a bumpy one and one which risks leaving men by the wayside, forgotten in the wastelands of change.

"The way men view the world and themselves has also changed. Gone are the lads mags which seemingly satisfied a generation of horny male Britpoppers. Now it seems young men dine on an endless stream of YouPorn, revenge porn, rape-based abuse and overly pumped-up expressions of what being a man is thought to be."
In the 12 months since I wrote those words the facts haven't changed, nor has my opinion, but my understanding of the issues facing men has. What I'd now add is that while attitudes to sex appear to have gone completely rogue, attitudes of self have also spiraled into despair.
Research from the University of the West of England earlier this year found that four out of five men confessed to being unhappy about their body, with having a 'beer belly' and lack of muscles as the biggest concern.
Latest figures on male suicide rates show they are more than three times higher, at 18.2 male deaths compared with 5.2 female deaths per 100,000 population. That means suicide is the single biggest killer of men between 20 and 49. That statistic alone should make us all stop and think. It's an utterly ridiculous situation.
In the last year I've worked alongside a female colleague who has dealt with the suicide of a loved one. If focusing on men for a month achieves nothing more than raising this issue, then we've achieved something.
November, it seems, has become the unofficial month of men across the world. Movember has become a big deal for raising awareness about cancer, International Mens Day day takes place on 19 November and throughout the month The Huffington Post UK will be partnering with the Being A Man festival which takes place at London's Southbank Centre.
There are a lot of good issues related to being a man, but starting a conversation about the tough ones too means there's a huge opportunity to create something wonderful.
None of us should be worried about championing men or applauding and rewarding them. Let us be inspired by the great man Herbert Spencer who I mentioned earlier and work together to make society a place that enables us all to start building modern men.