This week, David Cameron sets off to Liberia's capital, Monrovia, for influential UN talks on what should replace the Millennium Development Goals (MDGs) when they expire in 2015.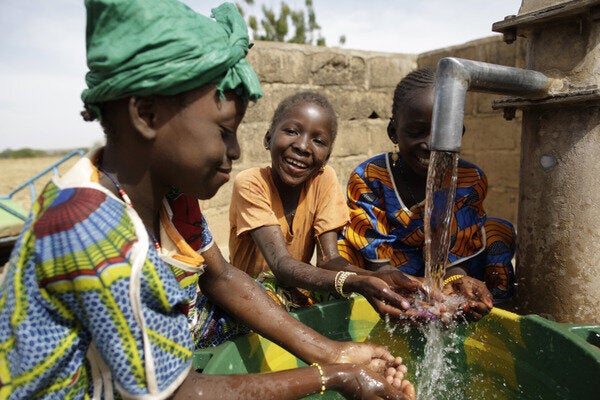 The cynics would say this is another talking shop, an opportunity for the great and the good to come together and pontificate on poverty. I am not one of them. These meetings matter just as much for Britain as everyone else. Looking around the world today - Mali, Somalia, Afghanistan - it is clear that poverty can too often lead to unstable states with often catastrophic consequences. Good development helps create the conditions for a safer and more stable world. That is in all our interests.
This is why it is right Britain is at the heart of the post-2015 process with David Cameron co-chairing the UN talks alongside Liberia's President Ellen Johnson Sirleaf and Indonesia's President Susilo Bambang Yudhoyono. This is a chance for us to shape development for generations to come.
Great progress has been made since the UN Millennium Development Goals were first launched. Who would have thought that 600 million people would have been brought out of poverty in just two decades, with five million more children surviving beyond their fifth birthday in 2011? This is something to celebrate and shows how global targets can focus minds, inspire action and lead to tangible results on the ground.
The UK has made a very real contribution to this progress, of which we should be rightly proud, but there is still much to be done. Many countries are a long way off from reaching their own national targets and some areas are falling far behind.
As a DFID Minister I held the portfolio for issues relating to sanitation and water. Of all the Millennium Development Goals, sanitation is one of the most off-track, where more than 2.5 billion people globally do not have access to a safe toilet. Nearly 800 million are still without clean drinking water. According to the charity WaterAid at the current rate, the goals for proper sanitation in Sub-Saharan Africa will not be met for another 150 years.
Investing in water and sanitation works. According to the World Health Organisation for every $1 invested in water infrastructure, an average of $4 is returned in increased productivity. In this climate that is a pretty good return on investment. DFID's own 2012 review showed that investing in water and sanitation offers "good value for money" - something to point out to the aid naysayers.
As history shows us both here in Britain during the Industrial Revolution and much more recently with the Asian Tigers - Korea, Singapore and Malaysia - if you invest in water and sanitation, economic development will follow.
But this is about more than just pure economics, as important as that is. It is also about transforming lives -improving health, education and livelihoods. For many, access to water and sanitation is the first step out of poverty. I was a Minister at DFID when Britain committed to reach 60 million of the world's poorest with water and sanitation over the next three years. This is the right thing for us to do.
At November's High Level Panel meeting in London, David Cameron said that we have a real opportunity to end world poverty in our lifetime. We need to come up with an ambitious framework that can make this happen. Access to universal water and sanitation must be a vital part of this.
Stephen O'Brien is the Member of Parliament for Eddisbury, the Prime Minister's Envoy and UK Special Representative for the Sahel, a former DFID Minister and Co-Chair of the Conservative Friends of International Development
http://www.stephenobrien.org.uk/