The first thing that impresses is the attention to detail. Not a bike in sight and Halford's clearly mean business. A slick presentation by chief designer Justin Stevenson sets the mood. His twenty odd years working for several major cycle manufacturers have come to this point, the point where he clearly has had a eureka moment or two with his design team. Lets get one thing straight here, Halford's are not and never will be an old Italian bloke making hand made bespoke cycles for City boys with more money than sense. Halford's will not fleece you of ten grand with the fantasy that suddenly you will be fit for the Giro d'Italia over night.
What Halford's do is get bums of all shapes and sizes on saddles and now with the vision of Justin Stevenson they are making a huge statement with their new 13 range of bikes. They realise that the middle / upper market has enough space for their new 13 bikes. They already stock team Sky's Pinarello and have recently bought out Chris Boardman's bike range aswell. They are no mugs and despite the snobbish and unfounded opinion of the 'old school' cycle heads, they are now bridging the gap between entry level road bikes and high performance bikes, slick, efficient and very stylish bikes.
The 13 range takes its name from the deep superstition that any rider given the number 13 in a pelaton, would turn the number upside down so not to be at any disadvantage on whatever level the cycle gods operate.
When the screen raised and the 'Intuition Gamma' was spinning slowly on a rostrum in front me, the first thing that struck me was how 'sexy' it was. If road cycling has become ' bike porn' for a lot of middle aged men and women, this was a top draw centrefold on display. Seamless and tasteful, this bike has the wow factor. It weighs all in just 7.7kgs and is kitted out to a very high spec. Carbon fibre aero wheels give the impression that this bike is made for speed.For the hard core purists who have a bee in their bonnet about the font selection or the number 13 or the fact Halford's have actually 'done it', the chain set has a twenty-four on the back and not a Frisbee, so good luck to them getting up Ventoux on it and enjoy that lactate rush.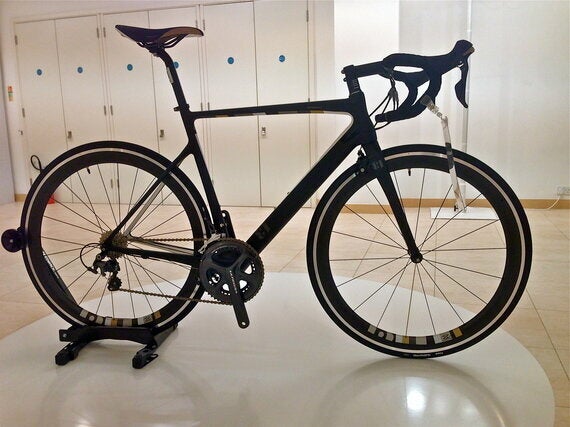 This bike range means business. The research, the design, the endless hours in the wind tunnels ensures that the average cyclist looking to upgrade and not spend a fortune will have a great looking bike, that is amazing value. Of course a light bike is meaning less if you as a rider are eating too many pies. The 13 range will make you feel like you need to get a grip and sort yourself out, it will be a catalyst to great things.
The range spans road, hybrid, MTB (mountain bike) and is super stylish throughout and most importantly great value for money. Unlike most of its competitors, there is no garish branding, it is not obvious what make of bike it is, this itself is credit to the design team .They took a risk and it worked. It reminds me of how Rapha decided to tidy up cycle-wear, and take away the garish colours and overuse of brand name and let the style and quality do the talking. Halford's recognise the need for brains and knowledge in store to back up their new ambitious march in the mid/high-end bike market. There will be in store specialists who 'know their onions' and will give confidence to all those who share the love of cycling.
Lucky 13 to anyone riding one of these bikes and it is an inspired moment in cycle design and performance.