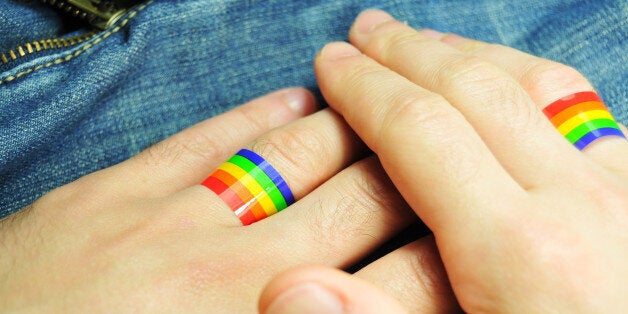 The decision by Parliament to allow same sex marriage, rather than civil partnership, was a legal milestone. However, despite the fact that the law around same-sex weddings has been dragged out of the dark ages, there are still a number of areas within the wedding experience where inequality, discrimination or simple thoughtlessness still persist.
When planning a wedding, couples speak to tens of different suppliers and service providers - the venue, the cake maker, the wedding planner, photographer and so on. For same sex couples most of these conversations involve some element of coming out simply by having to give the names of the wedding couple. This can be wearying, even just in anticipation of an adverse or uncomfortable reaction. Straight is still the assumed default.
In coming out, many suppliers treat the lesbian and gay community with open arms. However, this is not always the case, particularly when it comes to choosing the venue or method of marriage.
Same-sex couples who are religious have limited choice. According to recent ONS figures out of the 4,850 same-sex marriage ceremonies in 2014, only 23 were religious, that's less than half a percent. In comparison 28 per cent of straight couples opted for a religious wedding. For many, regardless of religious leanings, weddings and churches go hand in hand but for same-sex couples, they quite simply cannot. In the UK, the largest religious groups have either banned (in the case of the Church of England) or have chosen not to (for example, the Catholic Church or Orthodox Judaism) conduct same-sex ceremonies. Certain more liberal churches, such as the Quakers or Reform Judaism, will allow same-sex ceremonies, but often on the discretion of the individual minister.
There is always the option of a civil wedding. However, even then there is a risk of problems. Certain registrars in the early days of civil partnership legislation either expressed distaste or refused to officiate at same-sex ceremonies. And for private venues, I have heard of venues mysteriously becoming unavailable when it was clear that it was being hired for a same-sex wedding. Of course, if this was the reason it is a clear breach of the Equalities Act 2010, but as ever the problem is one of proof.
These types of prejudices were encapsulated very clearly in the 'gay cake row', which eventually saw a bakery in Northern Ireland convicted of discrimination after refusing to bake a pro-gay marriage cake. But in most cases the inequalities don't reach the courts or the front pages.
Even when suppliers are delighted to support a same sex wedding, remarks like "You'll be my sixth gay wedding!" are all too common. Very often, such comments are made with the best intentions but it cannot be underestimated how exasperating it can be to smile and nod and explain that you don't find your life as a couple particularly different from anyone else's.
As a case in point, at my wedding our photographer was fantastic, but in the excitement, we hadn't thought to really educate him on the alternative family and friends that are so prevalent in the LGBT community. Our wedding photos show a "traditional" family set up, sometimes to the exclusion of friends that have been equally important to us.
Then there is the honeymoon. Couples may get hitched without a hitch but the bulk of honeymoon packages are geared towards heterosexual couples. Indeed, it wasn't long ago that some package holiday providers, such as Sandals, were in trouble for not allowing same-sex couples on their holidays. Unfortunately, an even sadder fact remains, many countries are still hostile to same-sex couples. If you're a male-male couple looking for island sun in Jamaica, sex between men is punishable by up to 14 years in prison. The truth is homosexual honeymooners face the same travel problems when planning a vacation, and then a whole series of extra concerns about the law and their own security.
This outsider feeling extends to the less exciting elements of planning a wedding, like the insurance taken out to protect the special day. Many financial products for weddings are stuck in the past. For example, insurance policies often won't cover two bridal dresses or two grooms' suits - it's one of each. This is in no way fit for purpose and to add to that the customer application process and customer service is geared towards heterosexual couples. So much so that according to research by Emerald Life, when asked about insurance in general, four out of five (79%) of the UK's LGBT population would change the way that insurance companies interact with them.
All of this isn't to say that progress hasn't been made, however, the devil and the discrimination is so often in the detail. It is important to celebrate three years of marriage equality. While it is vital that we remember that progress is a process, there are still barriers to remove for same-sex spouses. We need to continue to strive for full equality, not just within the guidelines of the law, but in everyday life. We shouldn't stop until the whole wedding experience is built to celebrate diversity, so that everyone has a truly wonderful and memorable day.