...and how the fuck I ended up doing what I'm doing now...
We all have those "oh fuck" moments, when something falls apart, alters our whole trajectory, shakes the foundations of our world and makes you question "where the hell did I go wrong?". I've had a few in recent years. I had a breakdown in 2011. It was mostly spurred by that break up -- you know, the one we all go through that takes forever to get over, but later reveals it has absolutely nothing to do with the person who broke your heart. Then I quit touring, not knowing what the hell I would do next. The road had defined me and without it (and the ex) I was no one. The other major event was earlier this year, after splitting with a band I loved and had put my heart and soul into for six years. It wasn't my choice, but I'm now at a point where it all makes sense and was probably one of the best things to ever happen to me. In fact, I've realised over time that all these events have defined who I am today and to be frank, I actually really like who I am these days, which comes as a surprise.
Music has always been my life. Growing up, I was in chat rooms with kids in the States until 5am on school nights, learning all about the scene over there, dreaming of the day I could move to America to go to every Modest Mouse or Promise Ring show I could get myself to. I'd stalk Chicago based music agents Tom Windish (Windish Agency) and Tim Edwards (Flower Booking) online before they made it big, knowing that any band they touched was a band I needed in my life. And years later I ended up working with both of them. The land of hope. The land of endless possibilities. I had to get myself to America, somehow. And eventually I did.
I quit university, much to my parents dismay, and somehow I managed to get a job at Fat Cat Records (early home to Sigur Rós). Svefn-G-Englar was the theme tune of 1999 for me, alongside my obsession with Radiohead, and I ended up convincing everyone that I should move to Iceland and work for Sigur Rós directly. Within a matter of months I'd gone from an obsessed regular on the W.A.S.T.E message board (Radiohead fans will know this was the epicenter of Radiohead fandom back in the late 90s/early 00s), to going on the road with Sigur Rós opening for Radiohead, and running their record label in Iceland. I was 19 when all this happened and I've no idea how or why I fell on such amazing luck, but it was happening and I grabbed it with all my being. Failure was not an option.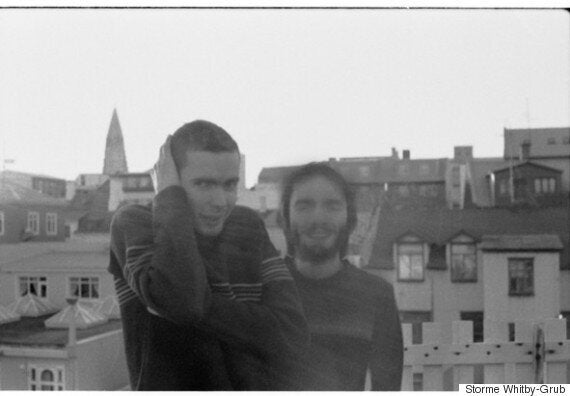 Jonsi & Kjarri of Sigur Rós -- Reykjavik, 2000
I lived in Iceland for two years, working with incredible artists. It was beyond a baptism of fire, but with some of the most incredible people I've ever met. Einar Örn from The Sugarcubes put me in a headlock one day and told me I would be the PR manager for Iceland Airwaves that year. There was no arguing. It was a sealed deal in his mind and I had no choice but to accept the challenge. So that winter, I ended up looking after a slew of industry people coming to the festival. Suddenly I found myself skipping down Laugavegur with Jim from Sparta, again thinking "how the fuck did I get here -- eight months ago I was jumping around my bedroom to ATDI". But it happened. Somehow.
My obsession with music was the very thing that meant I couldn't possibly do anything else. I grew up playing piano and violin, had a music scholarship and won all the music awards my school could give me. It was everything. It became apparent I had synaesthesia around the time I discovered the piano and as a result you couldn't tear me away from it. It was my first drug, a lasting drug that I'm grateful to experience, even if it is overwhelming at times. It's probably the only positive side effect of manic depression. And so, here I was on the outskirts of the music "industry," and I wanted in.
Again, somehow I started selling merchandise on tour for bands I loved in the early 00s; Yeah Yeah Yeahs, Interpol, The Rapture. I progressed to tour managing and production managing for the likes of Bloc Party, Kaiser Chiefs and We Are Scientists. I saw the world numerous times over from the window of my bunk, or an airplane, but I saw it nonetheless. I was in. People knew who I was, people hired me and I had really made it my life.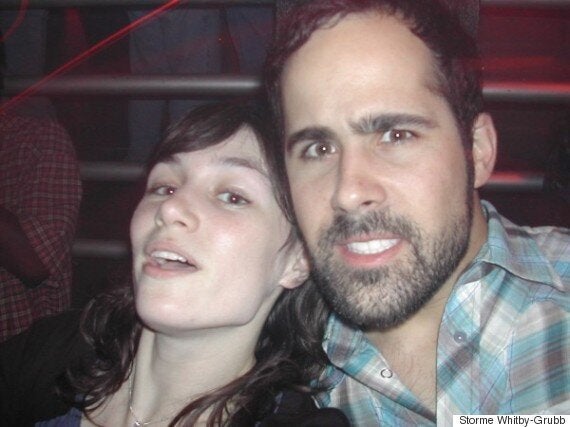 The amazing Ronnie Vanucci -- NME tour 2005/6ish?!
Touring then became a dangerous and volatile place for me as my manic depression revealed itself for a second time in my mid-twenties. The lack of routine, the pressure of holding everything and everyone together and the extreme stress when things go wrong, didn't sit well with me. I was so hyper-vigilant that nothing could ever possibly go wrong; but when it did, I lost my mind. Any mishap on the road left me feeling like an absolute failure, like everyone was judging me and created intense paranoia. It became clear that I couldn't hack touring any more and after eight years on the road, I quit.
I then started my own touring company and we did pretty well with it for a while. I also started managing around the same time and that's when I really found something I loved doing. Building a band from the grass roots into a top 10 selling artist is the most exhilarating experience you can have in the industry. Watching them grow as people and as artists is a wonderful feat to be part of. Watching their crowds grow, month by month, year by year was more than a career high for me; it was everything to be part of that moment. I found something I was good at and you could see the results with every goal you surpassed. They became my family and it felt like we were on an intense rollercoaster together, inside a bubble that no one else could penetrate. It and they were my life. I'd replaced my ex boyfriend with a band, without even realising it. I never slept because I was constantly pushing whatever buttons I could to further them, either coming up with new plans and ideas, or working with the label on the other side of the world. But it didn't matter; I was part of something and I was creating something amazing with incredible people and we were aiming for the top.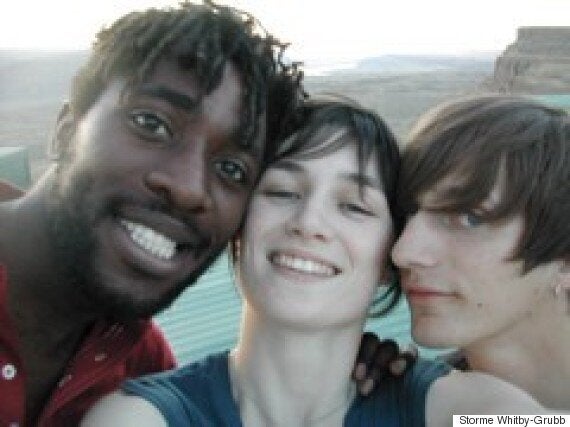 Old School Gang; Kele & Russell, Sasquatch Festival c 2005
The next bizarre twist of fate was meeting Brian Message of ATC Management at Midem last year. We got on like a house on fire and bonded over our obsession for music and film. He invited me into the ATC family and I jumped at it. Whilst the band I managed wrote their next record, I developed a love for visual content. Brian nurtured this newfound love, and was always an incredible soundboard for ideas I wanted to work on, whether it be script ideas, stories or music videos. He pushed me as a creative and gave me the space to develop. And that's when things started to change.
As my "hobby" grew, it put my dedication as a manager into question -- which in my mind never wavered. When a record isn't in campaign, it's often hard to see what goes on behind the scenes with a manager and it becomes difficult for bands to feel like they're getting their moneys worth, I guess. And as I worked on personal projects, it created conflict between myself and the band. I couldn't understand why I shouldn't have personal interests, but that's the name of the game as a manager, you're meant to be on 24/7. That's the job, and when we parted ways, they pointed out that it's also a thankless job. And they're right. Managers rarely get thanked for anything. You never hear anything good when something works out well; you only hear complaints when something turns out shit. And it becomes a grind. It's debilitating and if you have a soul, it makes you question yourself worth as a human being. I guess at that point I started to realise, I'm not cut out for this anymore. My downfall was becoming too close to the band; we became a family with blurred boundaries and although all intentions were coming from the right place, sometimes distance is better for everyone. I guess it's no surprise that with success and growth, people just drift apart. Goals change. Tempers flare. Ideas clash. Just like a relationship, sometimes you just fall out of love for no real reason.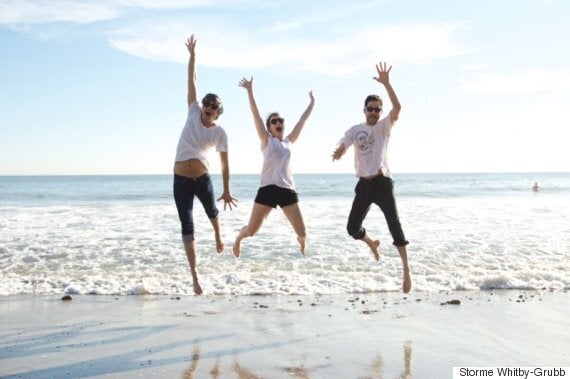 Knocking on eight years, with We Are Scientists aka Malibudies, 2015
And so we parted ways in February. I stuck it out as a manager for a few more months, working with my beloved friends We Are Scientists, aka the nicest guys in the business. ATC continued to encourage my endeavours as a writer and supported me through the phase when I thought, "what the fuck do I do now?" It was like my soul had been ripped out and it felt like breaking up with not one boyfriend, but five. And that in itself says it all. You're not cut out for this job when you care that much. You need objectivity. You need distance. You need a hardened skin, and you know what? I didn't want to be hard anymore. I didn't want to be a bitch anymore. I became sick of fighting for the best interests of my artist, only to never be acknowledged for it. Perhaps that's because I'm an egomaniac and want constant recognition, but every now and then it's nice to feel appreciated, and the job isn't about that, or you. It's about the bigger picture.
So here I was, wondering what would become of me. Money became an issue and it looked like I'd have to move back to the UK, which was the worst possible thing I could imagine. My life is in Los Angeles. I've built the first home I've ever had here. Moving back would throw me into the depths of depression, but it fast became a very real possibility. I was so beaten down by the whole process of losing the band, that I realised I just couldn't do this anymore. Loving something so much, for it to be taken away and suddenly be removed from the machine you've oiled for so long seemed unbearable. Watching the baby you nurtured go off on the home strait with other people at the helm, felt like a knife in the heart. I couldn't bear for that to ever happen again. So I decided that was it. I was done. The industry can fuck off and continue to be ruthless without me.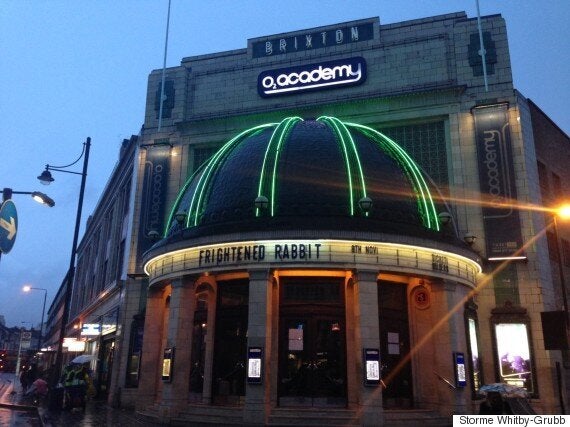 Frightened Rabbit, Brixton Academy -- Life Goals - 2013
I had no idea what I would do next. Being a writer wasn't an option. Being a director wasn't an option. I'd never been to film school, I'd never studied writing and I didn't know anyone in the industry. I loved writing stories to songs and had made a few small-budget music videos, but that was it. Hardly a career move, until another insane twist of fate happened.
A friend dragged me to a BBQ that I very almost didn't go to, and it was there that I met music video director, Tim Mattia. We became fast friends and I sent him a couple of treatment ideas to see what he thought. He liked them and sent them to his agency, London Alley. They in turn called me in for a meeting and low and behold, I'm now a treatment writer. Four months later, I now write with some of the biggest music video directors in the business, writing for massive billboard chart topping artists. I've been working with an incredible film director with big studio successes under his belt; It looks like I could be making my first short film in coming months; I'm developing an idea for a documentary that people seem interested in; somehow I'm managed to write a feature script that's getting read by terrifying people; and I'm also writing a pilot for a show I'm pitching. And yet again, I find myself asking, "How the fuck did this happen?."
I wonder what could have been, had I discovered that I could write years ago. Maybe I'd have a film or two under my belt by now. Maybe I would have written a book about my adventures. But I guess there's still time for all of that. It's so alien to suddenly be "The Creative," instead of The Manager; to be nurtured instead of the nurturer; to have people wanting to manage me. And so far, it's the most validating job I've ever had. Every time a piece gets signed off, it's a huge pat on the back. And when they actually get made into videos, that's beyond exciting. Perhaps that's what I needed all along: validation. Everyone's grateful, everyone's excited and everyone's collaborating. It took me until the age of 34 to realise that this is the space I need to be in. This is the space I thrive in.
I'm not going to pretend I know what I'm doing. I know I fell on some insane luck along the way -- maybe it's the Irish in me -- and it throws me when I think about that. I think of the sliding-doors moments and what could have been had I not moved to Iceland; had I not gone to Midem and met Brian; had I not gone to that BBQ and met Tim. It's bizarre to be doing something I love again, and more so to discover I'm good at it. I know my grammar's shit and my punctuation is often off, but people seem to respond positively to what I'm saying and as long as that's happening, I'll keep doing it.
I'm beyond grateful for all the experiences I've had in the music industry, all the people I've met along the way and especially grateful for the lows for making me who I am today. I often look back and think I've wasted so much time, but I'd probably have nothing to say had I not spent the last 15 years falling in and out of love with the very thing that consumed me as a teenager. I went from wanting to write music for films at the age of 11, to writing mini-films for music as an adult. All I want now is to enjoy music again. I want to rediscover that pure, unadulterated, honest love for music I once had. They say time is a great healer and I'm hoping that this distance I've created will allow us to become lovers once again.
We don't often have the chance to publicly thank people who've had massive impacts on our lives, but since I have your attention, if you've made it this far, I need to thank the following: Alex Knight and Dave Cawley at Fat Cat Records for my giving me my first ever job in the industry and getting me high on lighter fluid whilst cleaning vinyl in the office. Anna Hildur, Scandinavia industry expert and my adoptive mother in Iceland, for guiding me through the early years. Sigur Rós for being older brothers when I lived in Iceland. The Ex who took forever to get over, for giving me the gift of love. Frightened Rabbit for seeing that fire within me and hiring me as their manager, for the rollercoaster and the friendships we've shared. Brian Message and Craig Newman at ATC for developing and pushing me creatively. Tim Mattia for taking me under his wing. London Alley for giving me a shot and being awesome people to work with. Hayley Connelly for being beyond a best friend for the past 17 years; she's kept me alive, wiped up the tears and continues to push me forward.
Popular in the Community