If you appreciate good photography, ensure you schedule a visit to Berlin's Museum of Photography during your next visit the German capital.
Two organisations exhibit work within the Museum of Photography. The Helmut Newton Foundation exhibits on the ground and first floors. You'll be greeted by a series of Newton's nudes, hanging above the red carpet and staircase that sweeps up behind the museum reception. The Art Library's Photographic Collection is shown on the second floor.
Newton, one of the twentieth century's most influential commercial and fashion photographers, was born in Berlin in 1920 as Helmut Neustaedter. His father was a Jewish factory owner and his mother an American. National Socialist persecution eventually forced the family to emigrate, in 1938. The young man made his way to Singapore, from where he was eventually sent to Australia.
Even before leaving Germany, Newton was interested in photography and served an apprenticeship under the photographer Yva (Else Simon) in Berlin's Charlottenburg district. Having learned skills for portraiture, fashion and nude photography, he started working in fashion and theatre photography in post-war Australia.
In Melbourne, during 1948, he married June Brown, who became known as a photographer in her own right under the pseudonym Alice Springs. One of the museum's videos provides an insight into how the couple enriched each others' creativity with long, late discussions and ideas about potential shoots.
Despite having to flee Germany as a young man, Newton remained fond of Berlin, where he grew up in the city's Schoeneberg district. Later, he undertook commissions for the German magazine Stern. His services to German culture were rewarded with Das Grosse Verdienstkreuz (The Grand Cross of Merit).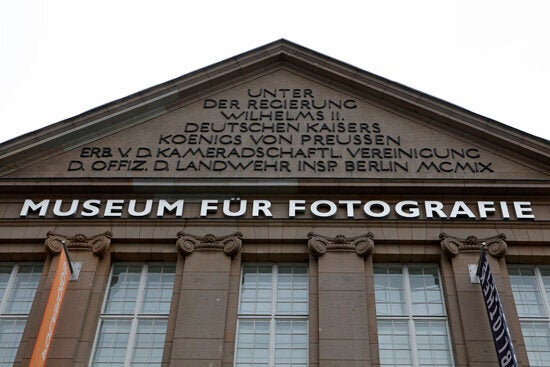 In 2003 Newton donated photographic and personal items to the Prussian Cultural Heritage Foundation. From this, the Helmut Newton Foundation was established. Unfortunately Newton didn't live long enough to see the opening of the permanent Helmut Newton's Private Property exhibition in 2004.
You'll be greeted by a life size cut out of Newton as you enter the ground floor exhibition. The exhibits you'll see include a collection of his cameras and equipment, the beach buggy-like Newton Mobile 200 vehicle and his Monaco office, faithfully reconstructed in Berlin. Copies of condolence letters, sent by editors and public figures to his wife, provide evidence of the high regard in which Newton was widely held.
Newton's work was widely published in glossy magazines, including editions of Vogue, Elle and Paris Match, and he undertook commissions for a number of leading fashion houses. A number of his photographs, many in the form of exhibition posters, are displayed on the ground floor.
You can sit on benches and watch videos of Newton at work. You'll see him issuing instructions to his models and assistants as he attempts to ensure the composition and lighting of his photographs is spot on.
Exhibitions on the first floor change regularly. You can find details regarding current exhibitions on the museum's website.
The top floor of the Museum of Photography is used to host temporary exhibitions. The Kaisersaal (Emperor's Hall) provides a pleasant, well-lit exhibition space. The photography shown ranges from retrospectives to works by promising talents.
The Museum of Photography is in Jebenstrasse, a couple of minutes' stroll from the Zoologischer Garten S-Bahn station. It's open from 10.00am to 6.00pm from Tuesday to Sunday, with extended opening on Thursdays.