In Britain we often congratulate ourselves for creating a tolerant society. All voices, in theory, can be heard with equality. Unless, that is, you're attending a football match.
Try shouting out in support of your team in the wrong end of a stadium, in the section dominated by fans of the opposition, and you run the risk of being threatened. It's likely you'll be marched out of the ground by stewards. It could even be worse. You might be beaten up before being expelled from the section in which you were sitting. Heading into the wrong section on a match day means you'll be regarded as the provocateur of any ill will that you're shown.
If a group of people ganged together and attacked a lone individual on a British street then such actions would be regarded as a criminal act. They would be roundly condemned. Yet, due to some twisted logic, fans inside of a football stadium often perceive it as acceptable to show aggression towards opposition supporters, especially those rumbled as sitting in 'their' section. Why is tribal, territorial behaviour and intolerance regarded as acceptable, simply because people are watching a sporting event?
Does cheering on one team really mean fans have to boo and jeer the other side? Are people who share a common interest in sport really incapable of sitting side by side for the duration of a match, simply because they follow different teams? Wouldn't you think that it'd actually be enlightening to sit with fans of the opposing team, so that insights and opinions regarding players and tactics could be shared?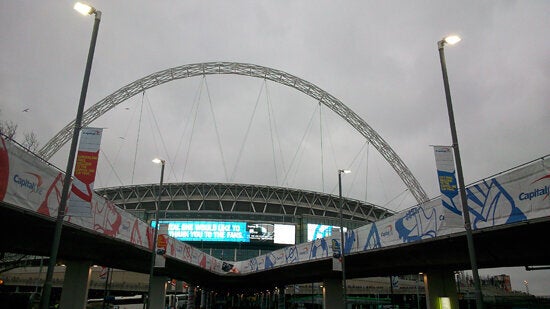 I have an admission to make. On Sunday I attended the Capital One Cup final, between Manchester City and Sunderland,but sat in the wrong end of the ground. I'm a Sunderland fan and was unable to get a ticket for the red and white end. I'm not a Black Cats season card holder because my work takes me out on the road too regularly to justify the expense of the purchase. A good friend, a City supporter and a season ticket holder at the Etihad Stadium, was unable to attend the final and kindly gave me his ticket.
On the way to Wembley I read the conditions printed on the reverse of the ticket. Worryingly, they included a clause stating that "to gain entry to the Stadium you warrant and represent that you are a supporter of the club whose name is endorsed on the front of this ticket."
Of course I made a strategic decision not to wear my club's colours and to keep quiet throughout the final. I can't mimic a Mancunian accent, so, naturally, was worried I'd be outed as a north-easterner if I had to speak.
"Where will be awarded the trophy?" asked my neighbour ten minutes before kick-off, a tad presumptively.
"Over there," I answered and pointed, keeping words to a minimum. Even then he eyed me suspiciously. I fear that my cover was on the brink of being blown even before the match had kicked off.
When Borini scored, putting Sunderland 1 - 0 ahead, I kept control of my emotions. Like the City fans around me I shook my head. But for me it was in disappointment that I couldn't jump up and celebrate.
It was fascinating to hear mounting criticism of Manchester City's players by their fans as the first half progressed. "Get a haircut, Demichelis," cried one in exasperation. I guess when fans see a quality team performing well almost every time the players take to the field then expectations become inflated. Sunderland were exceptional in the first half and deservedly went in with the lead.
The second 45 minutes brought a different story. Sunderland performed well but the class of City's stars shone and tipped the game. The goals by Yaya Touré and Samir Nasri were wonderful; examples of the skills that any true football fan can appreciate. I applauded both goals with genuine admiration, even though it was disappointing to see them go in against my team.
To maintain my cover I joined in with the Poznań celebration that City fans performed. Following the example of others around me I turned my back to the pitch, placed my hands on the shoulders of my neighbours and jumped up and down. However, I couldn't join in with their chants as I simply didn't know them well enough; every club has their own. I've heard Blue Moon dozens of times but I've never memorised the lyrics.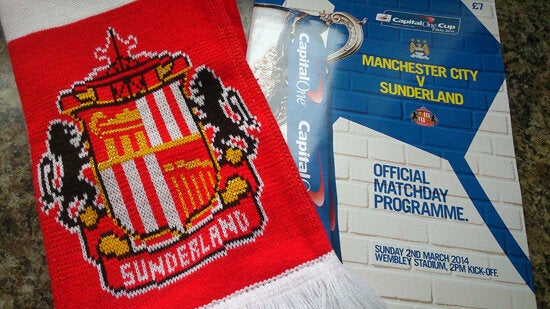 I thought my stilted 'celebrations' after the second City goal had been too muted for the fellow behind me. I felt a thump on the back of my head and turned round expecting to see a face creased in anger. Instead there was one of pure joy; a man in the arms of his pal, hanging over the top of me. "Sorry mate," he apologised and carried on celebrating.
Sunderland played well but were beaten by one of Europe's best teams in what proved a good game.
"Credit to the Sunderland fans, they're staying to see us get the trophy. The United lot would have been long gone by now," said a voice behind me as the team in blue headed up the steps to be presented with the cup. I was certain that one Sunderland supporter felt it was simply inappropriate to leave.
One friend suggested that I was foolhardy to attend the match in the City end. "You'll only have yourself to blame if you're given a good hiding," he warned. Should that really be the case?
Instead of trying to segregate supporters, shouldn't the football authorities be trying to change the perceptions, expectations and behaviour of fans. Shouldn't they be calling for greater tolerance, so that people attending games can mingle with greater freedom, regardless of their club colours?