You'll feel sore in the morning I was warned, ahead of my first time on horseback in years. But when you're out West and have the chance to go riding, isn't that the kind of thing you worry about afterwards? I reckon so.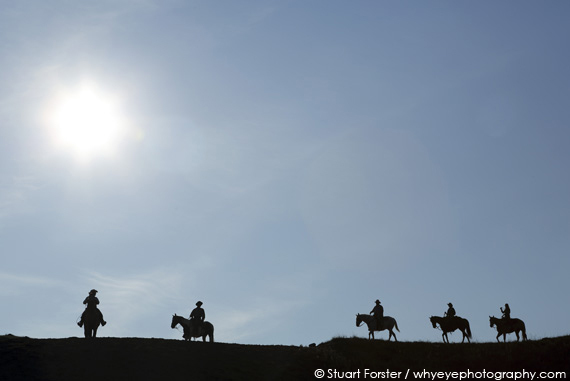 Fortunately one of the 23 horses stabled at La Reata Ranch - near Kyle in Canada's Saskatchewan province - was big and strong enough to carry even me, somebody who stands six foot four - without cowboy boots - and weighs over sixteen stone. That's close to 225 pounds as they might say in this rugged part of the world.
To my surprise, the tan coloured Western saddle that I sat on proved surprisingly comfortable and, I'm pleased to report, didn't cause my posterior problems.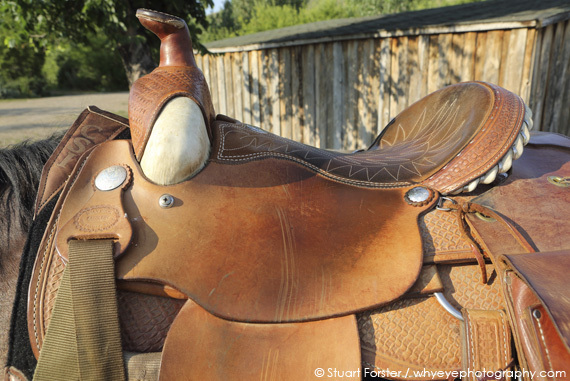 One of my fellow travellers, Englishwoman Octavia Pollock, a regular horse rider, commented that many newcomers find Western saddles more comfortable than their English counterparts. The main difference, I learned, is that Western saddles are designed for long days of rounding up cattle on horseback, so are designed for greater comfort and spread a rider's weight over a larger area of a horse's back.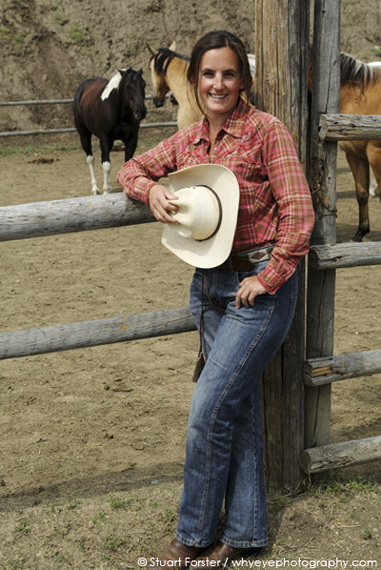 I got back into the saddle on what's termed 'a working cattle guest ranch' with 130 pairs of cattle - cows and their calves - plus a few bulls and around 20 longhorn cattle. Ranch owner George Gaber explained to me that guests are welcome to get involved in ranch work if they want to but it's not obligatory. Many people head here simply to get away from urban life and enjoy time in the saddle.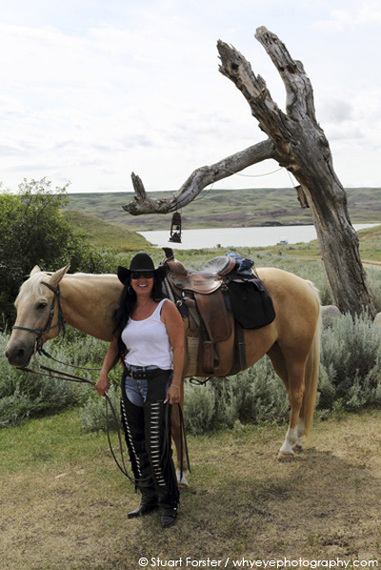 "We ride from three hours up to six or seven hours, depending on what the guests what to do. The other day we went out, it was about two o'clock and I asked if people wanted lunch. They said, 'Ah, we're not hungry,' so we headed further west to check the cows. It turned into a seven hour day in the saddle. Everybody was really tired the next day but I guess it was a great experience for them," said George with enthusiasm as we chatted on the porch of the ranch's cook house after dinner.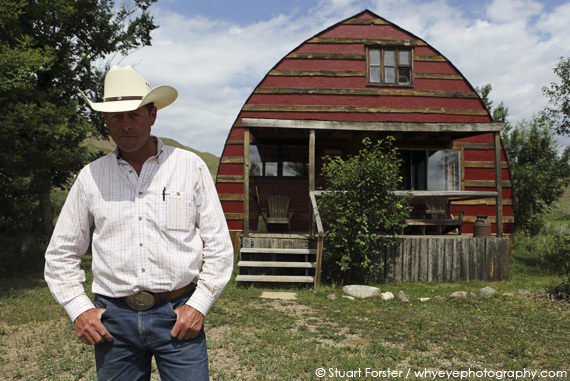 La Reata - named after the ranch in Giant, the 1956 film starring James Dean - is set in rolling grassland by the banks of the South Saskatchewan River. Around nine miles of La Reata's 5,000 acres front onto Lake Diefenbaker.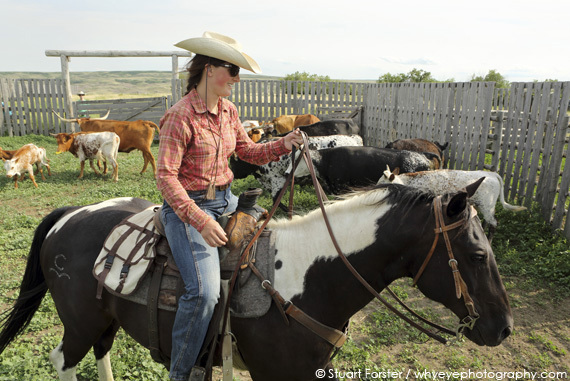 "You have to come out to get the view and the impression. You can't put it into pictures. Photos are beautiful on the internet but you have to see it. We are coming back over the hill, then you see the river valley and the lake is full and it's almost like you are riding into a painting. Wait until the stars show up," commented George as he pointed upwards to darkening dusk sky.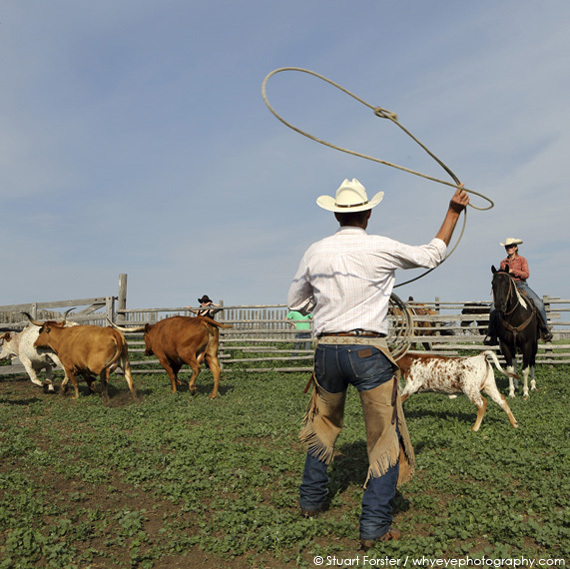 George, who grew up in Germany, came to Canada on vacation in 1995. A night of camping under open skies by a fast flowing river was pivotal in convincing him that he should move to Saskatchewan. He purchased land and opened La Reata the following year. He now speaks with a Canadian accent and, I learn during my visit, is never seen out without out his white Stetson.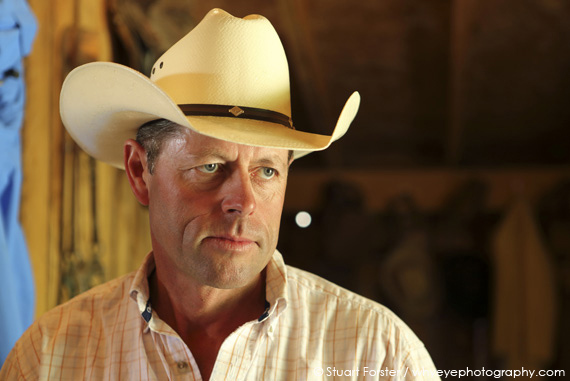 A maximum of 20 guests can visit La Reata at any one time. George prefers to keep the number of visitors to around 14 to 16, in order to optimise the experience.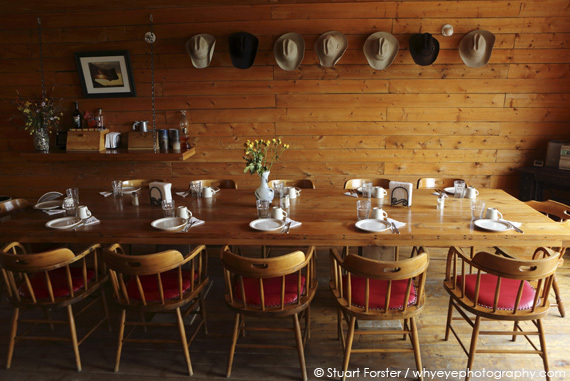 One of the guests that I met at the ranch was Susanne Visser, from the Netherlands. "I always wanted to go to a ranch. I used to watch Western movies with my dad, so it was a big dream. I was looking on the internet for horse holidays and found a travel agency in the Netherlands specialising in riding holidays with a lot of offerings in Europe, America and Canada. This ranch really jumped out for me. It seemed beautiful and it's better than I thought it would be," explained Susanne.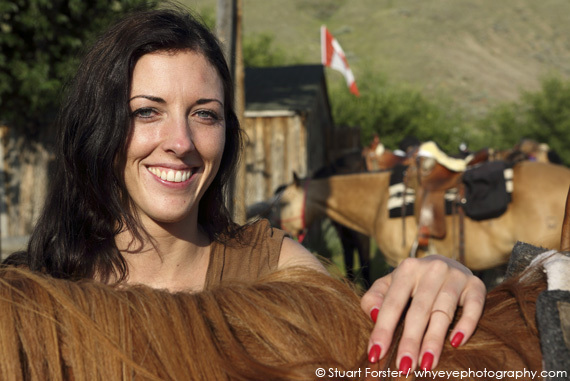 "I'd heard that the nature here was beautiful, so that was one of the main reasons. Also, I've been to quite a few places in the U.S. already and Canada is quite new for me. Some people told me it would be very flat but it's nothing like that here. I'm glad I made the decision to come. The nature has not been touched. That's what I like here," she said when I asked what had drawn her to Saskatchewan.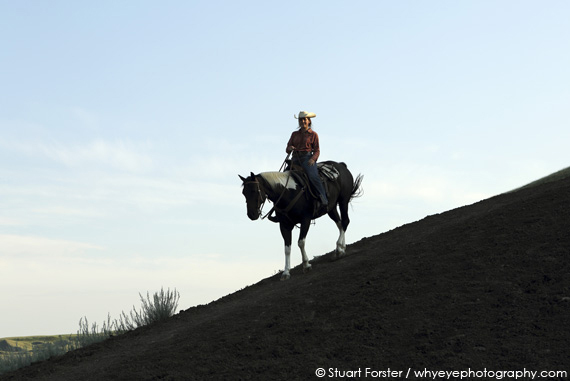 "The riding has been fantastic; I have no other words for it. At home I ride twice a week and just for an hour, so I was a little bit worried but the saddles are very comfortable and they take into account the levels of all the riders. They let you go do whatever you want to do," she added, mirroring my own experience.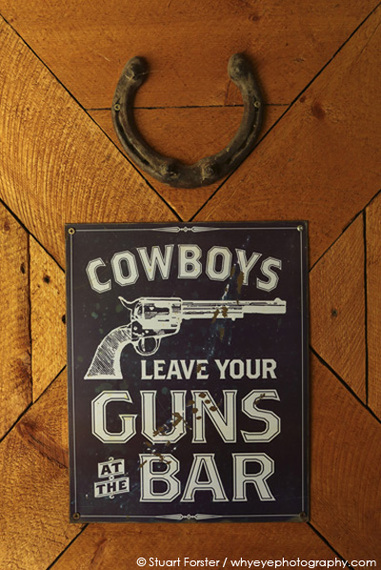 In my floppy fishing hat I didn't look the cowboy anything near as convincingly as George, but I bet I enjoyed being in the saddle every bit as much.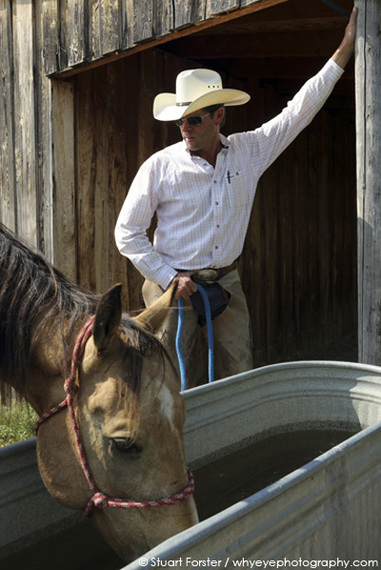 Further Information
The La Reata website has information on how to reach the ranch, a two hour drive south-west of Saskatoon, plus more about the activities offered.
The Tourism Saskatchewan and Canada Tourism Commission websites have information about the surrounding countryside and nearby attractions.
Read more of Stuart's travel experiences on his personal blog, go-eat-do.com.